Google Nexus 10 vs Apple iPad 4
61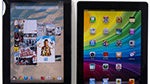 Introduction:
Just in time for the holidays, two of the hottest tablets on the scene right now, the
Google Nexus 10
and
Apple iPad 4
, are undoubtedly vying for supremacy in the highly competitive tablet market. Of course, as we all know too well, Apple's game changing iPad has remained a relevant device in this space – even though this latest model is a hairline update over its predecessor. Still, considering it has the backing of a strong ecosystem combined with a premium design, the iPad 4 remains largely in a league of its own. However, Google's Nexus 10 tablet is seemingly setting things ablaze with its hot-hot pricing. Not only is it a good $100 less than the iPad 4, but it's also sporting the highest resolution display to grace a tablet ever! Surely, it's going to be a battle for the ages with these two titans.
Design:
All things considered, there's one valid reason why the iPad is continually a favored tablet amongst the heap – it's because of its premium design! Between the two, there's no arguing there's a hint of premium love attached to the iPad 4 and its brushed aluminum casing, which at the same time, adds a wholesome level of sturdiness to its construction. On the flip side, there isn't anything too profound with the appearance of the Google Nexus 10, but we have to say that its modest design is still appreciable for something priced so aggressively. In addition, its matte soft touch body does phenomenal job in maintaining a clean appearance – while still providing us such much needed grip.
Only broken up by the occasional glow of its pulsating notification LED light below its screen, the Nexus 10 sports a clean front surface since the typical set of Android buttons are incorporated into its interface. Meanwhile, the iPad 4 features a physical recessed home button, which has been a hallmark sighting with all of Apple's touch devices.
Feeling out the physical buttons
around their trims
, the iPad 4's power button and volume control are jutting out more, which provide for a more distinctive feel. Thankfully though, the buttons of both tablets exhibit wonderful springy responses when pressed. As for some of the commonalties they share around their trims, they include the 3.5mm headset jack and microphones. In terms of power and data connectivity, the Nexus 10 employs a traditional microUSB port – whereas the iPad 4 favors Apple's proprietary Lightning port. However, we do appreciate the dedicated microHDMI port on the Nexus 10 for quick and easy video-out functionality.
Тhese two titans feature
5-megapixel rear cameras
– with both having the ability to shoot videos in 1080p. However, it's the Nexus 10 that benefits in low lighting situations with its LED flash. When it comes to snapping self-portraits, the two offer front-facing 1.3-megapixel cameras for the occasion, plus the ability to record video in 720p.
Display:
Since the introduction of the third-gen
iPad
, Apple had the notoriety of offering the highest resolution display on a tablet – dubbed as none other than the Retina Display. With its
9.7-inch 2048 x 1536 IPS LCD Retina Display
, it continues to deliver such stunning detail unmatched until, well, now. Enter the
Nexus 10
and its even
higher resolution 10.05-inch 2560 x 1600 True RGB Real Stripe PLS display
, which so happens to feature a crunching pixel density of 300 ppi. And yes, it triumphs over the iPad 4's 264 ppi tally. Certainly, it's a clear win for Google when it comes to numerical figures, but when it comes to practical usage, we're hard pressed to firmly say which is the more detailed, as our eyes take notice of their extreme level of sharpness and clarity from a normal viewing distance. Continuing to show their allure, both displays exhibit the same lovable qualities that make them visible in all conditions – such as their wide viewing angles and luminescent brightness output.
Recommended Stories