Google Nexus 10 vs Microsoft Surface RT
56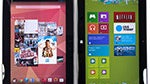 Introduction:
Attempting feverishly to make a splash in the tablet market, the
Microsoft Surface RT
is the poster child for Microsoft's new tablet platform in Windows RT. No doubt there's an uphill battle ahead of its path already, seeing that it's a new platform and all, but more importantly, it begs the question on how well it can compete with that other poster child taking space over in Android land – the
Google Nexus 10
. As we've seen already, there's a ton of buzz surrounding these impressive tablets, but all things considered, it's certain that most people are dying to know which one is going to give you the most bang for the buck.
Design:
Seeing that price constraints make the Nexus 10's design a bit more modest, rather than premium taste that so many people crave with high-end devices, we're going to stick with the Surface RT for having the better looking design. Overall, the two are very similar in size, but it's the tapered edges and "VaporMg" body of the Surface RT that comes off as something a unconventional amongst tablet designs we've seen. Well, it's not to say that the Nexus 10 is an ugly duckling, but rather it's too cookie cutter to take away from the unique and delicate appearance of its rival.
Below its screen
, we can spot the distinct Windows capacitive Start button on the Surface RT. Meanwhile, the Nexus 10 packs a very useful pulsating LED notification light beneath its display.
Fortunately, both tablets feature distinctive and springy power buttons and volume controls that are easily accessible
around their trims
. Making it convenient for us, it's nice to know that the microUSB port of the Nexus 10 provides for charging and data connectivity, which isn't a simple thing with the Surface RT because it employs a proprietary charging port. On the other hand, we appreciate that Microsoft's slab incorporates a full-sized USB port that enables a host of peripherals to connect to it - such as keyboard, mice, and flash drives. And finally, we also love that the two offer quick and easy video-out functionality with their microHDMI ports. Along their bottom trims, though, proprietary docking ports on the two allow accessories to interact – such as the Touch and Type Covers for the Surface, though, it's unknown at the moment what's going to work with Google's beauty.
When it comes to
cameras
, the Nexus 10 manhandles its competition seeing that the Surface RT is packing paltry 1-megapixel front and rear cameras, which have the ability to shoot video in up to 800p resolution. Conversely, the Nexus 10 is more ahead of the times with its 5-megapixel auto-focus camera with LED flash and a 1.9-megapixel front-facing snapper – with both being able to shoot video in 1080p and 720p respectively.
Display:
Being the less expensive tablet, it's amazing to know that the
Nexus 10
is sporting the higher resolution with its display. Specifically, it's a
10-inch 2650 x 1600 True RGB Real Stripe PLS display
that delivers a class-leading pixel density of 300 ppi for tablets. Needless to say, its detail superiority over the
Surface RT
's display is blatantly obvious, as there is a considerable level of sharpness with its appearance. We're not saying that the
10.6-inch 1366 x 768 display (148 ppi)
is abysmal, but it's not as stunning to eye Adding to its sheer brilliance, the Nexus 10 has the higher brightness output to make it more visible in outdoor settings, and it produces colors that are more vibrant – thus, giving it that alluring wow factor from afar.