Samsung Galaxy Note 10.1 (2014) vs Apple iPad 4
46
Introduction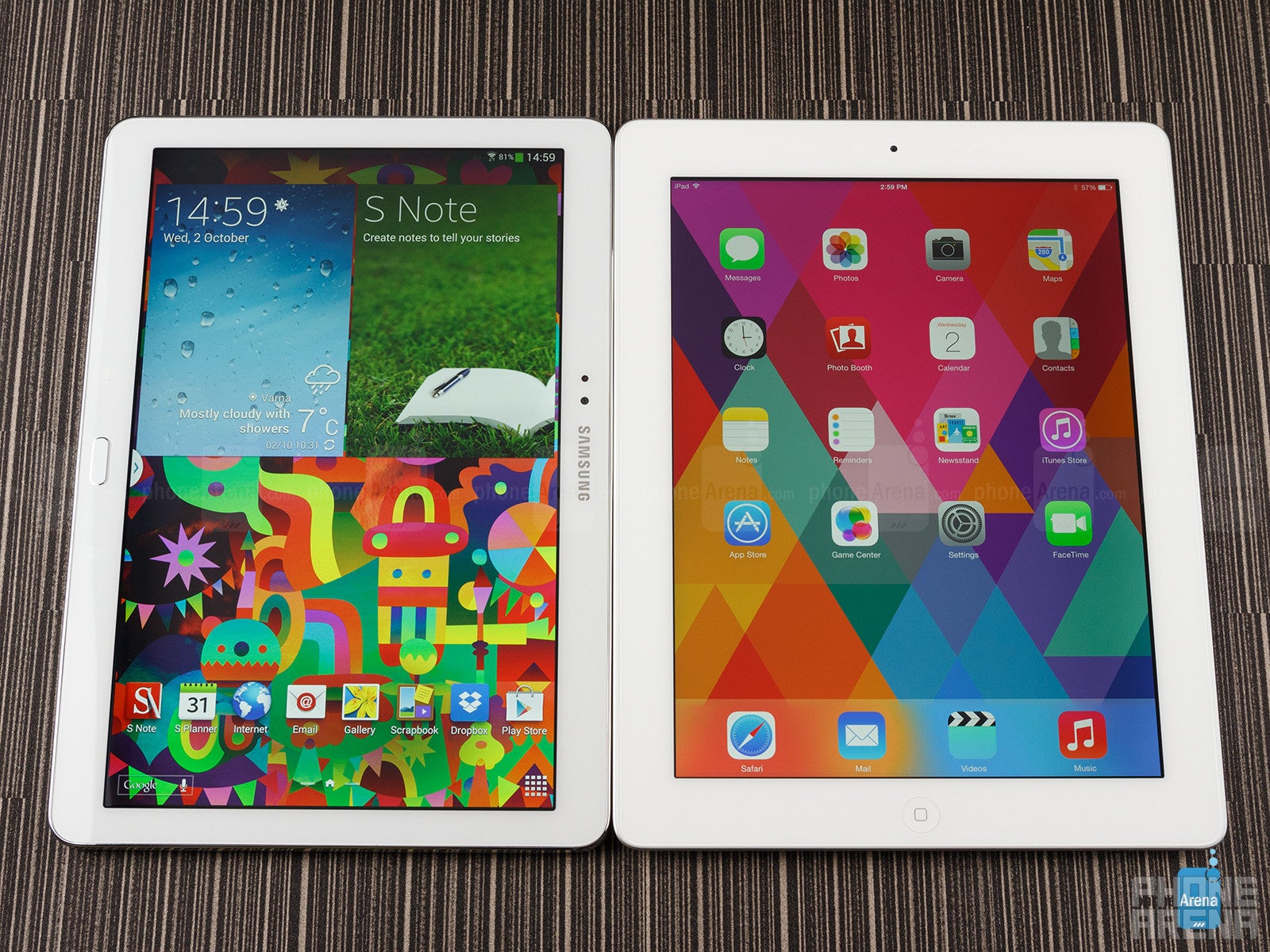 Do you like surprises? We sure do, and Samsung treated us to a nice one during the official
Galaxy Note 3
unveiling. Along with its newest high-end smartphone, the company announced a totally overhauled version of its S Pen-equipped
Samsung Galaxy Note 10.1
tablet – fully loaded not only under the hood, but also in the software department with many of the productivity tools found on the
Samsung Galaxy Note 3
.
Naturally, a tablet so capable has to be stacked up against the best of the best, and one of its most fierce competitors comes from Apple's camp. That's the iPad 4, of course, which still ranks among the top tablets on the market even though it has been almost a year since it launched. So yeah, it is Apple's finest against Samsung's greatest tablet to date. Has the Korean company finally managed to beat its rival on the tablet front? Let's find out!
Design
When it comes to build quality and construction, the Apple iPad has always stood in a league of its own. And the current model is no exception – it is still that extremely sturdy, well-built machine millions of people use and love. Everything about the iPad 4 screams "premium" right at your face, from the solid, aluminum back plate and the shiny Apple logo at the back to the meticulously crafted physical buttons and the perfectly fused seems around the device's edges.
As for the 2014 edition Samsung Galaxy Note 10.1, the tablet is definitely better-looking than its predecessor. However, it is still no match for the iPad 4, not when it comes to design. Its leather-like back looks kind of fancy, but it is clearly made of plastic, as our fingers can instantly tell. On the other hand, the new Note 10.1 tablet is thinner and much lighter than the iPad 4. It weighs 547 grams and has a thickness of just 7.9 millimeters, while Apple's 9.4-millimeter-thick tablet tips the scales at 662 grams. That makes Samsung's 2014 Note 10.1 highly portable and slightly more comfortable to hold.
Another advantage for the Samsung Galaxy Note 10.1 (2014) is that it comes bundled with the S Pen – a very precise digital stylus sensitive to pressure, used for taking down hand-written notes and much more. It sits in its dedicated slot, located on the tablet's side, so it is always with you whenever you need it. Sure, a significant number of users might never really need the accessory as it is far from the fastest thing to write with, but we're pretty sure some creative individuals will be quite pleased with the possibilities it enables.
Ultimately, the 2014 Samsung Galaxy Note 10.1 stands out with being lighter, thinner, and loaded with an S Pen. However, it lacks the visual appeal and quality of construction that places the iPad among the top tablets out there.
Display
Screen quality is of utmost importance for any tablet, and we're glad to say that neither the iPad 4, nor the Samsung Galaxy Note 10.1 2014 edition disappoints in that respect. Apple's slate uses a 9.7-inch IPS LCD "Retina Display" with resolution of 2048 by 1536 pixels, while Samsung's offering comes equipped with a 10.1-inch Super Clear LCD panel with resolution of 2560 by 1600 pixels. When it comes to pixel density, the new Note 10.1 tablet has the upper hand with its 299 ppi, but in reality, the iPad 4 screen, at 264 ppi, is just as detailed to the naked eye; we'd describe the difference between the two as negligible. Anything from text to images and videos appears clear and detailed on either of these tablets' screens.
Colors are represented very accurately on the iPad 4, while shades of green and blue displayed on the 2014 Samsung Galaxy Note 10.1 are a bit too saturated. That isn't too major of an issue, however, as an untrained eye will not spot that imperfection easily.. On the other hand, Samsung's tablet has better viewing angles, remaining clearly visible even when looked at from the side. Outdoors, both screens are usable, as long as the sun is not shining straight at their screens.
While we're at it, we must note that the iPad 4 screen has an aspect ratio of 4:3 – proportions that make it ideal for looking at photos. Movies that haven't been trimmed to match the tablet's screen, however, will not fill its entire area. The display on the Samsung Galaxy Note 10.1 2014 edition has an aspect ratio of 8:5, so it is more suitable than the iPad's for watching those wide-screen movies.
Display measurements and quality
Recommended Stories