Apple iPad 4 vs Microsoft Surface RT
46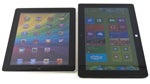 Introduction:
Finding itself in a new venture with its first all in-house tablet, Microsoft finds itself in a unfamiliar position in being the underdog – whereas in the PC industry, they have a dominant presence. Now that the
fourth-generation iPad
is making the rounds, it's going to be one very interesting showdown between it and the
Microsoft Surface RT
. Sporting the same starting price points, these are arguably the most highly prized premier tablets at the moment, so we're all dying to find out how they fare against one another head on. Let's start, shall we?
Design:
Utilizing all the best ingredients that are required to make them stand out above the heap, it's rather difficult to concretely specify which of the two has the better design. In all seriousness, we love each of their distinctive looks, as they both employ premium materials and solid constructions to appease our desire for quality gadgets. Plainly different from one another, the iPad 4 has a more rounded feel in the rear, which is further aided by the clean look of its brushed aluminum casing. At the same time, the Microsoft Surface RT has a unique look as well with its tapered edges and its choice of using a magnesium composite dubbed by Microsoft as "VaporMg." Sharing the same thickness of 0.37-inches, they're definitely skinny in frame, but the Surface RT opts for a wider look with its 16:9 aspect ratio – while the iPad 4 goes for the somewhat more boxy appearance.
Below their displays, when they're held in their appropriate orientations, we find their respective
home buttons
– the familiar recessed button of the iPad 4 and a capacitive Start one for the Surface RT. Although they're different, we didn't experience any accidental presses.
Looking around the trims of both tablets, they obviously share many commonalities – like their 3.5mm headset jacks, power buttons, volume controls, microphones, and proprietary power ports (Lightning docking port for the iPad 4 and a magnetic power connector on the Surface RT). However, it's worth pointing out that the Surface RT has more benefits with its stereo speakers, full-sized USB port to accommodate accessories/peripherals, and an always-useful microHDMI port for quick video-out functionality. And finally, we surely appreciate the kickstand on the Surface as well!
Complete in every way imaginable, these two are sporting both front and rear facing cameras. Although it's a close race in the front, as the iPad 4 sports a 1.2-megapixel snapper and the Surface being outfitted with a 1-megapixel one (both of which can shoot videos in 720p), there's a huge disparity with their rear cameras. In fact, the iPad 4 flexes its muscles with its higher count 5-megapixel auto-focus camera, which so happens to feature an F2.4 lens and 1080p video recording. Meanwhile, the Surface is given a paltry fixed focus 1-megapixel camera that's able to record video in up to 800p resolution.
Display:
Visually, the Surface has the more ideal display for watching videos, due to the 16:9 aspect ratio of its 10.6-inch screen. However, we can't argue the fact that the
iPad 4's 9.7-inch Retina Display
is the sharper looking one between the two, since it's flaunting the higher
resolution of 2048 x 1536 pixels
, which absolutely crushes the
Surface's scary low 1366 x 768 resolution
. With their homescreens, it's hardly noticeable from a normal distance away as to which is more detailed, but upon opening up the web browser, it becomes evident that the iPad 4's details are unmatched. Beyond resolution, they're both quite pleasant to use, since they exhibit vibrant color tones and wide viewing angles – though, the iPad 4's has more accurate colors and is is slightly more visible outdoors with the sun's presence.