Microsoft Surface Pro vs Apple iPad 4
50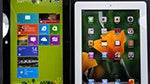 Introduction:
As it turned out, the
Microsoft Surface RT
stood no chance in trying to crack the strong visage put up by the
Apple iPad
, even though it seemed poised to do so with its interesting design and brand spanking new platform. Maybe the Redmond based company was merely feeling out its chance with its Windows RT powered tablet? Now that they have the real deal thing in the Surface Pro, it might actually be the one to start that avalanche of momentum that Microsoft needs to break through the surface in this competitive market that's still firmly held together by Apple's pride and joy.
Design:
Without question, both of these tablets are sporting designs that are unique and distinctive from the usual conventional designs that are recycled over and over. However, the more we look at them, we can't help but fall back on the iconic design of the iPad 4, as it sports so many premium elements to its entire construction. In addition to being the skinnier and lighter tablet, it also exudes the slightly more premium taste with its solid brushed aluminum casing. Heck, the Surface Pro is still appealing and whatnot, but its bulkier size doesn't make it as comfortable to handle – then again, the overall increase in size is warranted considering the kind of components it's packing inside.
Obviously, since the Surface Pro is more akin to being an ultrabook laptop, it's worth noting that it's featuring an arsenal of useful ports that make it far more versatile than the iPad 4. Specifically, it's donning a full sized USB 3.0 port, mini DisplayPort for video-out functionality, and a microSD card slot – all of which deepens its worth over most traditional tablets. As for some of the commonalities between the two, they include their power buttons, volume controls, proprietary charging ports, microphones, and 3.5mm headset jack. Yet another small detail with like about the Surface Pro, it employs magnetic connections with a couple of its ports to lessen any damage that might occur in the event they're accidentally pulled.
Whoa! There is seriously no competition in the camera department, as the iPad 4 is armed with a likeable 5-megapixel auto-focus camera that shoots video in 1080p – and a front-facing 1.2-megapixel one enabled for 720p video recording. In comparison, the Surface Pro gets nothing stellar with its 0.9-megapixel fixed focused front and rear cameras, which have the ability to shoot video in up to 720p.
Display:
Now this is where it gets interesting, since the two have stunning looking displays over most of the crop. Still, the more we look at them, the biggest differentiator is the slightly more detailed and stronger brightness output of the iPad 4's 9.7-inch 1536 x 2048 IPS-LCD based Retina Display, which produces the higher pixel density if 264 ppi. Honestly, from a far distance away, it's nearly indistinguishable to meticulously notice its finer details, but nonetheless, it's evident upon closer inspection. Taking a gander at the Surface Pro's 10.6-inch 1080 x 1920 IPS LCD display, it's still attractive on many fronts, but it doesn't have enough to steer us away from the Retina Display of the iPad 4.
Recommended Stories