Samsung Galaxy S7 vs Apple iPhone 6s
34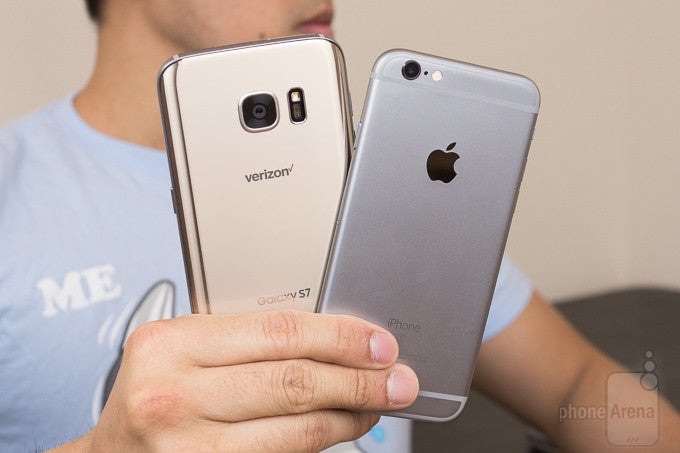 Introduction
If you haven't moved over to the dark phablet side yet, and are still into compact, easy to handle and carry handsets, there's barely a rivalry more important than that of Samsung's new
Galaxy S7
flagship, and Apple's finest, the
iPhone 6s
. The phones are in roughly the same size category, they both sport great 12 MP cameras, finger scanners, premium design materials, and are offered at very similar pricing.
Thus, deciding whether to get one or the other, especially if you are platform-agnostic, and not a sick die-hard Android or iOS fan, is not going to be an easy task. Fret not, though, we are here to help and ease your potential dilemma by clashing the venerable iPhone 6s against Samsung's freshest puppy, the Galaxy S7. Shall we?
Design
Easier to handle? iPhone 6s. Bigger screen, waterproof body and expandable storage? That's the Samsung.
Looking at the rounded Samsung Galaxy S7 and iPhone 6s side by side, it is not easy to pick a favorite. Both please the eye with their appearance, but do it in their own distinct way. Samsung's new flagship, in particular, scores solid view points with its metal alloy frame, sandwiched between two layered reinforced glass pieces for a shiny finish that smudges really quickly with finger grease. Sure, it hasn't changed much compared to its predecessor, yet design changes are introduced where they count. The Galaxy S7 now has a tapered back instead of sharp edges, which makes it more comfortable to grip. There's also IP68 waterproofing certification that lets you dunk it in up to five feet of water for half an hour.
That being said, the instantly recognizable iPhone 6s is the smaller, slimmer and lighter of the two, so it still sits better in the palm. Glass may be shiny to look at, but the iPhone's all-metal design is a bit more practical when it comes to inadvertent drops. Besides, its matte metal back doesn't get covered in fingerprints as the S7's glass plate does in no time.
Both the Galaxy S7 and iPhone 6s have 360-degree fingerprint readers embedded in their physical home buttons, but Apple is using its signature round shape for the key, while Samsung went elliptical, allowing it to squish the bottom bezel thinner than that of the iPhone. The top and side bezels are also slimmer, so Samsung managed to fit a larger screen in a chassis that is not that much larger than the one of the iPhone.
Granted, the screen-to-body ratio metric doesn't matter as much with smaller phones as it does with big phablets, yet 70% for the S7 against 65% for the iPhone 6s is a pretty significant difference to pass up on as a positive, not to mention the waterproof nature of the Galaxy's chassis. What the iPhone has against those formidable advantages of the S7, is a slimmer, lighter, and more comfortable to operate handset that would be less prone to cracks when dropped. If you like it, then you should've put a case on it, as Beyonce never said.
Display
The bigger AMOLED display pleases the eyes with its Always On feature and robust calibration management modes.
The 5.1-inch Super AMOLED display gracing the Galaxy S7's front draws attention from afar with the oft vivid, saturated colors that it displays in its default Adaptive mode. The higher pixel count – 1440 x 2560 vs 750 x 1336 pixels for the 4.7" iPhone – lets it display images in greater detail, though for all practical purposes the difference is pretty negligible to the naked eye.
Not to be forgotten as an advantage is Samsung's new Always On Display feature, which allows the Galaxy S7 to show basic info at all times – the current time and date, status updates, or the number of missed calls and unread texts you have, for instance. All of this is delivered with supposedly minimal impact on battery life, and can be themed pretty as well.
Even though it is smaller and with less pixel density, the display on the iPhone 6s is pleasing to the eye. And it has one clever trick up its sleeve, namely its 3D Touch functionality, which allows the screen to detect various levels of physical pressure. This is used to enable new ways of interaction with the user interface – to peek into messages, to preview live photos, or access menus and modes within apps straight from the home screen by simply applying a little push on the screen. If our own polls are any indication, it's not something iPhone users are reaching for every day, but it may come handy at times, just like Samsung's Always On display function.
When it comes to quality, both screens look vibrant and have great viewing angles, plus their peak brightness numbers sit pretty close – 484 nits for the S7 against 550 nits for the iPhone. Given the low screen reflectance and good contrast ratios of the panels, outdoor visibility is good and roughly on par, with a slight advantage for the iPhone.
Color representation is not something AMOLED screens used to boast with until not that long ago, as they displayed very cold, oversaturated colors. While this phenomenon often still stands in the S7's default Adaptive regime, when you choose the Basic mode, Samsung's calibration shifts to cover the standard sRGB color gamut almost perfectly, like on the iPhone 6s, as you can see in our color chart below. That's the mode you should use when you go shoe-shopping on your Galaxy, if you don't want to get the red instead of the pink ones you thought you are ordering.
Display measurements and quality
Recommended Stories