Xiaomi Mi 5 vs Apple iPhone 6s
30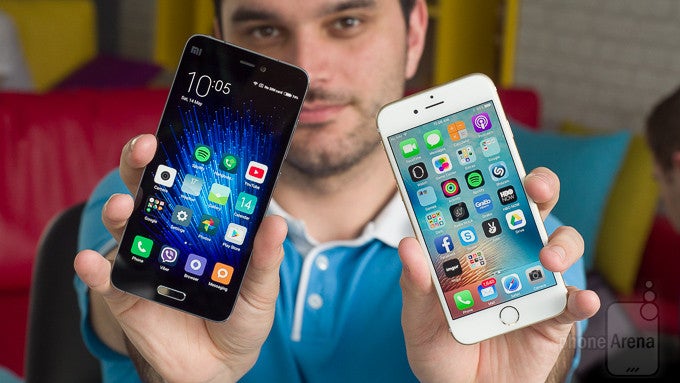 Introduction
Xiaomi is one of China's most popular brands: the company started by making Apple clones and selling them for super affordable prices, but it has now largely moved past that stage. For a long time, it's been hard at work to bring a new flagship and recently, it's finally released it: the
Xiaomi Mi 5
.
While the Mi 5 is not officially available in the United States or Europe, it could be tempting to get a Mi 5 on eBay shipped from China. But let's get this straight right here: unlike other major phone brands like Apple or Samsung, you have no service for the Xiaomi Mi 5 in the US or Europe. If you shatter your screen or some other problems occur, you'd need to rely on third-party repair shops, pay for those repairs from your pocket and wait longer for repairs.
This is probably the biggest downside to owning a Xiaomi phone and it's an important consideration. Now that you've been warned about all this, let's keep it out of the way and focus on the performance of the Xiaomi Mi 5 as we pit it against one of the best phones available at the moment: the
Apple iPhone 6s
.
Design
Both have great looks and are built to a high standard: the iPhone is more compact with a metal body, while the Mi 5 is very light and has a glass body that looks very stylish.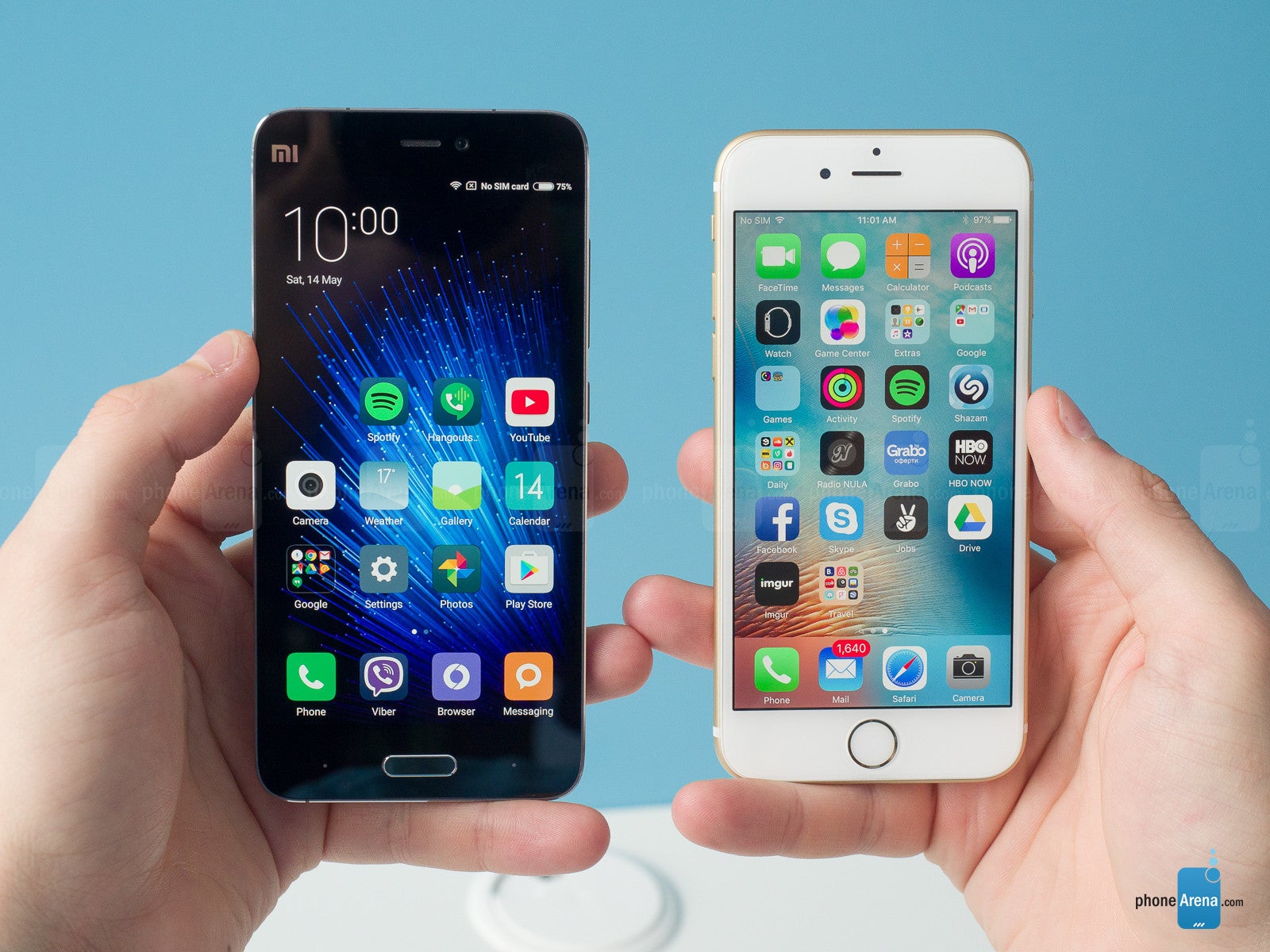 While most people associate devices made in China with unoriginal and often uninspiring designs, the new Xiaomi Mi 5 goes to show that it does not have to be that way: it's a beautiful phone that features a tapered glass back, a sturdy metal frame and all of that in an elegant and slim body that feels solidly put together. Some might actually think Xiaomi copies Samsung with its designs in the Mi 5, but the truth is that this is an evolution of a design line Xiaomi started with its Mi Note before Samsung had released the Galaxy S6.
The iPhone 6s, on the other hand, is a metal affair with a small, comfortable size that fits well in the hand with those rounded edges. The iPhone 6s is, and feels, a bit heavier than the larger, but more airy Xiaomi Mi 5. Comparing the two in terms of size, the difference not too big, but you can still notice how the iPhone is the more compact. Here are the official dimensions of the two:
Mi 5: 5.69 x 2.72 x 0.29 inches (144.55 x 69.2 x 7.25 mm)
iPhone 6s: 5.44 x 2.64 x 0.28 inches (138.3 x 67.1 x 7.1 mm)
Everything else in the design of the two devices seems to be well thought of: even the buttons on both are made of metal and feel clicky and solid.
Below the display, both have a fingerprint scanner. It works impressively fast on both and while when we first saw the speed of the iPhone 6s' scanner we thought it would go unmatched for a long time, we're pleasantly surprised to see the Mi 5 match it in terms of speed. Both work very well and are among the finest we've used. The iPhone, however, clearly has the more useful finger reader: you can use it to authenticate App Store purchases and also use it to pay for goods with Apple Pay.
Display
Two great displays: the Xiaomi Mi 5's larger 5.15" screen impresses with its bright colors, while the iPhone 6s has a 4.7" screen that is slightly better balanced.
Both the Xiaomi Mi 5 and iPhone 6s don't have the most pixel-dense displays: the Mi 5 features a 5.15" screen with a resolution of 1080 x 1920 pixels, while the iPhone 6s has a 4.7" display with 750 x 1334 pixels.
We won't complain about the resolution on either: both displays appear very sharp from regular viewing distance and you won't see any jagged edges or pixelization.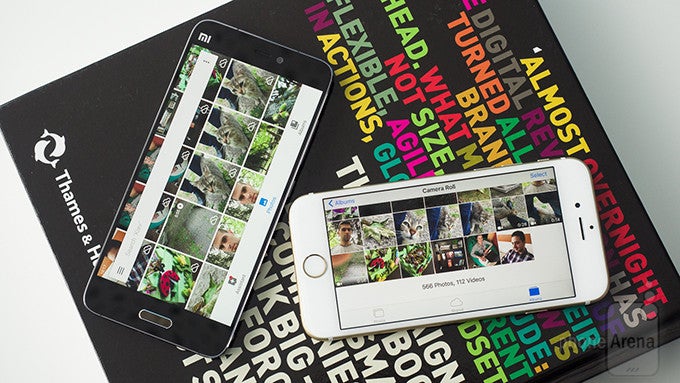 What matters more is how the two show color. Luckily, we're dealing with two great displays in this aspect as well: the Mi 5 stands out with its very bright and vivid display, it's really astonishing how good a display can look with such a high level of brightness that animates everything and with very deep blacks and great contrast. There are some slight color imbalances, but overall the Mi 5 has a very good looking display that conforms with the industry sRGB color standard.
The iPhone 6s, on its part, also has a very good-looking display. It's not as bright and whites appear a bit colder on the iPhone, but it has even better contrast and color is better fine-tuned to fit the important sRGB color standard that is used for most photos and videos on the web.
Outdoors, the Mi 5 is a bit easier to see: it has a bit more reflections but its higher brightness makes it easier to read what's on the screen outdoors.
iOS has added a nice Night Shift mode that turns colors to the red gamut at night since science says that blue colors prevent us from falling asleep easily, and that's a nice addition, but its screen is still way too bright at night with a minimum brightness of 6 nits. The Xiaomi Mi 5 can achieve a similar to Night Shift effect with a third-party app like Twilight (free on the Play Store), but it also gets down to a much more comfortable for night reading brightness level of just 1 nit.
Display measurements and quality