Apple Watch Series 8 vs Watch Series 6: is it worth getting the new one?
1
We may earn a commission if you make a purchase from the links on this page.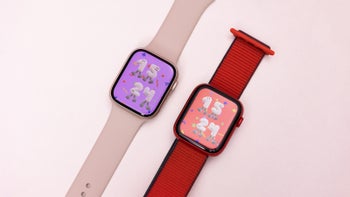 Intro
In September of 2022, we saw the launch of the
Apple Watch Series 8
and
Apple Watch Ultra
. While the latter is a new product, pushing the Apple Watch category to new levels of ruggedness and usability for athletes, the Apple Watch Series 8 didn't look like it has many things new about it. In fact, hardware-wise, it's still powered by the same processor that resides inside the
Apple Watch Series 6
.
And, the recently-announced watchOS 10 will come to the Watch Series 6, so it's not like you will be missing out on the new widgets, widget stacks, app redesigns, or the Snoopy watchface.
So, without diving too deep into it — if you are on a budget, you can do perfectly well with an Apple Watch 6 instead of the newest Series 8. But that's not to say that the latter doesn't have value. Let's take a closer look and give you all the pros and cons:
Apple Watch Series 8 vs Watch Series 6 in a nutshell:

The Watch Series 8 has a 20% bigger screen and thinner bezels
New gyroscope with Crash Detection on Watch Series 8
Temperature sensor for ovulation reporting on Watch Series 8
Same processor on both
Similar battery life
Watch Series 8 is quicker to charge
Design and Display Quality
Hey, you two look kind of similar
For the most part, the Watch Series 8 and Watch Series 6 look very, very similar. The same soft rectangle shape that mirrors the design language of the iPhones up until the
iPhone 12
became flat and stark. It's a nice unisex look that doesn't get caught on clothes, is easy to accessorize for, and is not too aggressive on the eyes.
The Apple Watch Series 8 has a 20% bigger screen than the Series 6 — the device itself is not bigger, it's that the bezels are thinner. It makes it look more prestigious, high-tech, and futuristic, as the screen almost curves into the sides. It also makes it a bit easier to interact with the Watch. On the other hand, it makes it even harder to slap a screen protector or case on it.
That said, the Watch Series 6 still looks perfectly fine and is fun to interact with — we have been using it for the past 2 years and still actively do so alongside the Watch 8. When the two timepieces are right next to each other, the Watch 6 does look a bit old-ish with its thicker bezel, but we don't give that another thought when out and about with it on our wrist.
Other than the bezel difference, we have basically the same screens — dense Retina displays made with LTPO OLED panels that can drop their refresh rate down to 1 Hz. Ergo, both Watches support Always-On screens, so the watchface is visible (in dark form) even if you don't raise your wrist. And both screens can reach up to 1,000 nits for viewability under direct sunlight.
Software and features
watchOS 9 for everybody
Both the Apple Watch Series 8 and Watch Series 6 share all the same sensors. Well, almost — the Watch Series 8 does have two upgrades. One is a new 3-axis gyroscope, the other is a temperature sensor.
These have niche applications for two new features, exclusive to the Watch Series 8. One is Crash Detection — able to read crashes from the rear, front, side, or rollovers. This feature will call emergency services for you if you are incapacitated — something we hope never happens, of course. The temperature sensor is used only for ovulation reporting and cycle tracking — it is only used to read basal body temperature while sleeping.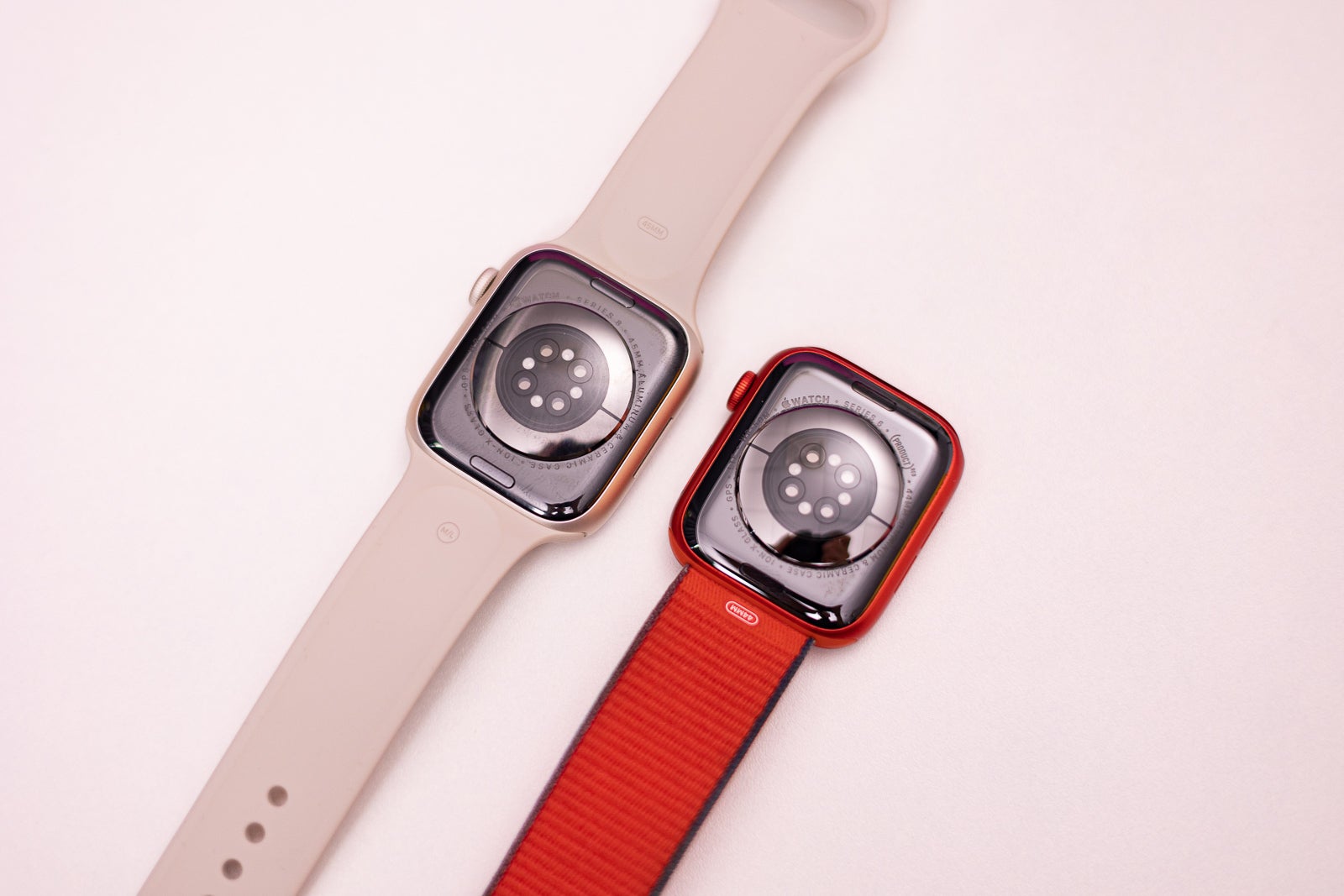 The sensors below (Image credit - PhoneArena)
So, those two features aside, the Apple Watch 6 will get all the new goodies that watchOS 9 brings, just like the Series 7 and Series 8 do. Those being enhanced Sleep Tracking that finally features Sleep Stages (deep sleep, core sleep, REM), custom workout programs that you can edit yourself, Low Power mode, and various tiny quality of life improvements throughout the interface.
Battery Life and Charging
Expect similarities
Since the Watch Series 6 launched, Apple's wearables have been sitting on that comfortable "day and a half" battery life — you get about 18 hours of use from them. Plus, you can charge them fast — 1 hour on the puck translates to 80% of battery, half an hour is about 50% charge, when starting from 0%. Any Apple Watch user has become accustomed to just plop their timepiece on the charger when they have a few minutes of down time.
This can be while taking your morning shower or getting ready for a night out — 20-30 minutes on the charger and you are good to go.
With watchOS 9, both these watches also get Low Power mode, which can double battery life. This is different than the Power Saving mode, which turned your Apple Watch into a simple timepiece. Low Power still retains some connectivity, albeit you may receive notifications with a delay. Always On gets turned off, and so do background readings, but the Watch lasts longer. It's good to turn it on when on a long trek or flight.
Processor & Storage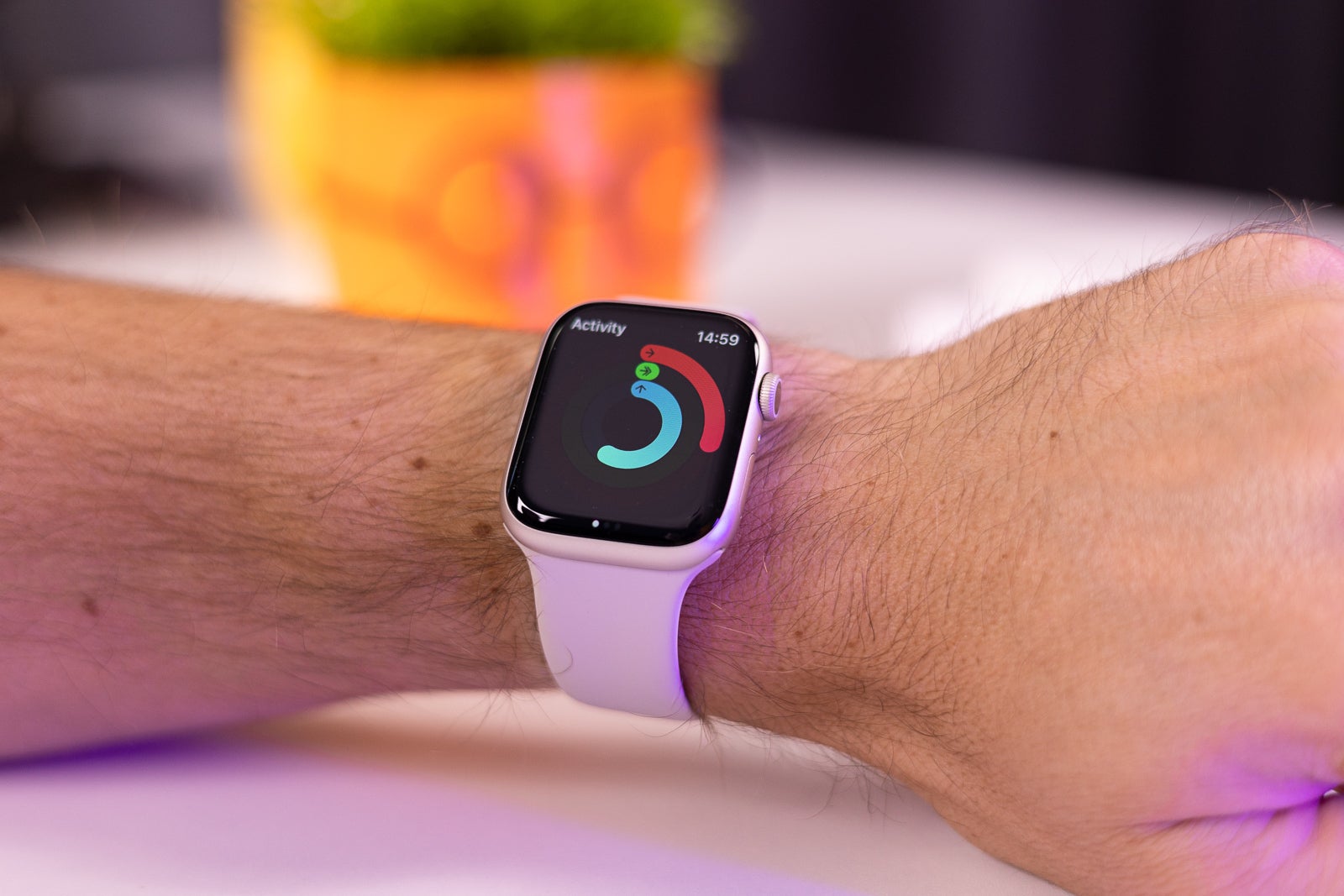 The Apple Watch Series 8 has a new, 8th gen SiP (System in Package), the Series 6 has the 6th gen SiP. But make no mistake — while there are differences in the sensors and, probably, the arrangement of components inside, both watches are powered by the "t8301" processor. It's a 64-bit, dual-core CPU that still runs perfectly fine — good enough for Apple to ship it with its latest Watch.
The Watch Series 8 and Series 6 both come with 32 GB for some limited file storage — favorite songs, or photos from your iPhone's gallery. It should be plenty enough to have a few playlists for workouts or studying without needing to lug your iPhone around every time.
Audio Quality and Haptics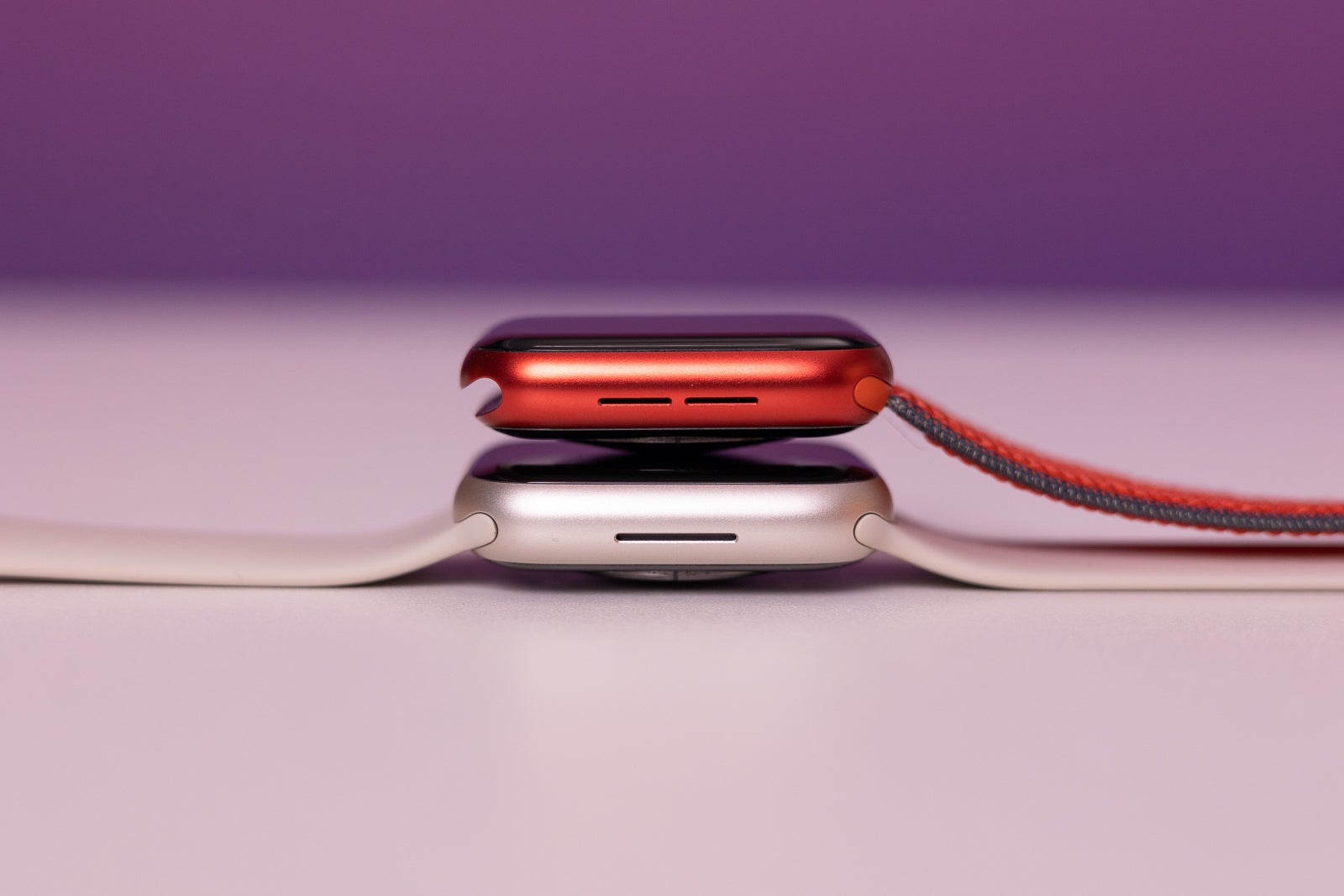 Speaker slits on the side (Image credit - PhoneArena)
Ever since the first generation, the Apple Watch has had an internal microphone and speaker, so you can take calls from your wrist. Such is the case with the Series 8 and Series 6. It's not super-loud, but the speakers are clear enough to actually understand your call partner. The microphones also do a good job of relaying your voice and we don't get many complaints, provided we were in a voice call friendly environment.
As for haptics — Apple's Taptic engine made its debut in the original Apple Watch and is still as excellent as ever. Be it for wake-up alarms, notifications, or calls, it taps, vibrates, and clicks with just the right force and precision.
Summary and Final Verdict
So, the Apple Watches are already pretty useful wearables — they have a plethora of useful trackers, they can mix, match, and fit any situation thanks to the unintrusive design and huge amount of armbands (1st and 3rd party), they work extremely well within the Apple ecosystem, and they are fast.
Is the Apple Watch Series 8 better than the Series 6? Well... a little bit, arguably. Depending on what you need, we guess. The bigger screen is an upgrade, sure, but the Watch 6 still has a perfectly viewable, pretty-looking display. Ovulation reporting will be useful to a subset of users. And Crash Detection may literally save your life in very specific scenarios, but then again — it's also supported by the
iPhone 14
series, so you don't need the latest-and-greatest Apple Watch if you do get an iPhone.
All that said, at its core, the Apple Watch Series 6 is as powerful as the Series 8, which means it will serve you well for many more years to come. If you want to save a few bucks, you can just look for a deal on a Series 6 and shop confidently.
That said, there's no shame in wanting the latest piece of kit — be it because you like the new Starlight color that Apple added to the Watch Series 8 or because you just want all the newest perks.
Recommended Stories