Sagem my511X User Reviews
Back
Please note that each user review reflects the opinion of its respectful author and not of PhoneArena.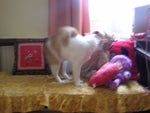 only because my SE K800i died...
Sonki has owned it for more than one year before publishing this review
Well, it's a cute phone, but it's more cute than useful. While I was using it everybody kept complaining about the quality of the reception and sound. All in all, it was pretty useful, but as soon as my K800 recovered, I went back to it without regret. Texting is especially difficult on this phone!
Build quality
Reception
Call quality
Internet
Multimedia
Camera
UI speed
Everyday usage
Text input
Display
Battery
Is this review helpful?
Report

mawson
sagem 511x
absolutely awsome phone very ceap heaps of features


bad keyboard
3 out of 3 people found this review helpful.
Report