Nokia 3310 User Reviews
Back
Please note that each user review reflects the opinion of its respectful author and not of PhoneArena.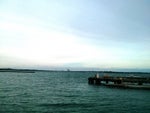 Good Feature Phone
Andronikos has owned it for less than year before publishing this review
A very good feature phone. I use it for call and text only. dont understand why the review give it 5 because of several weird cons.

The battery life on this phone and is great, perhaps a wifi connection also can help improve this phone
Build quality
Reception
Call quality
Internet
Multimedia
Camera
UI speed
Everyday usage
Text input
Display
Battery
1 out of 2 people found this review helpful.
Report