Poll: Would you buy the Samsung Galaxy Z Flip 3 at $999? Yes, no, maybe...
24
We may earn a commission if you make a purchase from the links on this page.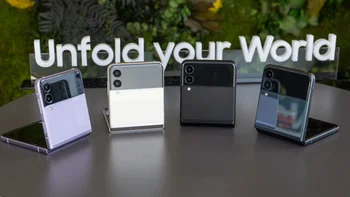 UPDATE:
The poll results can be summarized using the opening song from the popular sitcom Malcolm in the Middle. "Yes, no, maybe, I don't know, can you repeat the question?" I guess things would become much clearer once our reviews go live (stay tuned, they're on their way). Meanwhile, there are some good trade-in options already available (for those of you waiting to trade-in your old phone).
Samsung
made headlines with the
official announcement
of its latest foldable phones - the
Galaxy Z Flip 3
, and the
Galaxy Z Fold 3
. It seems that opinions are pretty polarized, and people either love these new phones or hate them with a passion.
Following their limited
hands-on
time with both models, my colleagues expressed a cautious positivity toward these next-gen foldable devices. It's really hard to draw any hard conclusions without rigorously testing them first, though.
The Galaxy Z Flip 3 sports some pretty decent specs, including a 6.7-inch 120Hz flexible display, water resistance (for the first time in a foldable phone), the latest Snapdragon 888 chipset, 8GB of RAM, cool colors, and more.
You can pre-order the Galaxy Z Flip 3 here:
The most interesting feature of this foldable, though, is its price.
Samsung has somehow managed to lower the price compared to the original Z Flip by a whopping 30%! The Galaxy Z Flip 3 starts at
$999
, which is exactly the starting price of an
iPhone 12 Pro
or a
Galaxy S21+
, and actually cheaper than other non-folding flagships such as the
Xperia 1 III
.
I'm not sure what the margins are on this model, and whether Samsung is selling at a loss but this could prove to be a turning point for foldable phones. So, this begs the question - would you buy the Galaxy Z Flip 3 at its current price?
I want to share my thoughts on this without trying to bias you. I like the idea of a compact folding phone, I really do! But that crease is bothering me, and triggering my OCD, and I always feel kinda nervous around a flexible display (checking if my nails are properly trimmed, feather-touching the screen).
On the other hand, I'd rather buy the Galaxy Z Flip 3 than the Sony Xperia 1 III and this is coming from a Sony fan! Vote in our poll and provide us with your clever thoughts in the comments below. Is the foldable revolution finally happening?