Why I'm excited for the Galaxy Z Fold 3 – a power user's dream phone
9
This article may contain personal views and opinion from the author.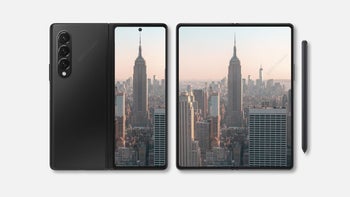 Concept render courtesy of Ben Geskin
Foldable phones are amazing and exciting not only because they brought a much-needed, futuristic new form factor to us phone users, but because of their vast potential. Late last year when I was using the Z Fold 2 for our
Samsung Galaxy Z Fold 2 long-term review
, I remember thinking how much better
Samsung
's 2021 sequel to that phone might be.
And by all accounts, it seems like the upcoming
Galaxy Z Fold 3
has plenty to be excited about, even though its predecessor is already the best folding smartphone available – a tough act to top.
S Pen stylus support is coming
Making a display that's soft enough to bend, yet hard enough to resist a stylus or even your fingernails is a tough thing, but it appears Samsung has found a way. Samsung has also reportedly
made an S Pen specifically for its third-gen foldables
, which, of course, includes the Z Fold 3.
That S Pen will likely have an extra soft tip, but after using the Apple Pencil and it's hard plastic one – I actually prefer a soft one, as it feels more like writing on paper. Samsung's S Pens personally feel nicer to write with (albeit cheaper-feeling) precisely thanks to their softer tips.
Take that nice
Galaxy Note 20
or
Galaxy Tab S7+
stylus experience and imagine how well it's going to translate on the Galaxy Z Fold 3 (hopefully). Jotting down notes, signing documents and even doing some light sketching on its 7.55-inch display, then closing the phone like a book and putting it in your pocket – priceless.
Lack of stylus support was arguably the only thing keeping last year's
Z Fold 2
from being the ultimate power user's dream phone but now – the Z Fold 3 will remedy that.
Lighter, better, faster, stronger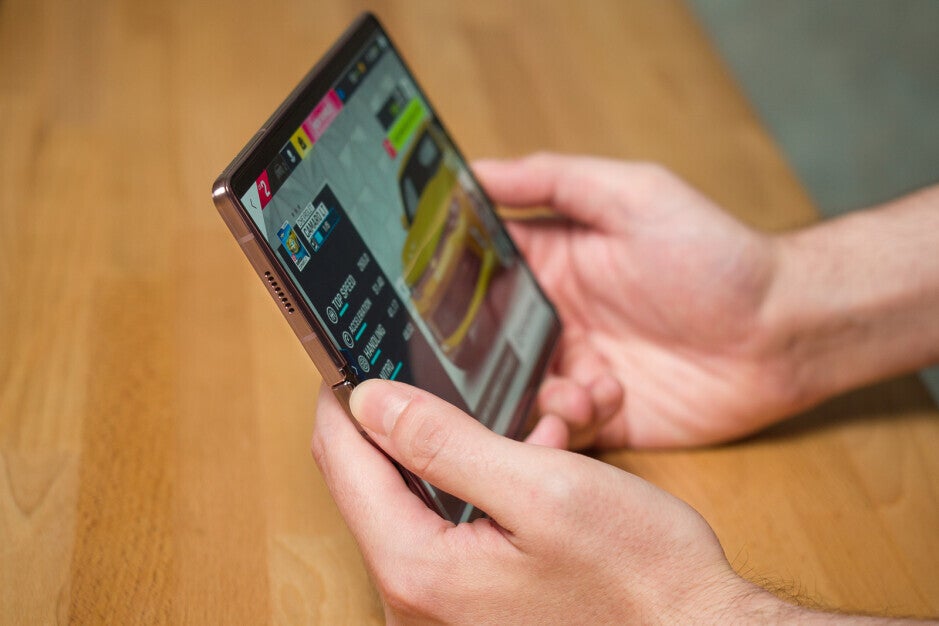 The Z Fold 2 (shown here) is great for gaming thanks to that big screen and solid build, but it could be lighter. The Z Fold 3 will be!
The Galaxy Z Fold 3 will weigh about 13 grams less than its 282 gram predecessor, which doesn't sound like much (because it isn't), but it's still something. The Z Fold 2 is a thick, weighty candy bar-shaped phone, but it bodes well that the Z Fold 3 will be lighter and supposedly slightly smaller and thinner.
Carrying the Z Fold 2 around was my biggest gripe with it, because you do have to get used to a completely new shape and weight in your pocket. It actually fit in most pockets just fine, and since I'm a user of heavy and big phones, the weight didn't bother me at first, but started eventually.
And of course, the Z Fold 3 will be powered by the Snapdragon 888 and pack 12GB of RAM to keep up with the times, but the Fold 2 was already well capable enough to run three apps in split screen and more in windowed mode, no hiccups.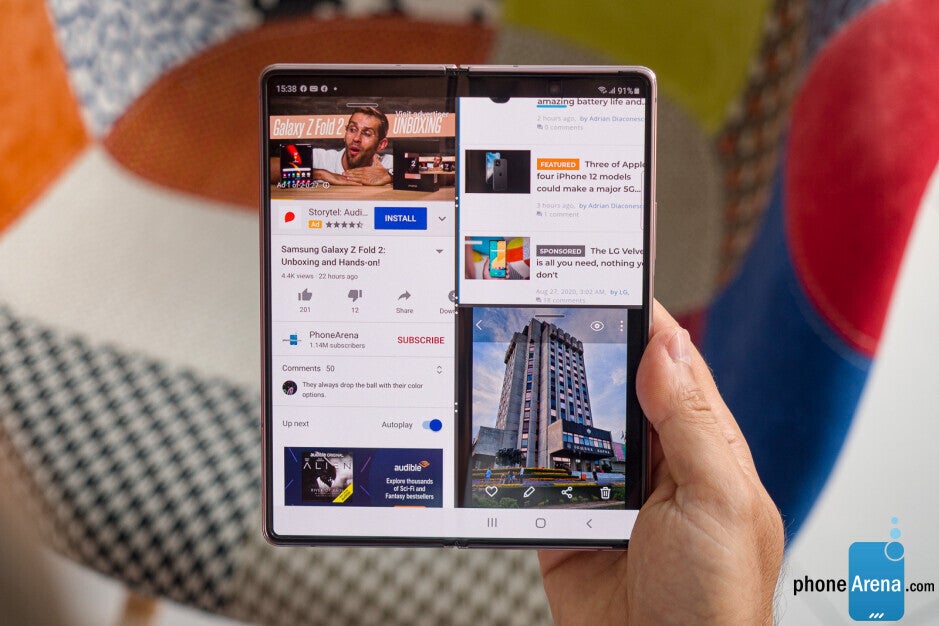 The Z Fold series are fantastic for multitaskers!
I had so much fun treating the Z Fold 2 like a tiny laptop, folding it like one and using its bottom half as a keyboard, and am looking forward to doing the exact same thing with the Z Fold 3 next month. And just thinking about the great things developers can think of and create for a phone like that gets me excited.
No selfie camera cutout? Thanks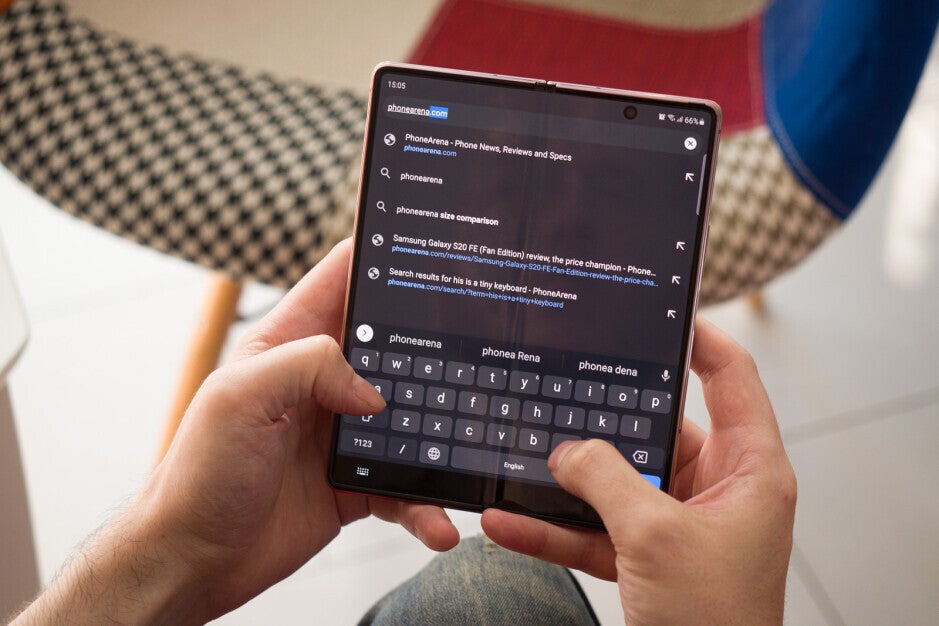 Say goodbye to that hole-punch camera in the top right!
Although the selfie camera cutout on the folding screen of last year's Z Fold 2 didn't take much space, it really affected some apps negatively. Back when I was using it, Netflix, for example, considered it a notch and completely didn't utilize the screen space above where the selfie camera began. You ended up with a video that isn't centered, nor filling the whole screen.
I know there are workarounds, but most people wouldn't bother. So having no camera cutout at all – just a large folding screen – would be great.
Reportedly the upcoming Galaxy Z Fold 3 will use an under-display camera instead. During my
look at the first smartphone under-screen camera
, most people I showed it to weren't super impressed with it, as it looked and worked more like a prototype, but Samsung likely has better technology by now.
Less gross folding display? I hope so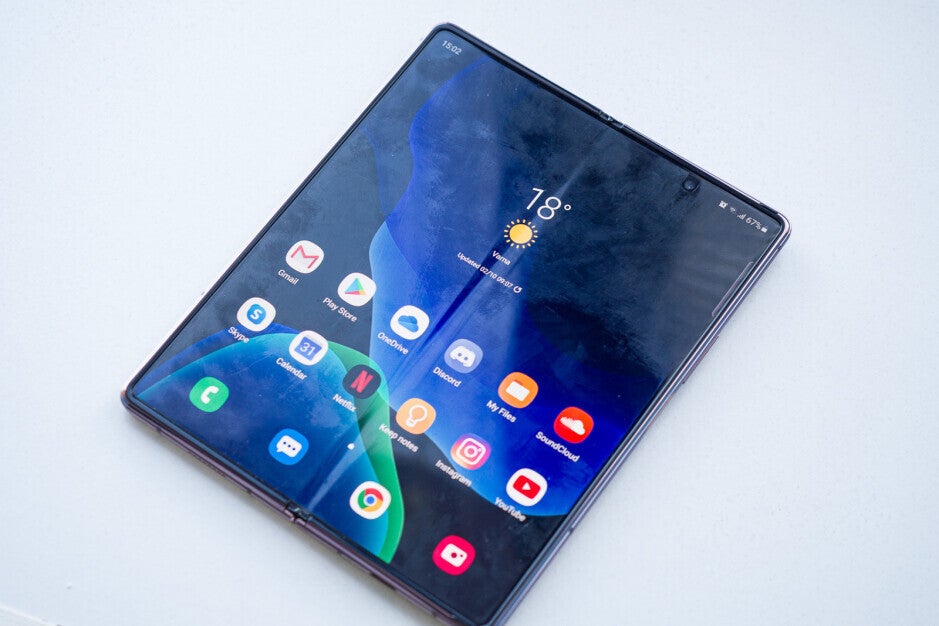 Better fingerprint resistance than on the Z Fold 2 (shown here) would be nice.
It feels like I'm the only person bothered by this, but like I said in my long-term Z Fold 2 review, the folding screen gets nasty quick. Its "screen protector", which Samsung says not to remove, collects all the fingerprints in the world and starts looking like a smudged fingerprint exhibition, especially if you're in well-lit rooms or even worse – outside. The surface of that "screen protector" also didn't feel good to touch, feeling more resistive than an average smooth glass phone screen.
This is pure speculation on my end, but I really hope Samsung's improved the Z Fold 3's folding screen surface in regards to how it feels and how fingerprinty it gets. Samsung is reportedly using a thicker display film stack in order to make the S Pen support possible after all. So I have hopes that this also brings improved fingerprint resistance.
Cheaper? Yes please
It's been rumored that the
Galaxy Z Fold 3 will be getting a price cut
of up to $400, which, if true, would put it somewhere in the $1,600 price range. That's still not cheap, but within the reach of many more potential users, especially when discounts start rolling out around
Black Friday 2021
.
A cheaper Z Fold 3 means wider adoption, and wider adoption will inevitably lead to more and better folding phones entering this young and promising market. Making it competitive and further pushing the prices down. One such new competitor that might be just around the corner is the
Google Pixel Fold
.
Finishing thoughts
The Galaxy Z Fold 3 will be officially unveiled at
Samsung's Unpacked event
on August 11, a mere two weeks from today. It's going to be the next step forward in smartphone evolution, more polished and hopefully more accessible. And in my opinion, it'll be the best smartphone for Android power users to get in 2021.
You might also be interested in checking out our detailed
Samsung Galaxy Z Fold 3 vs Z Fold 2
comparison for a more in-depth look at all of the expected the changes and improvements.
Thinking of preordering?
As is becoming customary, Samsung is giving you the option to reserve the Galaxy Z Fold 3 or Z Flip 3 right now with the following preorder bonuses:
Reserve the Galaxy Z Fold 3 for up to an extra $100 trade-in credit on top of Samsung's 'highest online instant trade-in values.'
Trade two phones or tablets instead of one for the Galaxy Z Fold 3 and Z Flip 3.
Your first 12 months of Samsung Care+ included (up to a $155 value).
An extra, special offer towards Galaxy products during pre-order.