Verizon unveils the third of four cities set to start the 5G revolution this year
3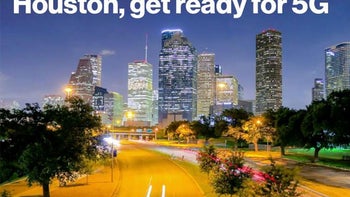 While it remains unclear exactly
what the 5G future holds
in terms of
real-life download speeds
, palpable breakthroughs and innovations, America's largest wireless service providers are at least increasingly clear as to the "where" of the equation.
The nation's number two carrier has already unveiled
2018 5G rollout plans
for half a dozen cities, including Atlanta, Charlotte, Dallas, Oklahoma, Raleigh, and Waco, with Verizon trying to (slowly) catch up.

Of course, it can't hurt to have the infrastructure ready ahead of time in as many places as possible, with Verizon still unwilling to reveal the final market integrated into its initial launch schedule.

Both state and local officials are wholeheartedly supporting Houston's inclusion in Verizon's ambitious plans to usher the "fourth industrial revolution", pompously billed as a "game changer" meant to "reshape cities and lead to unprecedented innovation." Those are certainly vague, exaggerated advertising statements, essentially contradicting Verizon's claim that "the future is no longer an abstract concept." Unfortunately, things remain as abstract as ever, at least until these residential 5G broadband services are rolled out to consumers.