Galaxy S9 hits 5G download speeds on a current LTE network
20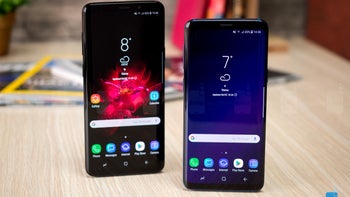 We are on the cusp of the 5G network cameo, but it won't be televised, as this is no revolution in terms of overall download speed increases compared to what current LTE networks are capable of, at least in the initial 5G iteration. The new standard mostly brings latency and load distribution upgrades, meaning that you can hook up many more connected devices on the same tower with minimal impact.
When it comes to speeds, though... those theoretical 20Gbps can only be hit in lab conditions with frequencies that aren't widespread, whereas the more realistic scenarios are derived from Qualcomm's real-life 5G testing earlier this year that returned 490Mbps for the median user. Well, there are phones on the market that can hit 1Gbps+ already, and with current commercial networks at that.
To prove that point, the Spanish carrier Telefónica aggregated three bands of licensed radio spectrum, and dubbed the LTE Advanced Pro tech as "4.9G" with a good reason. Taking advantage of the
Gigabit LTE modem
in the
Galaxy S9
they managed to achieve consistent 1Gbps download speeds in real-life conditions on a commercial network. That will keep you warm until mass 5G rollout on phones that won't happen before 2020, and phones like the Galaxy S9 or ones with any future 8-series Snapdragons will be able to usher you in the 4.9G realm with ease.
Thanks to their Snapdragon 845 chipset, the Galaxy S9 and S9+ sport Qualcomm's
X20
Gigabit LTE modem that can also top at 1.2Gbps, provided that your carrier can supply such speeds, of course. The
Galaxy S10 is already rumored to be "5G-ready,"
so the ball is now in Apple's court, and the recent developments with Qualcomm and Intel modem partnerships show that Apple is adamant to find a 5G solution worthy of its iPhones.