T-Mobile, Cricket Wireless, and Samsung lead the latest US customer satisfaction charts
9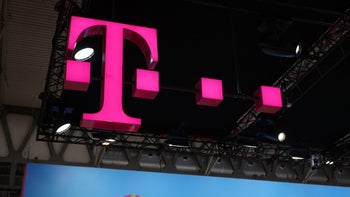 Even though customer satisfaction is a highly subjective and volatile method of measuring a company, service, or product's value,
T-Mobile tends to dominate
such surveys no matter who conducts the research and the sizes of the samples used by analysts to reach their conclusions.
The latest report
is based on email interviews with nearly 20,000 US wireless service users between April 2018 and March 2019, consolidating Magenta's domination over its four big rivals while also taking a close look at customer satisfaction provided by "full-service MVNOs", "value MVNOs", and last but not least, smartphone manufacturers and specific smartphone models.
Cricket Wireless joins T-Mobile at the top of the carrier ranks
AT&T can find a little consolation for ranking below T-Mobile, US Cellular, and Verizon as far as major mobile network operators are concerned in Cricket's MVNO victory over prepaid rivals Metro, Virgin, and Boost Mobile. Interestingly (although not entirely surprising), overall customer satisfaction with full-service MVNOs (mobile virtual network operators) is "dramatically higher" than the same ratings obtained by the nation's big five carriers.
That's mainly because Cricket Wireless, Metro by T-Mobile, Virgin Mobile, and Boost Mobile have a smaller, more loyal user base, with lower prices and the same nationwide coverage as their parent companies also contributing to scores of between 74 (Boost) and 79 points (Cricket) on a scale of 100. In contrast, T-Mobile barely racks up 76 points (the same as its Metro subsidiary), which is still enough to edge out US Cellular and Verizon's 74-point totals, as well as AT&T's 73 score. Meanwhile, Sprint continues to lag behind everyone with a disappointing 65 customer satisfaction rating, suggesting
T-Mobile's proposed takeover
could be the best thing to happen to the "Now Network" in a long time.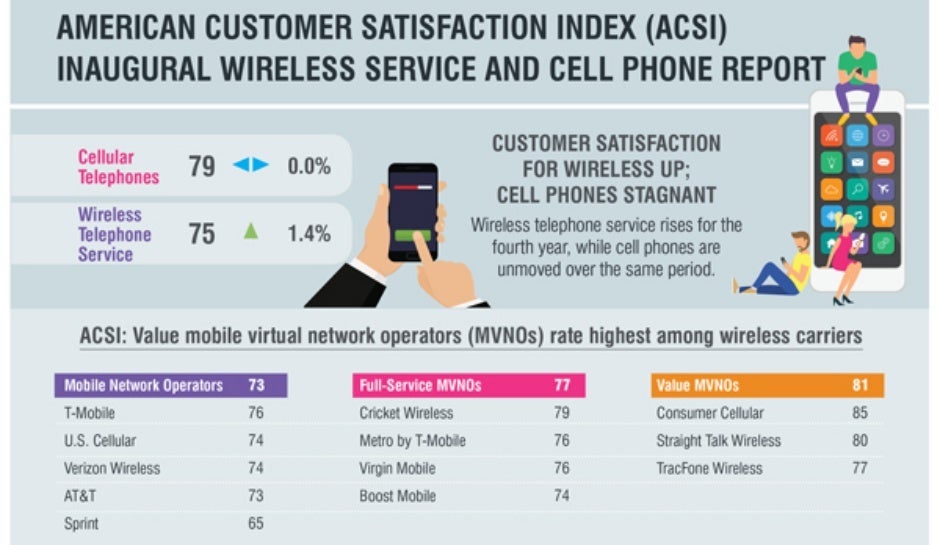 But AT&T subsidiary Cricket is actually not the highest-rated overall operator in the latest American Customer Satisfaction Index's (ACSI) wireless service and cellular telephone report, as Consumer Cellular leads the value MVNO category with an impressive 85-point total, ahead of Straight Talk and TracFone, both of which are also rated higher than T-Mobile... with much lower subscriber numbers.
In terms of network quality, however, both Verizon and AT&T manage to defeat T-Mobile, while Sprint is once again ranked dead last based on customer evaluations of call quality, reliability, coverage, and data speed. Essentially, that means
service rates
,
deals
, and
promotions
are actually what set T-Mo apart from its competitors for so many customers.
Samsung and Apple are neck and neck, but the Galaxy Note 9 is America's favorite smartphone
That's right, the Galaxy Note 9 beats every single iPhone variant in customer satisfaction with an ACSI score of 86. Surprised to hear that? We won't blame you if you feel that way, as Apple has long been considered the nation's favorite smartphone brand. That's still the case, but Samsung is tied in first place with the Cupertino-based tech giant at an identical score of 81.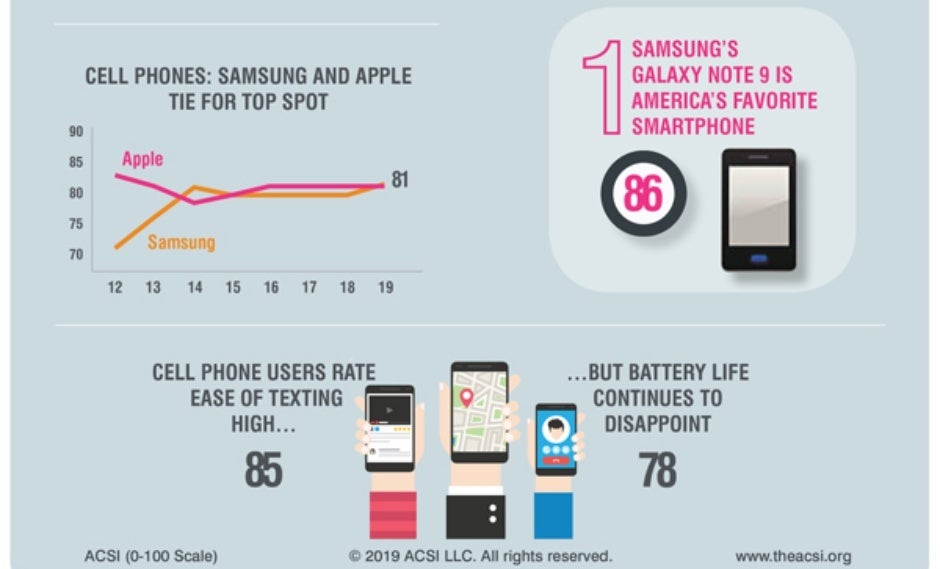 Interestingly, Apple holds the number two, three, and four spots on the smartphone model chart, with the
iPhone X
,
8 Plus
, and...
iPhone SE
. No word on the customer satisfaction ratings of last fall's iPhone XS, XS Max, and XR, which might have been able to put some distance between Apple and Samsung. We're guessing they weren't evaluated due to their late 2018 releases, although the report does seem pretty current otherwise, anticipating interesting changes with the recent commercial debut of the
Galaxy S10 5G
and future arrivals of other 5G-enabled handsets.
The next-gen cellular connectivity standard could help the industry overcome its recent rut, as a "combination of high expectations and a lack of innovation" is blamed for stagnant overall customer satisfaction with phones. The same average rating is actually up 1.4 percent as far as wireless service providers are concerned, although cell phone satisfaction is still a few points higher.