The world's first 1TB microSD card is finally on sale at a slightly lower price than expected
9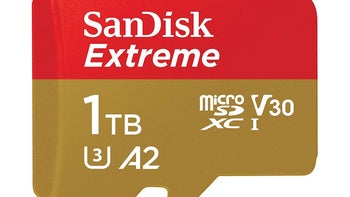 Just in case you needed further proof the mobile tech industry is making incredible progress at breakneck speed nowadays, you might recall
Samsung's first ever "terabyte-ready" phone
was only unveiled last fall. The Galaxy Note 9 offered 512 gigs of internal storage space, supporting up to 512 more by accommodating a new
first-party microSD card option
(as well as various third-party products).
But then the
Galaxy S10+
took things to the next level in a special Performance Edition,
starting
at a full terabyte of digital hoarding room while naturally also supporting external expansion. And now there's an easy way to make the ultra-high-end model a
two
terabyte device with the help of the world's first 1TB memory card. This comes from SanDisk (who else?), finally going on sale today in the US after a
formal announcement several months back
.
By "easy", of course, we don't mean it's affordable by any stretch of the imagination to obtain a phone capable of storing 2TB of data in total. In addition to the $1,600 you need to pay for an unlocked S10+ Performance Edition, the 1TB SanDisk Extreme UHS-I microSD card will cost you an extra $449.99 right now. Believe it or not, that's actually 50 bucks lower than the recommended price point initially announced by SanDisk. At the same time, it's a whopping $250 more than what the memory-specialized company typically charges for a 512 gig Extreme model.
Naturally, speeds are just as important as capacity, and unsurprisingly, this bad boy shines in that particular department as well, with up to 160MB/s read and maximum 90MB/s write velocity. Both Full HD and 4K Ultra HD video clips are supported, although you'll have to capture quite a lot of high-quality footage to exceed the internal limit of a 1TB, 512GB, or even 256GB high-end smartphone.