Note 9 a terabyte phone? Yes, with Samsung's new card
14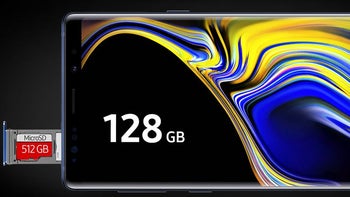 The
Galaxy Note 9
might very well be the first terabyte phone from the world's top maker, as Samsung just took the stage, and confirmed a 512GB version with 8GB RAM. When you add the internal storage of its now-certain 512GB model, and a microSD card of the same capacity, it all works out to the magic 1 terabyte number. That same card is yet to come, but the presenter hinted that the world's top memory maker will finally add a 512-gigger to its portfolio, for what will probably be a hefty price.
Granted, the
Mate RS
was the first phone officially announced with a 512GB version, but it seems to be a unicorn for now, plus its microSD slot is listed supporting up to 256GB cards only, though theoretically, it should support any capacity thrown at it, too. This amount of internal storage is most than a lot of thin and light laptops that ship with SSDs are able to muster, and you'd be hard-pressed to ask for more in a phone.
What's even better, however, is that the price of the 512GB version of the Note 9 won't be exorbitantly higher than the basic 128GB model. Moreover, the 512GB model of the Note 9 won't be as exclusive as we first heard, but prepare to pay about two Benjamins more for it, not bad.