New 1TB microSD cards can make the S10+ a 2TB phone, for a price
17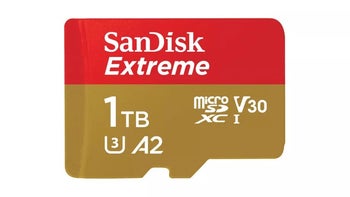 SanDisk and Micron just
announced
the world's first 1TB microSD cards, with a release date pegged for April. Just one such card, paired with the 1TB
Galaxy S10+
model, would mean more storage than you probably have in your current laptop or even desktop computer but the pricing comes at a hefty premium.
The SanDisk model of a UHS-I microSDXC card offers 160MB/s read speeds and 90MB/s writing, while the Micron creation is a bit faster in writing, but much slower at reading, with 100MB/s.
The price? Well, $499.99 for the 1TB SanDisk card, how about that? Micron hasn't yet announced pricing but we hope it will be lower as the company will release it by the summer, leaving early adopters to mass on the SanDisk's hefty price tag. Any takers?