Samsung's Unpacked event teaser leaks, but Galaxy Z Fold 3 release date up in the air
1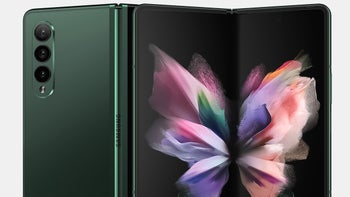 After we saw a preview of the
Samsung Galaxy Unpacked Galaxy Z Fold 3 event invitation
where the rumored August 11 date prominently appeared, now it's time for the video format of the invitation to pop up.
Unearthed by
Ishan Agarwal for MySmartPrice
, the teaser video depicts what seems to be a bendy device and Samsung's official slogan for the event will apparently be "Get Ready to Unfold," so where there's smoke, there's probably
Galaxy Z Fold 3
and
Z Flip 3
fire indeed.
Samsung Galaxy Z Fold 3 and Z Flip 3 launch date
August 20, 2021
August 27, 2021
That's all fine and dandy, by now we already know that Samsung will hold an Unpacked event to announce its 2021 foldable phones - the Samsung Galaxy Z Fold 3 and Z Flip 3 - on August 11 at 2 PM GMT/ 10 AM EST, but when will the phones actually be released?
Well, that same launch date is apparently up in the air, reports Korean media today. Samsung has allegedly not decided on an exact date yet, and the originally rumored August 20 Galaxy Z Fold 3 release date may even be postponed.
The report says that the originally eyed early Galaxy Z Fold 3 release date about ten days after the announcement may have to be rescheduled due to some unforeseen COVID pandemic-related circumstances.
Thus, the growing consensus about a new Z Flip 3 and Z Fold 3 launch date over at Samsung is August 27, a date that has actually been bandied about before, and is more in line with Samsung's typical August Unpacked events device launch scheme from the times there was still a Galaxy Note line.
Update: You can now register for preorder bonuses for Galaxy Z Fold 3 and Flip 3

As you would expect, Samsung is giving you the option to reserve the Galaxy Z Fold 3 or Z Flip 3 right now with the following preorder bonuses:
• Reserve the Galaxy Z Fold 3 for up to an extra $100 trade-in credit on top of Samsung's 'highest online instant trade-in values.'
• Trade two phones or tablets instead of one for the Galaxy Z Fold 3 and Z Flip 3.
• Your first 12 months of Samsung Care+ included (up to a $155 value).
• An extra, special offer towards Galaxy products during pre-order.