Samsung Galaxy Watch Black Friday deals
0
We may earn a commission if you make a purchase from the links on this page.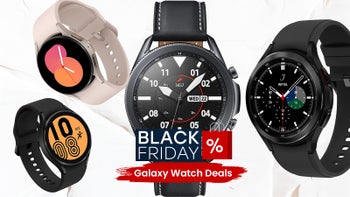 Black Friday 2021 is ancient history now, and there are some great takeaways from the biggest shopping event of the year. We saw many deals and discounts on nearly every gadget in the modern technology world, and this of course includes smartwatches.
All big smartwatch manufacturers had some form of a Black Friday deal going during the event, and Samsung wasn't an exception. The fans of the Korean tech giant were able to pull the trigger on some sweet deals, and the interesting part was that the best ones were on Samsung's own website!
Granted, there were Black Friday Galaxy Watch deals at pretty much every big online retailer but while Best Buy and Amazon offered discounts between $50-100, Samsung was giving away Galaxy watches for free. Of course, those deals involved trading in an old device but still, pretty decent options from the Korean company.
Now it's all in the past but fret not - some of these deals are still active, and while the discounts aren't as good as the ones during the Black Friday event, you can still get a Galaxy Watch at a pretty decent price.
Samsung Galaxy Watch deals after Black Friday



Also read: