Samsung's ultra-premium Galaxy Tab S9 family will reportedly (and predictably) have three big models
4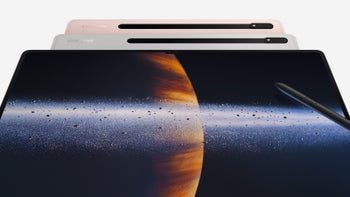 You may not have realized this, but the Galaxy Tab S8, Tab S8+, and Tab S8 Ultra are officially more than a year old. If these were high-end phones, we'd fully expect new editions to be up for grabs already, as is the case with the Galaxy S23 family.
But
Samsung
's tablet release schedule is often a little more complicated and harder to anticipate than that, with the Tab S8 lineup itself having seen daylight roughly 18 months after the Galaxy Tab S7 and S7+ of 2020.
If the company would stick to a similar upgrade cycle for a prospective Galaxy Tab S9 series, that's likely to go official alongside the
Z Fold 5, Z Flip 5
, and possibly the
Galaxy Watch 6 roster
at some point in August.
Largely shrouded in secrecy up until today, the Tab S9 family is now all but guaranteed to include "regular", Plus, and Ultra members, exactly like the Galaxy Tab S8 lineup before it. That's hardly surprising, of course, and the same goes for all the model numbers revealed by the almost always reliable folks over at
GalaxyClub in the Netherlands
(
translated here
).
These might prove handy for digging more preliminary information on the Galaxy Tab S9, Tab S9+, and Tab S9 Ultra prior to their official announcement tipped for late summer. For the time being, all we "know" is that all three of those next-gen premium Android slates are bound to come in Wi-Fi-only and 5G-enabled variants around the world.
Stateside, for instance, you're looking at unlocked SM-X718U, SM-X818U, and SM-X918U models equipped with cellular connectivity, while the Wi-Fi-only versions are expected to carry SM-X710, SM-X810, and SM-X910 designations.
Finally, the "global" 5G-capable model numbers are rumored as SM-X716B, SM-X816B, and SM-X916B, with no information of substance attached to any of these devices at the moment... apart from water resistance gossip from a couple of weeks back.

According to quite possibly
the most reputable source of Samsung-related intel
on the interwebs, the Galaxy Tab S9 family is likely to offer an IP67 standard of water and dust protection. That would be pretty rare for devices of these sizes (possibly ranging from 11 to 14.6 inches again), instantly putting the Tab S9, Tab S9+, and Tab S9 Ultra on track to bid for the title of
best tablet
in the world.