One market research firm claims Apple fell to fourth place in Q2 2019 smartphone shipments
22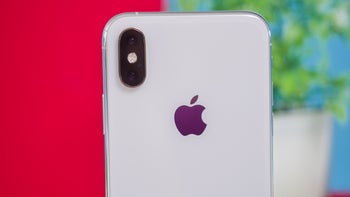 While most reputable market research firms released their
latest quarterly smartphone sales reports last week
, one such company took a few extra days to crunch the numbers, ultimately ranking the world's top five vendors differently than Canalys, Strategy Analytics, and Counterpoint.
According to IHS Markit
, the global iPhone shipment decline registered between April and June 2019 was so bad that it ended up ejecting Apple from the podium. With 35.3 million units sold worldwide this previous quarter, the Cupertino-based tech giant was purportedly surpassed by not just Samsung and Huawei but also Oppo. Interestingly, the other three analytics firms all ranked Oppo in fifth place, narrowly behind Xiaomi, at around 30 million units.
Meanwhile, IHS claims the Chinese brand demonstrated its "value to European carriers" by supporting early 5G rollouts, which contributed to a year-on-year sales boost of 13 percent, from 31.9 to 36.2 million units. Whether or not Apple dropped another position in the global smartphone market, everyone can agree the company has
a big problem
in a couple of
large countries
.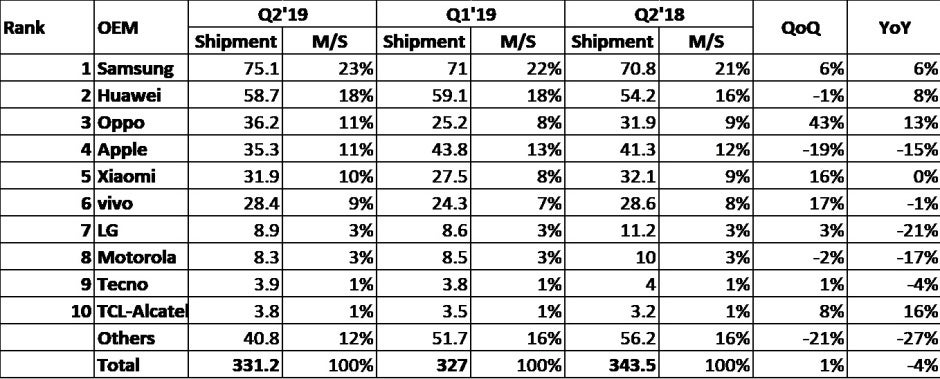 Keep in mind that Apple lost to Huawei for the first time ever
back in Q2 2018
, and those numbers are now down 15 percent, which is also lowering Cupertino's market share from 12 to 11 percent. What's worse is that
iPhone revenues are taking a hit
as well, but at least compared to Q2 2019, the impending launch of a
new iOS handset lineup
should mark a substantial improvement.
All research firms also agree overall smartphone shipments dropped yet again in the April - June 2019 timeframe, although that didn't stop both Samsung and Huawei from boosting their figures. But Huawei faces a tough third quarter due to its
uncertain situation
in relation to the US government, which probably means Samsung will easily extend its lead.
In fifth and sixth place, Xiaomi and Vivo are essentially stagnating, while LG and Motorola took pretty big hits, according to this particular report. The former's poor results
don't exactly come as a surprise
, but we were
under the impression
the latter brand was doing well, which is something IHS doesn't seem to agree with.