Live Listen on iOS 12 can be abused to pair iPhone and AirPods for spying purposes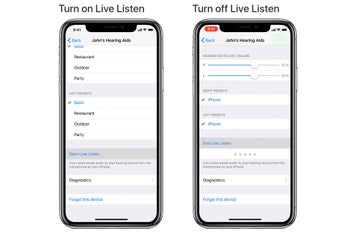 Live Listen is an iPhone and iPad feature that's been around since the introduction of
iOS 12
several months ago, but until recently, it didn't quite get the same level of public attention as
Memoji
,
Group FaceTime
,
Screen Time
, App Limits, or the newly revamped notifications.

Unfortunately for Apple, what was initially intended as a great accessibility tool for iOS users with hearing difficulties is now making headlines as a potential way of spying on unassuming friends and family members.
As it turns out, enabling an iPhone's Live Listen functionality and leaving said device near a person you may want to eavesdrop on will allow you to do just that on a connected pair of
AirPods
in another room.

It almost goes without saying this is not an entirely new feature, but if other people thought of using their AirPods, iPhone, and Live Listen setting this way, they either never told anyone or they weren't lucky enough to see their tweets become viral.

For those who don't know, Live Listen can be activated from an iPhone or iPad's settings menu by accessing the Control Center, then the Customize Controls option, and finally Hearing to add the respective widget to your Control Center. All that's left to do afterwards is set Live Listen to On.
The aim,
according to Apple's support webpages
, was to "help you hear a conversation in a noisy room or hear someone speaking across the room" by essentially turning an iPhone or iPad into a remote microphone sending sound to a Made for iPhone hearing aid. You should probably still use the Live Listen feature for its original, noble goal instead of invading anyone's privacy. There are likely better and subtler ways to do that anyway.