iPhone SE (2022) camera: Everything you need to know
1
We may earn a commission if you make a purchase from the links on this page.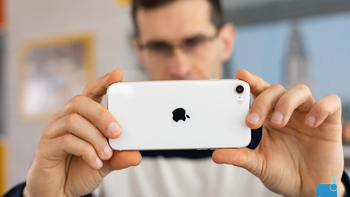 It is no secret that the iPhone SE is somewhat the black sheep from Apple's phone lineup, but that also makes it an interestingly placed device in the market. The
iPhone SE (2022)
comes with a strange mix of specs, with the camera being one of the more notable ones, as it is vastly superior to other competitors from this price range.
There is an obvious downside here, though, and that is you only get one camera when you buy
Apple
's most affordable phone. Despite that, quality must also be taken into account, and the photos and videos that come out from the 2022 iPhone SE's camera are superb for the price you pay.
Of course, many would discard the great camera on the iPhone SE (2022) because of its absurdly outdated design. That being said, if you are one of the people that don't mind an outdated screen and design, and want a good phone camera below $500, than this is definitely an option worth considering.
With the iPhone mini model now officially out of the
iPhone 14
lineup, your best bet for a small iOS device is the iPhone SE (2022). Read on for even more details!
iPhone SE (2022) camera specs and features

Before we delve into the camera intricacies of the new iPhone SE (2022), let's compare the camera specs with the previous model, as well as the current iPhone 13 mini.
| | iPhone SE (2022) | iPhone SE (2020) | iPhone 13 mini |
| --- | --- | --- | --- |
| Main camera | 12MP wide, F1.8, OIS, PDAF, Smart HDR 4 | 12MP wide, F1.8, 28mm focal length, 1/3" sensor size, OIS, PDAF | 12MP wide, F1.6, 26mm focal length, 1/1.9" sensor size, OIS, PDAF |
| Secondary camera | - | - | 12MP ultra-wide, F2.4, 13mm focal length |
| Video-recording features | 3840 x 2160 (4K UHD 60fps), 1920 x 1080 (Full HD up to 240fps), cinematic video stabilization | 3840 x 2160 (4K UHD 60fps), 1920 x 1080 (Full HD up to 240fps) | 3840 x 2160 (4K UHD 60fps), 1920 x 1080 (Full HD up to 240fps) |
| Front camera | 7MP F2.2, Full HD video recording. | 7MP EIS, HDR, Full HD video recording | 12MP EIS, HDR, 3840 x 2160 pixels 60fps video recording |
Thanks to the arrival of the A15 Bionic on deck, the
iPhone SE (2022)
has scored many of the iPhone 13's computational camera-centric features. We get Photographic Styles, which allow you to choose a specific look for your photos, as well as Smart HDR 4, Deep Fusion, and Portrait mode.
Here's what each of these does, as explained by Apple:
"Smart HDR 4 uses intelligent segmentation to apply different adjustments for color, contrast, and noise to the subject versus the background. This ensures faces are properly exposed in challenging lighting, and renders people in the same photo individually, with different adjustments optimized for lighting and skin tone for each person.

Photographic Styles allows users to bring their personal photo preferences to every image while still benefitting from Apple's multiframe image processing. Preset and customized preferences work across scenes and subjects, and unlike a simple filter, intelligently apply the right adjustments to different parts of the photo to ensure the important elements, like skin tones, are preserved. Deep Fusion uses advanced machine learning to do pixel-by-pixel processing, optimizing for texture, details, and noise in every part of the photo. The image signal processor in A15 Bionic delivers significantly improved videos with reduced noise, particularly in low light, with better white balance and truer skin tone."
iPhone SE (2022) image quality
Overall, the iPhone SE (2022) has a nearly identical image quality to the iPhone 11, with the addition of the already-mentioned improved HDR and photographic styles. However, one bug missing feature is a dedicated Night Mode, which leads to blurred low-light photos that are simply not good enough.

iPhone SE (2022) video quality
When it comes to video, the iPhone SE does an okay job, despite using older hardware. It lacks the newer sensor-shift stabilization that graces newer iPhones, so it's not as stable. Moreover, the framing is just a tad tighter than the one you'd get with an iPhone 13 mini, for example. Overall, the quality is consistent with what you'd expect out of an iPhone — reliably predictable!