Huawei P30 Pro quad camera setup seemingly confirmed by company CEO
14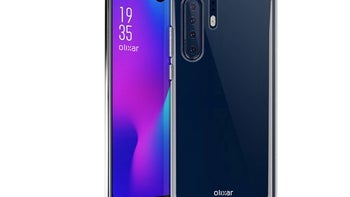 After officially kicking off the P30 series teasing games yesterday with
March 26 Paris event confirmation
and a 10-second clip meant to build buzz around the super-advanced zooming skills of its
next flagship device
, Huawei may have unintentionally revealed one of the key P30 Pro selling points.
Over on Weibo
, aka China's Twitter, Huawei Consumer Business Group CEO Richard Yu shared a seemingly innocuous picture of the moon in celebration of the local Lantern Festival that took place yesterday. While the text accompanying the snapshot was apparently written on a
Porsche Design Mate 20 RS
, the actual image may have been captured by a different product, as suggested by a poorly edited camera watermark. You know, one of those things that
we still can't believe exists
on phones from so many otherwise top-notch companies.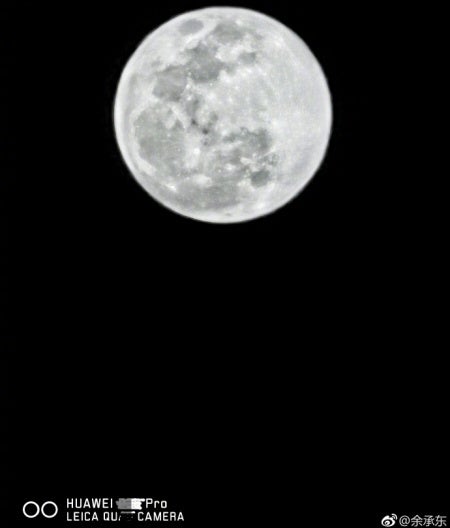 Despite Yu's surprisingly crude attempt at hiding said watermark on this artistic photograph, we can easily tell a Leica triple camera setup wasn't in charge of the zooming action here. Instead, a "Pro" device equipped with a Leica quad camera was obviously used, which can only be the upcoming
Huawei P30 Pro
since both the
P20 Pro
and
Mate 20 Pro
feature "just" three shooters on their backs (each).
Of course, we can't help but suspect Richard Yu actually gave this secret away intentionally to further raise hype around the Huawei P30 and P30 Pro. After all, no one can be
that
bad at Photoshop, let alone the CEO of the world's second-largest smartphone vendor. Besides, the stock camera watermark "feature" can be easily disabled from the settings menu before taking a picture.
All that being said, until we know more about the camera specifications and capabilities of the Huawei P30 Pro, that number doesn't mean much.
Some of the world's best cameraphones
still come with only one rear-facing shooter, matching and even topping the imaging prowess of many triple-lens flagships. That's not to say we're not excited about the quad camera P30 Pro or penta-lens
Nokia 9 PureView
. But it's probably wise to wait and see what these bad boys can actually do out in the real world before getting too excited.