Pixel 3 vs iPhone XS vs Galaxy Note 9: Blind Camera Comparison
43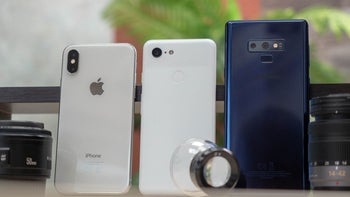 You have been hearing a lot about the best camera phones of the year, and when it comes to the very finest, three names pop up: the Google Pixel 3 series, the new iPhone XS and XR family, and the Samsung Galaxy series, best represented by the latest Note 9.
But which one of these takes the best photos?
We were as curious as everyone to find out and that's why we went out and shot a bunch of pictures with these phones. We will be bringing you quite a few detailed articles analyzing the differences, but before that, let's start with a blind comparison where you tell us which photo you like better. It works like this: we have hidden the names of the phones, the metadata and all other clues that might reveal which phone took which picture. For this comparison, you tell us based not on the name, but on the photo itself.
Ready? Let's waste no time and get started.
Daylight Shot #1
Daylight Shot #2: By the sea
Daylight shot #3: Through the woods
Daylight shot #4: A walk in the park
Portrait Mode Tested
Night Shot #1: The Happy Bar
Night Shot #2: The University
Portrait Mode at Night
Day Selfie
Night Selfie
Final words
So that wraps up our blind comparison.
Feel free to discuss the photos in the comments section below and we will be unveiling the phones that took these pictures in the very near future, so stay tuned!
Recommended Stories