This is how the Nokia 9 PureView's penta-camera could work
9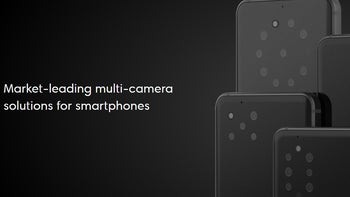 Light, the digital photography company that is a proponent of the possibilities evoked by multi-lens photography on a mobile device, has outed a
dedicated section
on its website with a header that looks conspicuously like the
Nokia 9 phone teaser
.
It depicts 4-, 6-, and even 9-lens cameras on a mobile device, arranged in different configurations on the back, complete with flash and light sensors. Well, the eventual Nokia 9 PureView, rumored to be
announced soon
, is only said to arrive with a 5-lens kit, the poor soul.
We kid, but if Nokia has indeed managed to pull this off, it might very well have been in partnership with the Light company which has Foxconn as a manufacturing partner - coincidentally, the same one that Nokia has. Light already has a 16-lens camera on the market, whose owners seem to mostly like the fact that it replaces their DSLR in 80% of the cases.
Light extolls the virtues of its L16 contraption and says it can stuff the same technology into smartphones now, bringing "unparalleled sharpness" and "13 stops of dynamic range" captured simultaneously. Add to these the depth control that only a multi-lens camera can bring, some computational photography chops, and we are getting very excited to see if Nokia would indeed announce a phone with a 5-lens camera before the MWC expo next month, as is speculated.
The eventual
Nokia 9 PureView
, however, won't be cheap, as the latest rumors
about its price and release date
peg the starting tag at the equivalent of $880 which is on the very high end for a Chinese phone. The rest of the specs are expected to be stellar, too, so, after so much empty hopes and rumors, we may finally be about to see the world's first 5-lens phone unveiled, ahead of the alleged
4-lens
Galaxy S10X 5G model
. Here are a few samples from the multi-lens camera technology of Light for your viewing (and hoping) pleasure.