Harmful Android apps racked up a scary number of Google Play downloads just last month
4
Despite
Google's best efforts
, the go-to place for safe app downloads on Android devices is still riddled with all kinds of threats, ranging from the more innocent-sounding adware to the most damaging and dangerous stalkware or banking trojans.
All in all, a grand total of 172 harmful Android apps were discovered in September, wreaking havoc on hundreds of millions of devices before the vast majority were pulled from Google's Play Store for various tricks and malicious behavior. But the number that should worry the search giant the most is 335 million, which is how many installs these apps racked up before disappearing or being uncovered by various researchers like Stefanko.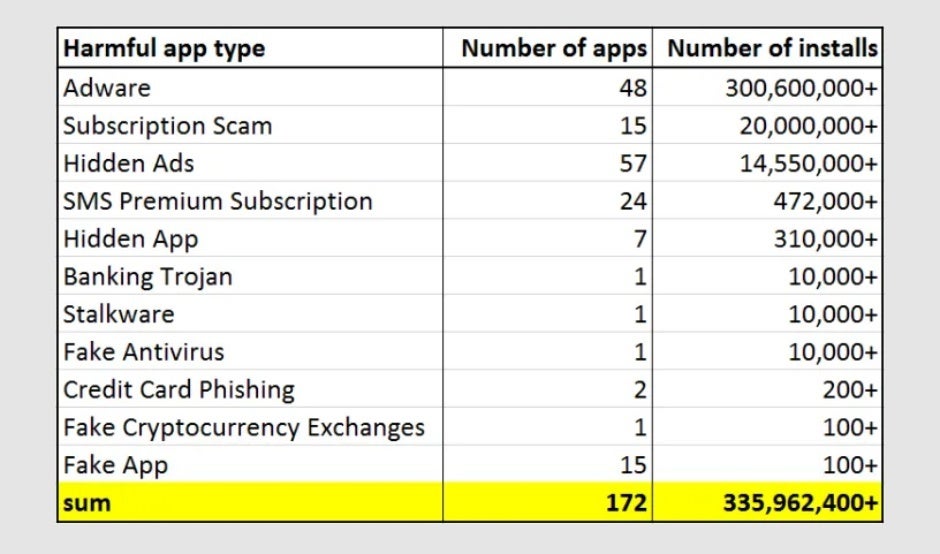 As usual, while it's absolutely fair to point the finger at Google for not being able to protect the Play Store and Android users better, some of the blame for that insanely high number of malware downloads also rests with the users themselves. Most of these apps can easily be identified by their low average rating scores, not to mention the actual content of some of their reviews, where their malicious angle is often reported by the first batches of victims.
If you're curious what are the most popular types of malicious Android apps running rampant in Google Play lately, the answer is (as always) adware. These apps can be a little harder to call out, sometimes serving up ads in the background without you ever noticing to generate unlawful revenue. But subscription scams are on the rise and they can be far more perilous, charging you (sometimes exorbitant) monthly fees for services advertised as free.
Meanwhile, the banking trojan, stalkware, fake antivirus, and fake cryptocurrency exchanges categories "scored" a spot in the September 2019 malware chart with only one app of each type discovered, which is still one too many.