Google is blocking more malicious apps from entering the Play Store than ever, but it's still not enough
3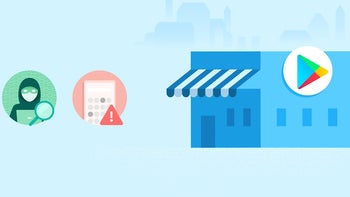 In case you couldn't tell by
how often Google makes headlines
nowadays by
purging the Play Store
of various types of
malicious Android apps
, the search giant has significantly ramped up the fight against "bad actors" and shady developers. At the same time, it's unfortunately also
abundantly clear
that there's a lot more work to be done in the mobile security and user privacy protection fields.
As highlighted in
a new Android Developers Blog post
, "bad actors will continue to try to evade" Google's increasingly complex systems by "changing their tactics and cloaking bad behaviors." But the good news is great, concrete progress is being made towards not only cleaning up the Play Store of malware, but perhaps more importantly, stopping potentially harmful applications from entering the digital marketplace in the first place.
While Google is being all secretive about the actual number of apps blocked before anyone could download them in 2018, the yearly total of rejected submissions is said to have surged by more than 55 percent compared to 2017. App suspensions are also on a substantial rise of over 66 percent from an already colossal figure of 700,000 takedowns during the previous 12 months.
If you're wondering exactly how the company is able to deal with the sheer volume of malicious junk submitted to and often published by the Play Store, the answer is naturally a combination of human effort and machine learning technology. As with Gmail's increasingly sophisticated and
effective spam filtering techniques
, Google has more and more people reviewing suspicious apps and stronger automated protections in place.
The Google Play Protect system installed by default on Android devices around the world is now capable of scanning over 50 billion apps each and every single day to ensure new and updated titles on your phone aren't "behaving in harmful ways." That essentially means you're eight times less likely to download malware from the official Play Store compared to "other sources" of app installs. But again, no malicious app detection and removal system is infallible, so don't be shocked if you continue to see
alarming reports of bad apps running wild
.