Android users need to avoid these apps before they get ripped off
51
There are so many ways that infected apps can affect you without your knowledge. They can play ads on your phone in the background making money for the bad actors causing the handset to lag and suffer from a rapidly draining battery. Or they can use a premium messaging platform to send texts that you'll be charged for. And some of these apps will disappear once you install them and with no icon in the app drawer, uninstalling them becomes more complicated.
Now,
IT security firm Sophos
(via the
Sunday Express
) has discovered some new "fleeceware" that has been developed to separate Android users from their hard-earned cash. And the scary thing is that the apps do not contain malware or any type of malicious code. These apps won't even harm your phone if you install them. Instead, they simply overcharge Android users for utility apps with basic functions such as a calculator, a compass or a QR reader.
Once again red flags appear in the comments section

Here is how these scam apps work. Android users can install and use these apps for free, but only during a trial period (usually 3 days). Payment information is requested in advance. Once the trial period expires, if the service has not been canceled by the user AND the app uninstalled, he or she is charged an exorbitant amount not grounded in any semblance of reality. For example, some of these apps charge Android users as much as $240 once the trial period expires. And if you uninstall the app before hitting the 'Cancel' button, you might be out of luck because when the app goes away, so does that all-important button. Most Android developers would consider you to be through with their app once it is uninstalled from a phone.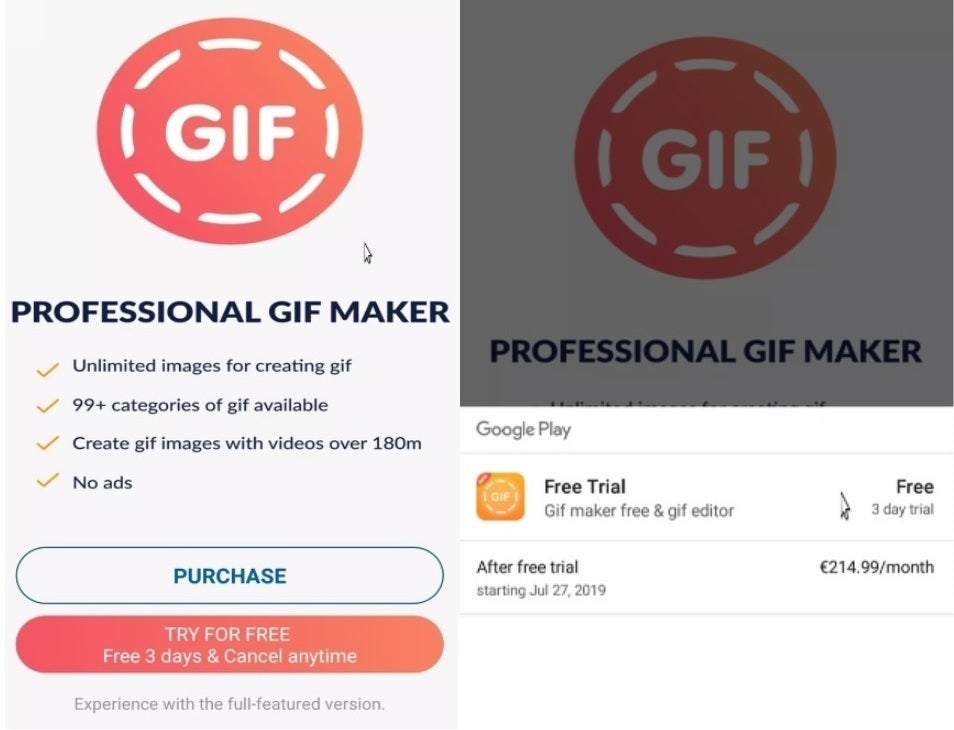 Example of fleeceware
Once again, red flags could be found right in the listings on the Google Play Store in the comments section. One particular post indicated that Google will not reimburse Android users who were scammed out of their cash. And when Sophos approached Google with a list of 15 "fleeceware" apps, Google told the company that it had already decided to remove some of the apps. While 14 of these 15 apps have been delisted from the Play Store, the security firm says that it has found other titles with even higher install counts than the original 15.
"In many reviews for fleeceware apps, users report that they failed to unsubscribe from the trial period, and get charged very high amounts of money. In the case of one QR code reader app, the developer charges users €104.99 after 72 hours. The makers of an app called Professional GIF Maker charge users €214.99 when the trial ends. We haven't seen apps sold at this price before."-Sophos
The developers behind this particular scam are hoping that Android users installing their apps forget about the three-day free trial. Heck, many of us can't even remember to cancel a 30-day free trial. And they are also counting on users not understanding that merely deleting the app doesn't remove the installer's financial obligations to the developer. It's an odds game for these developers who probably have figured out what percentage of installs typically result in a large payday for them. So it is simply a matter of getting more and more Android users to download these apps, sit back, and collect their dough. And since they are technically following the rules created by Google for in-app purchases, there really isn't much that can be done.
To avoid getting caught by one of these apps, read the comments section first. You'll find posts from people who got ripped off. Avoid these apps like the plague. In addition, set a reminder on your phone to cancel before any free trial period expires. Read the fine print always and never delete one of these apps without canceling the service first.
ALSO READ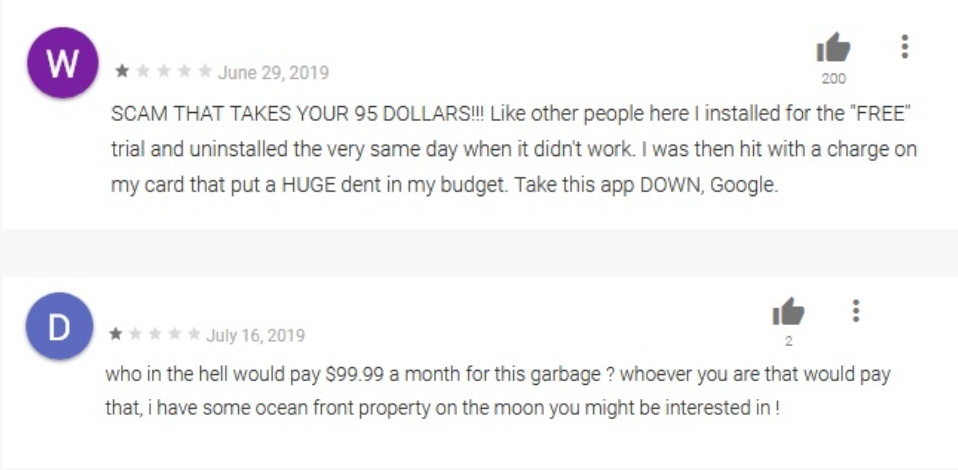 Reading the comments for an app listing first will usually give a red flag warning