Google Pixel 3 Lite XL could carry a different name, pack 4GB RAM after all
6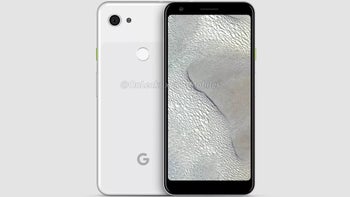 Leaked CAD-based Pixel 3 Lite XL render
Google's in-house smartphone designs and release schedule have been rather predictable since the Nexus lineup was killed off, with three Pixel generations unveiled around the same time in the fall of 2016, 2017, and 2018 in "regular" and XL sizes.
But the search giant might be planning to mix it up sometime this spring by making a mid-range market comeback of sorts. Unfortunately, there's no reason to expect
a revival of the Nexus family
, although the impending
Pixel 3 Lite
and
Pixel 3 Lite XL
may well be able to recapture the spirit of Google's early days in the smartphone design game.
Decent processing speed for a mid-ranger

If this benchmark proves legit (still a big if), the Google Pixel 3a XL already runs Android 9.0 Pie on the software side of things, while packing 4 gigs of RAM and a seemingly mysterious octa-core Qualcomm SoC.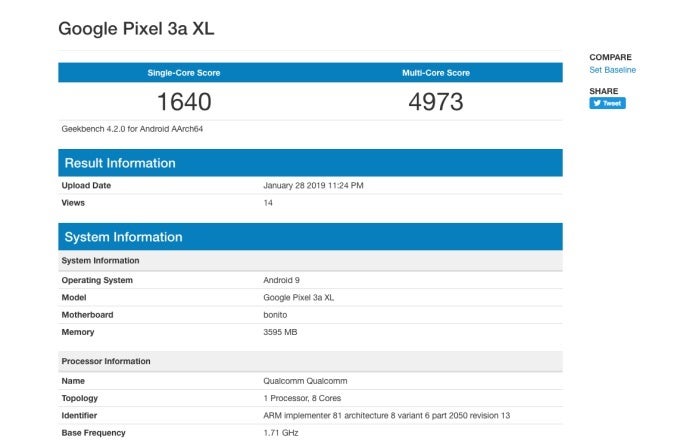 Newly revealed benchmark

After doing a little digging, we're fairly confident that's a Snapdragon 710 chipset, judging from the 1.71 GHz base frequency and a convoluted "ARM implementer 81 architecture 8 variant 6 part 2050 revision 13" identifier.

This can't be the Snapdragon 845 (unfortunately), as even its humbler quad-core CPU cluster is clocked at 1.8, not 1.7, GHz. Perhaps more importantly, the 1640 and 4973 single and multi-core performance scores respectively of the "Pixel 3a XL" don't exactly align with what's typically expected of a Snapdragon 845 system.
The
Pixel 3 and Pixel 3 XL
regularly get around 2,300 and north of 8,000 points in these single and multi-core speed tests, so clearly, we're looking at an unreleased mid-ranger here. But just because this no doubt advanced prototype runs the latest version of Android, it doesn't mean the software is also optimized.
After all, the
Snapdragon 710
is Qualcomm's best non-flagship processor, designed to deliver a stellar balance between raw power and energy efficiency, with a 10-nanometer architecture, advanced AI capabilities, blazing fast LTE download speeds, and more.
A few interesting upper mid-rangers have so far adopted the 710, including Samsung's
Galaxy A9 Pro
, aka
Galaxy A8s
, and the
Nokia 8.1
, aka
X7
. Bottom line, it's possible the Pixel 3a XL will be capable of solid multimedia playing, web browsing, gaming, and multitasking work when it's actually released.
Enough memory to satisfy (almost) everyone
Speaking of multitasking, the newest benchmark seems to contradict a slightly older one that listed a
Snapdragon 710-powered "Pixel 3 XL" with 6GB RAM
. That smelled fishy from the get-go, though, given the actual, existing Pixel 3 XL pairs 4 gigs of the good stuff with Qualcomm's state-of-the-art Snapdragon 845 processor from last year.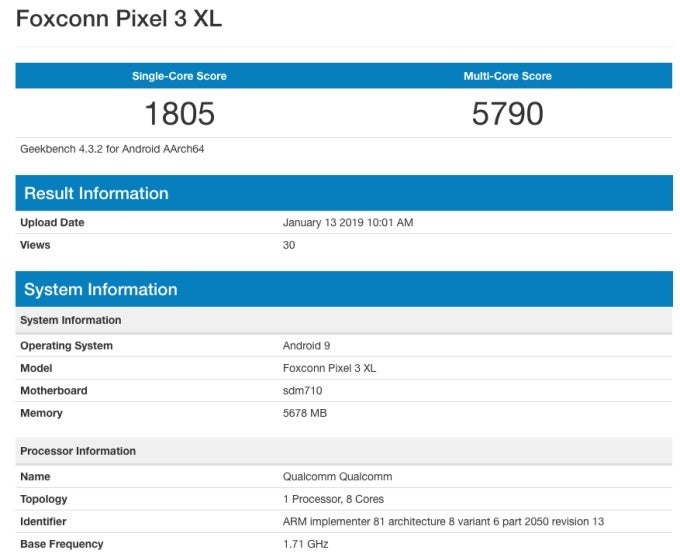 Older, sketchier benchmark
All in all, it's far more likely the Pixel 3a XL will come with 4GB RAM, which should still be enough to satisfy all but the most demanding mobile multitaskers. While 6GB RAM has slowly become the high-end standard, and more and more companies are upping the ante in their spec wars to 10 or even
12 gigs of memory
, phones like the
Galaxy S9
are plenty smooth with only 4 gigs in tow.
Unfortunately, there's not much else we can glean from Geekbench right now, other than the somewhat curious "bonito" moniker listed in the Pixel 3a XL motherboard section. This is actually a codename that was rumored a while ago in connection with a
possible "mini Pixel" release
.

That's definitely not what we're looking at here, but it remains to be seen if the jumbo-sized handset will ultimately be named Google Pixel 3a XL or Pixel 3 Lite XL. Pricing is under wraps as well, which can usually make or break a mid-range smartphone.