There's a 5G Samsung Galaxy Fold in the works, but you probably won't be able to get it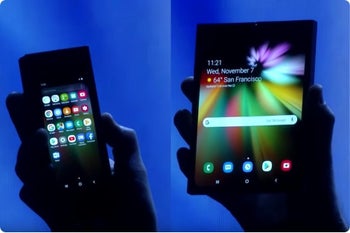 If 2018 was the year of the notch, it looks like foldable designs and 5G may well be 2019's biggest mobile industry trends. At least two companies will apparently try to bring the two buzzwords together for maximum hype, and unsurprisingly, these just so happen to be
the world's largest smartphone manufacturers
.
While
Huawei has officially confirmed
its first-ever foldable device will also offer 5G support and pop up at next month's Mobile World Congress ahead of a commercial release in April "at the earliest", a similar Samsung announcement is still only a rumor.
A very credible one hailing from
SamMobile
's usually reliable inside sources, but obviously, nothing's certain until the company says it's certain. If this fresh gossip does pan out, a 5G Samsung
Galaxy Fold
is likely to go on sale in Korea over the next few months at an unspecified price.
Back to the Galaxy Fold (still an unconfirmed name, by the way), we should mention its paint jobs might have also been revealed today, including blue, green, silver, and black for both 4G and 5G-enabled variants. That's a lot of colors for a device merely confirmed to ship in
1 million+ units
worldwide, so perhaps Samsung is thinking of ramping up production soon.
The company's highly anticipated first foldable device is
expected to be showcased
in full at a San Francisco event on February 20, although it's unclear if this potentially Korea-exclusive 5G version will be unveiled at the same shindig. If it's indeed not coming to the US, probably not.