AT&T confirms its own H1 2019 release of a 5G Samsung phone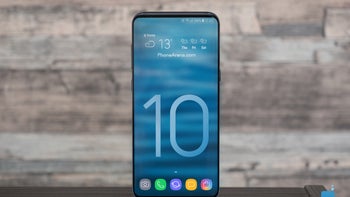 Verizon was
the first US carrier to essentially put an end
to speculation about a
Korea-exclusive 5G Galaxy S10
, and just 24 hours later, AT&T follows suit with its own
indirect confirmation of that highly anticipated device
.
Once again, the
5G-enabled Galaxy S10
is not mentioned by name, as America's second-largest wireless service provider cryptically announces plans to "grow its mobile 5G device lineup with a 5G smartphone from Samsung in the first half of 2019."
Obviously, that can only be one Samsung device expected to pack a state-of-the-art
Snapdragon 855
processor which Qualcomm intends to fully detail later today. The
Snapdragon X50
-containing SoC is
no longer a question mark
, but Verizon made an exciting promise yesterday, teasing the showcase of a 5G-capable "proof of concept" developed in collaboration with Samsung.

AT&T doesn't really have anything similar in the pipeline, merely highlighting its own close relationship with Samsung through tests of "important business use cases for 5G."
Meanwhile, the network's everyday customers can already expect to purchase the Netgear Nighthawk 5G mobile hotspot soon, which
was recently unveiled
as the world's first "standards-based mobile 5G device" capable of accessing a "live millimeter wave 5G network."

Technical jargon and meaningless firsts aside, AT&T's race to commercial 5G service people can actually use looks pretty impressive, with next-gen mobile network rollouts planned in Atlanta, Charlotte, N.C. Dallas, Houston, Indianapolis, Jacksonville, Fla., Louisville, Ky., Oklahoma City, New Orleans, Raleigh, N.C., San Antonio, and Waco, Texas by the end of this year, followed by an expansion to "parts" of Las Vegas, Los Angeles, Nashville, Orlando, San Diego, San Francisco, and San Jose, California during the "first half of 2019."
If all goes according to plan, it sounds like a decent number of people will be able to enjoy the incredible benefits of the 5G technology on a
top-shelf Galaxy S10 variant
within six months or so.
Recommended Stories