Huawei beats Apple again for second place in global smartphone shipments, as Samsung struggles
53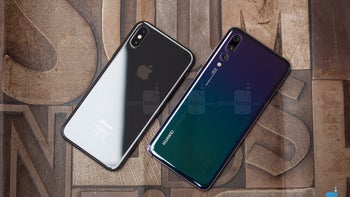 The global smartphone industry is "effectively in a recession", according to the
latest Strategy Analytics research
, a view largely shared by the
International Data Corporation (IDC)
, as the two highly respected market intelligence firms just simultaneously released their respective Q3 2018 reports.

The actual numbers differ slightly, but the general idea is the same. Worldwide smartphone shipments have yet again declined, by anywhere between 6 and 8 percent compared to last year's July - September quarter, to either 355 or 360 million units.

This is the fourth consecutive slumping quarter for a market that flourished like no other during the previous decade or so, and market researchers are starting to doubt the recovery will be as swift and significant as formerly anticipated.

But not all of the world's major vendors are suffering the consequences of "longer replacement rates, inventory buildup in several regions, and a lack of exciting hardware design innovation."
Huawei and Xiaomi's numbers are in fact maintaining their remarkable trend, surging by around 32 and 20 percent respectively from Q3 2017 shipment volumes.
As recently forecasted
, this is allowing Huawei to edge out Apple for
the second straight quarter
, with a gap of around 5 million units separating the industry's number two and three players.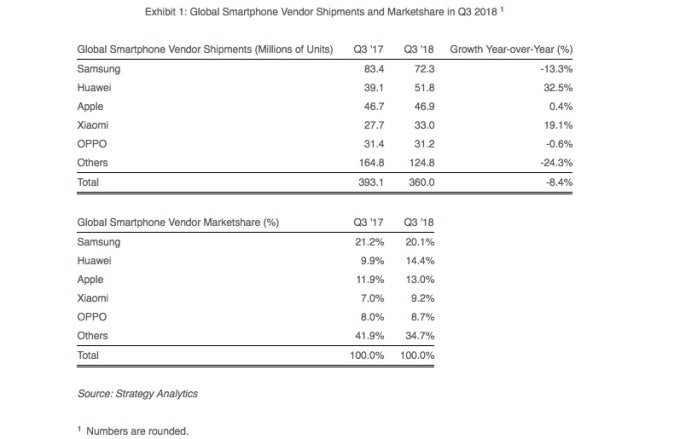 In first place, Samsung retains a healthy lead over its two main rivals, but the company's dipping sales are getting more and more problematic. We're now talking about a massive year-on-year fall of over 13 percent in unit shipments, as well as a drop from a 21 or 22 percent market share to a little over 20 percent.
While the
Galaxy Note 9
launch was reportedly successful, Samsung still needs its mid-end portfolio to perform better on a global scale. Huawei, on the other hand, has had both budget-friendly and high-end hits, including Honor-branded mid-rangers and
new P-series flagships
. And yes, things are also looking good for the
Mate 20 family
.
Last but not least, it's worth pointing out that Oppo is still the world's fifth-largest smartphone vendor, losing a couple of percentage points in shipments while slightly boosting its market share, as premium designs like the
Find X
and R17 are also improving the company's profitability and Western high-end relevance.