Best AT&T Black Friday deals: Recap of 2022 and expectations for 2023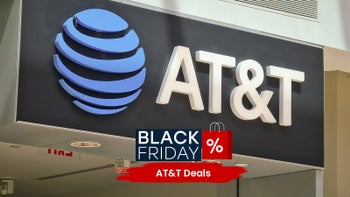 Black Friday 2022
has officially ended, which means that nothing remains for us but to make a recap of the event and draw our expectations for 2023.
Black Friday 2022 gave us tons of deals on many superb phones, tablets, and smartwatches, with many BOGO deals available on Apple iPhone, Samsung Galaxy, Google Pixel, Motorola flagships, and more.
Next year's Black Friday event will take place in late November 2023, as usual, and we expect tons of deals on all the upcoming hot phone that will see the light of day in 2023, as well as most devices that we saw discounted in 2023.
What were the best AT&T Black Friday phone deals in 2022?
AT&T had a ton of great deals on phones in 2022, including a multitude of BOGO deals and markdowns on the hot Galaxy and iPhone flagships. Most of these deals call for a qualifying trade-in and might also require you to open a new line on an eligible 5G plan.
Some of the more intriguing deals saw a massive $1,350 write-off on the awesome Galaxy Z Fold 4, as well as $750 off on the Galaxy Z Flip 4, both with trade-in required. Meanwhile, the awesome Galaxy S22 ultra was $825 off, of course with a trade-in required, and the Galaxy S22 Plus went down by $650 off, selling for just $350 with trade-in. Finally, the awesome regular Galaxy S22 was available for just $325 with trade-in, which was a superb deal on the compact flagship.
A similar neat discount was available on the iPhone 14 Pro Max as well, which was 74% off with trade-in, while the iPhone 14 was free with trade-in. The iPhone 14 Plus also got discounted by a whole lot of $800, while the Pixel 7 could be yours for free with trade-in.
What were the best AT&T Black Friday 2022 smartwatch deals?
BOGO deals are usually associated with phones, but this year AT&T had some exceptional BOGO deals on the Apple Watch Ultra, Apple Watch 8, Apple Watch SE 2nd Gen, Galaxy Watch 5, Google Pixel Watch, and more.
When do the AT&T phone deals start on Black Friday?

There's probably no way of guessing when AT&T will kick off its Black Friday deals. Sure, it might seem intuitive that as soon as the Thanksgiving Turkey goes cold, the carrier will unleash its deals and promotions, but there's a high chance that the deals will be revealed days ahead of the actual Black Friday. In 2022, for example, the Black Friday deals kicked off a week ahead of the discount festival, so we expect the same pattern in 2023 as well.


Can I get a free iPhone from AT&T on Black Friday?

Similarly to Verizon and T-Mobile, AT&T usually has its own BOGO deals this Black Friday. By buying an iPhone with an eligible line, you can get a second unit for free, which is essentially a 50% off. The most recent iPhones are usually included in AT&T's BOGO deals, but so are some slightly older yet still relevant iPhones. In 2022, we saw lots of similar deals on the iPhone 14-series and the iPhone 13-series. So, yes, technically, you can get a free iPhone on Black Friday, and we expect that to remain the same in 2023 as well.