Apple iPhone 14 deals
We may earn a commission if you make a purchase from the links on this page.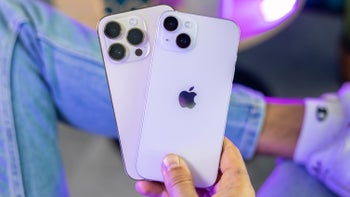 The
iPhone 14
series gets to be Apple's most expensive line ever with an ASP hitting $3796 as Apple nixed the mini and introduced a big but $899
iPhone 14 Plus
at its place that nobody seems to want now.
Moreover, it introduced the widest specs and performance gap between the Pro and non-Pro models, pushing everyone into the higher price tier, as exemplified by
the higher initial demand for the Pros
and fans are scouring for the best possible
iPhone 14 Pro Max
price, so we are rounding up what iPhone 14 deals you can now grab from Apple, T-Mobile, Verizon, AT&T, Best Buy, Amazon, or Walmart, where available.
Here are all the iPhone 14 series storage version prices:
| iPhone model | 128GB of storage | 256GB of storage | 512GB of storage | 1TB of storage |
| --- | --- | --- | --- | --- |
| iPhone 14 | $799 | $899 | $999 | - |
| iPhone 14 Plus | $899 | $999 | $1099 | - |
| iPhone 14 Pro | $999 | $1099 | $1299 | $1499 |
| iPhone 14 Pro Max | $1099 | $1199 | $1399 | $1599 |
Best iPhone

14 Plus deals
The iPhone 14 Plus got released later than the rest of the 2022 iPhone crew, on October 7, as Apple usually does with its new new form factors to keep the early adopter buying momentum going, and it is proving every bit of the battery champ expected. The deals are similar to the iPhone 14 Pro, i.e. you can get the iPhone 14 Plus for $800 off at AT&T or T-Mobile, plus an exclusive One Unlimited for iPhone plan at Verizon.
iPhone 14 Pro Max deals and carrier gifts
The Apple iPhone 14 Pro Max price didn't increase and, moreover, AT&T was first that came out swinging with
$1000 off the iPhone 14 Pro Max base version
, coming hot on the heels of the new punch-hole display design and the Apple A16 chipset exclusivity for the Pro line, not to mention their camera and display upgrades.
Up to $800 in bill credits with smartphone trade-in value of of $230 or higher (iPhone 8 and up)
Up to $350 in bill credits with smartphone trade-in value of $35 to $129
Verizon followed suit as for the first time you can trade a damaged iPhone 11 Pro and up for
$1000 towards the 14 Pro Max purchase
, but now gives only $800 tops. Oh, switchers will get $200 extra on top of all the iPhone 14 Pro Max Verizon deals.
Free iPhone 14 Pro deals
As usual on AT&T, you may get up to $1000 on the iPhone 14 Pro, getting it for free, but T-Mobile and Verizon aren't behind, with Big Red even announcing a dedicated
One Unlimited
plan to celebrate the series launch with a free iPhone 14 Pro offer for those who trade a broken iPhone as old as the 11 Pro.


The deals are valid for new and existing customers up for contract renewal and, of course, requires you to go for an Unlimited contract and payment in installments. Technically, the discount is applied via monthly bill credits.
iPhone 14 deals
At AT&T, Verizon, or T-Mobile an eligible trade-in can will net you a free iPhone 14, too, again for new customers or existing customers alike, but just those who sign an unlimited contract and choose to pay off the iPhone 14 with an installment plan. Your discount will be applied via bill credits, so the iPhone 14 will technically be free.
This free iPhone 14 offer usually doesn't apply to Verizon's cheapest unlimited plans, which are now the $65/month Welcome plan, or the Start plan, so Verizon customers should look at the dedicated
One Unlimited for iPhone
plan that is exclusive for the iPhone 14 launch.
What retailers sell the iPhone 14?
As the iPhones are very popular phones, almost all major US retailers and carriers have them. The iPhone 14 will be available on carriers like Verizon, AT&T, T-Mobile, and on retailers Amazon, Best Buy, Walmart, and many others. Needless to say, the iPhone 14 phones are available on the Apple Store as well.
Are there iPhone 14 deals without a contract?
As you may know, the deals we see on iPhones are linked with a contract to a carrier, usually with an installment plan. Retailers such as Best Buy or Amazon won't even sell the unlocked iPhone 14, and the deals there are with carriers. Therefore, your best bet is you want to get the iPhone 14 unlocked, without contract, is the Apple Store. The cool thing with the Apple Store is that Apple has its own trade-in program and can have good discounts even for the unlocked models with no contract obligations to a carrier.

Has the iPhone 13 price gone down?
Yes, by $100
iPhone 13 Pro models are discontinued
The iPhone 14 series sports a thorough redesign for the Pro models and a doubling of the 6.7-inch form factor with a new iPhone 14 Plus, so you were right to expect better
iPhone 13 deals
with a drop in price for the previous models when the new model came up.
Apple's website now sells the
iPhone 13
and
13 mini
with a slight $100 drop in price, but the Pro models are discontinued as the design and features gap with the iPhone 14 Pro series is much larger than usual. Still, if you want a mini iPhone, the 2021 series is still your friend with the
iPhone 13 deals
below
Recommended Stories