iPhone 11 (R) benchmark points to memory upgrade, very small performance bump
10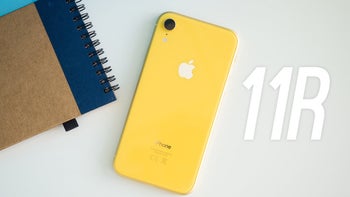 Apple's iPhone XR sequel could be called iPhone 11 R or just the iPhone 11
We're exactly one week away from the
official announcement
of the
iPhone 11 family
, and although most of the key selling points and (largely minor) upgrades over last year's XS/XS Max/XR lineup have
already been leaked
, the full story is far from clear. For instance, we're still not entirely sure how Apple intends to label its iPhone XR sequel, which is widely expected to retain a slightly lower-quality LCD panel than the XS and XS Max successors while most likely jumping from a single to a dual rear-facing camera setup.
This lower-cost member of the 2019 iPhone family could go official as the
iPhone 11 R
or simply the
iPhone 11
alongside an 11 Pro and 11 Pro Max with top-notch OLED screens and versatile triple lens imaging systems. Of course, what's far more important than a marketing name is the under-the-hood improvements cooked up for the second-gen iPhone XR, some of which may have just been revealed in
a preliminary Geekbench listing
.
Upgraded processor, upgraded memory count, lots of question marks
While 2018's
iPhone XR
made a number of compromises spanning display technology and resolution, camera performance and versatility, and even build quality compared to the
iPhone XS
and
XS Max
, the three handsets shared a state-of-the-art Apple A12 Bionic SoC, which strongly suggested the A13 would be running the hardware show on the entire 2019 lineup as well.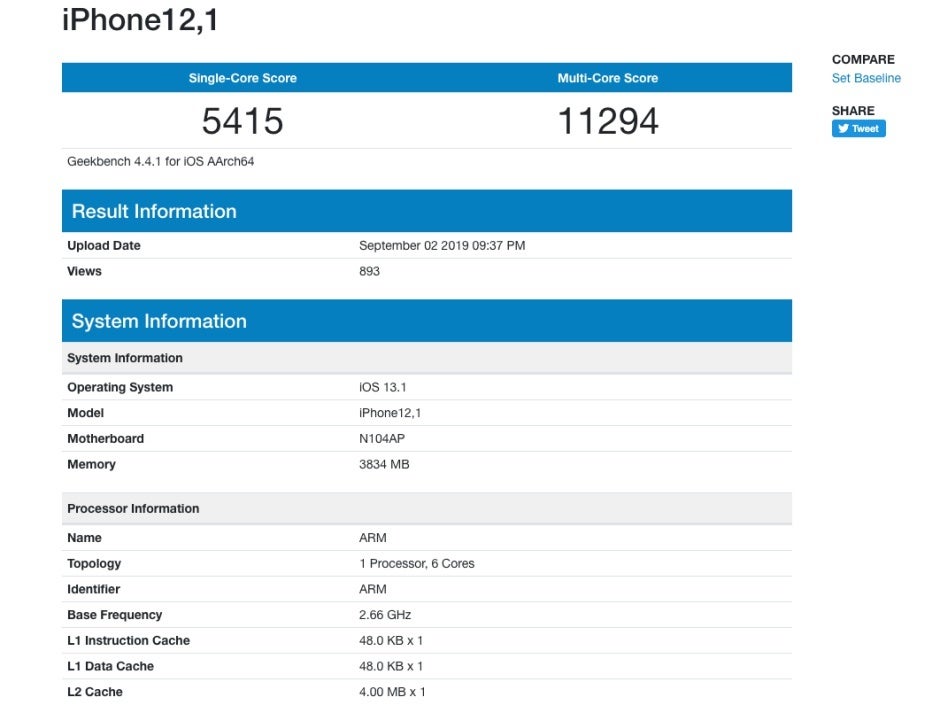 Although the freshly spotted "iPhone 12,1" benchmark doesn't explicitly mention the Apple A13 processor by name, it's pretty obvious we're looking at something different than the A12 powering the XR. Something with a similar 6-core CPU arrangement, but an improved 2.66 GHz clock speed for the two high-performance cores (compared to 2.49 GHz.) Unfortunately, the data revealed by Geekbench doesn't tell us much else about the A13 chip, although we've known for quite some time that
TSMC is back to produce this beast
on the same 7 nanometer architecture as the A12 but
with an Extreme Ultraviolet Lithography (EUV) twist
expected to deliver important energy efficiency enhancements.
What the new benchmark does disclose is the use of 4GB RAM on the "iPhone 12,1", up from only 3 gigs of the good stuff inside the iPhone XR and a match for the memory count of both the XS and XS Max. While Apple doesn't consider this a specification worth listing in its official sheets, you have to figure there's a good reason why the company is preparing this undoubtedly silent upgrade. That probably has something to do with the A13 SoC itself, but the connection is not altogether clear.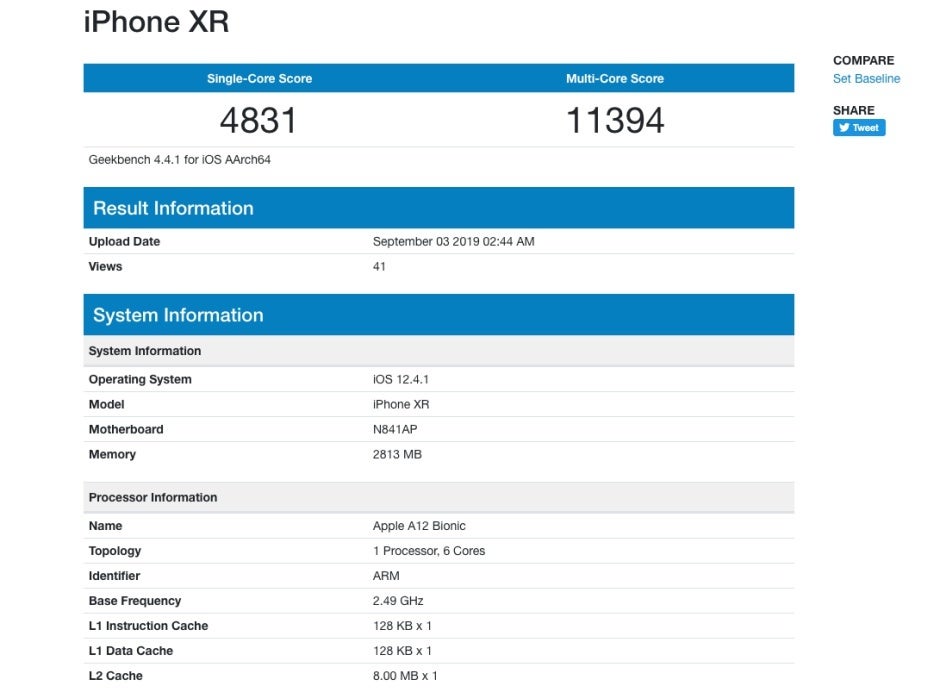 We also don't know if the iPhone XS and XS Max sequels are set to make a memory jump of their own, but we highly doubt Apple will be releasing any of its 2019 handsets with 6GB RAM. And by the way, we're fairly certain that iPhone 12,1 model number is associated with the iPhone 11 R (or entry-level iPhone 11), having previously come up in very credible reports.
Marginal single-core improvement, no multi-core change
No, synthetic benchmarks are not always representative of real-world performance. And no, we're not 100 percent sure this particular benchmark is legit. But if it is (and it could well be), it's definitely worth pointing out that the scores of this iPhone 11 prototype are not much higher than those of the
iPhone XR
,
XS, and XS Max
. In fact, the multi-core speed results are essentially identical, while single-core performance seems to register a progress of around 12 percent.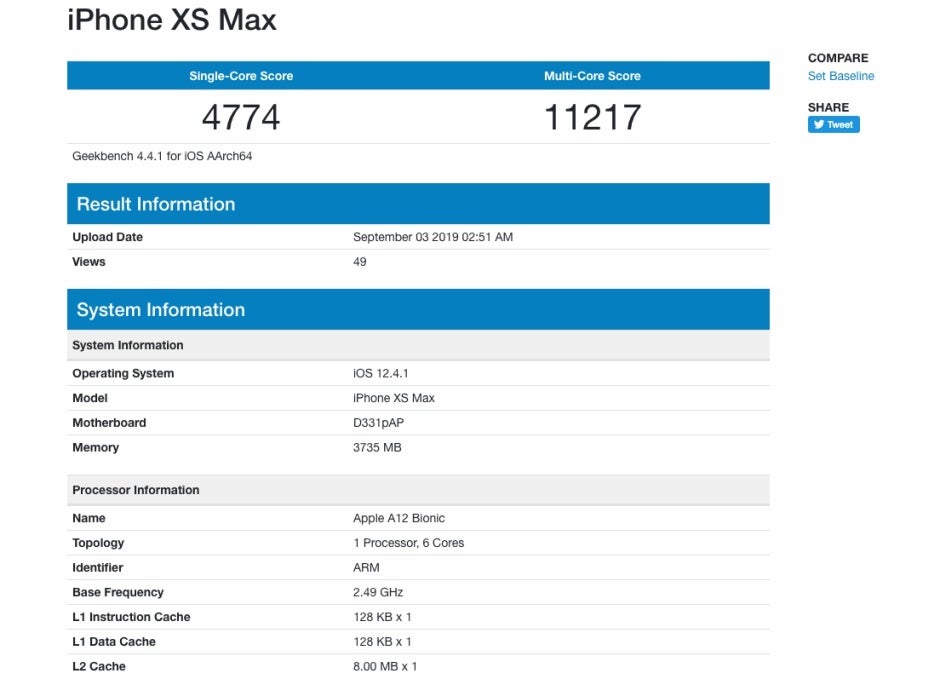 That's far from what we'd call an impressive upgrade, and even though Apple should be able to fend off this year's onslaught of Android flagships packing Snapdragon 855 and
855+
processors,
the 865
could be an entirely different kettle of fish. As things stand, there's a good chance the likes of the
Galaxy S11
will demolish the iPhone 11 lineup in multi-core performance, which obviously wasn't the case for the Galaxy S10 and iPhone XS.
Then again, it's important to remember these are pre-release tests performed on pre-release devices running pre-release software. As far as the "iPhone 12,1" is concerned, we're talking an iOS 13.1 build that might not be perfectly optimized for a commercial launch. In other words, we don't know anything yet about the real-life capabilities of the soon-to-be-released iPhone 11.