Wireless invoices rise in the U.S.
6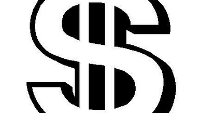 A published report Sunday states that the average U.S. wireless bill is on the rise. With more customers making the move to a smartphone from a featurephone, the average wireless bill for all wireless customers in the U.S. rose .9% in the fourth quarter of 2013 compared to the prior year's figure. The trend is now clearly toward higher monthly invoices.
The average monthly revenue per postpaid customer rose to $61.15 in the fourth quarter, up 2.2% year-over-year, according to New Street Research. Consider that back during the first quarter of 2010, that same figure came out to $55.80. This figure takes into account the removal of subsidized phones from T-Mobile. The removal of subsidized phone prices, and their accompanying two year contracts, actually lead to lower priced data plans for customers who end up paying for their phones using monthly installment payments.
"When it comes to the monthly prices that people pay, those continue to go up. It has gotten a little more competitive lately, but it isn't effectively competitive yet where the big two have to lower prices."
-Matt Wood, policy director, Free Press.
"I think it is interesting given my years in the industry, how you hear things like price war and all that being kicked around in the media today and this is really nothing different than we have seen over the last couple of decades."
-Lowell McAdam, CEO, Verizon Communications
The nation's top two carriers, Verizon and AT&T, say that there is no price war going on. They say that the competition is also based on other factors like network quality. Verizon recently was
named the best mobile network in the U.S. by both RootMetrics
and
J.D. Power
with AT&T second in both studies. Both carriers have eliminated unlimited data plans, leaving that for Sprint and T-Mobile to offer.
T-Mobile actually raised the price of its unlimited data service by $10 a month to $80 last week
. It's not hard to understand why. T-Mobile says that its customers are using 50% more data now than it did last year. Monthly usage on unlimited plans has more than doubled and now averages more than 5GB for each unlimited user.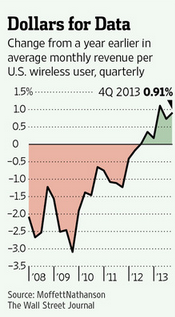 The average wireless bill in the U.S. rose .9% in Q4 from the prior year
Led by its outspoken and witty John Legere, T-Mobile has been extremely pro-consumer, even
offering to pay rival carrier's Early Termination Fees
in order to get new business. And while
the carrier has been showing strong growth in new subscribers
, the cost of adding these new accounts has hit the carrier's margins and led to a Q4 loss. And this comes despite the comment from T-Mobile CFO Braxton Carter, that between smartphone installment payments and service costs, T-Mobile is collecting more money from its customers each month.
As for Sprint, the carrier is now owned by deep pocketed Japanese telecommunications company SoftBank. Although things have quieted down quite a bit, earlier this year there was talk that Sprint would buy T-Mobile. Executives from both SoftBankand Sprint met with U.S. regulators to gauge the lay of the land and found that
both the Justice Department and the FCC were not exactly favorable towards such a deal
, worried about the effects on pricing an acquisition of that magnitude could have. But now that
Dish Network has won some spectrum in a government auction
, both agencies might feel better about Sprint buying T-Mobile, knowing that Dish is in the wings, ready to become a major U.S. carrier itself.
source:
WSJ