Report: Dish CEO Charlie Ergen finally gets his spectrum
5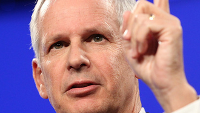 Last year was a tough one for Dish Network CEO Charles Ergen. Trying to interject himself into the SoftBank acquisition of Sprint, Dish's bid for all of the carrier never was financed and
SoftBank won the prize
. The same thing happened when Dish tried to steal Clearwire out from under Sprint's grasp. Ergen has dreams of turning Dish into a major U.S. wireless carrier and has been trying to purchase the necessary spectrum needed to make his dreams come true. Ergen tried next to buy the spectrum owned by bankrupt LightSquared,
but recently withdrew a $2.2 billion bid
.
But there finally is some good news for Dish and its embattled CEO. According to published reports, the satellite content provider is about to be declared the winner of a government auction of H-Block spectrum. The price is $1.56 billion, according to a source, and the purchase will make Dish the fifth largest holder of spectrum. The source also added that the victory for Dish is a big loss for Sprint. Dish now can decide to turn itself into a wireless carrier, lease the spectrum to a third party, or turn around and sell it for a short term profit.
On Wednesday, Ergen also said that he would not interfere if Sprint were to make a bid for T-Mobile. U.S. regulators have
already revealed their wariness
toward letting such a transaction go through. But the banks have the financing in place, and according to Ergen, all Sprint and T-Mobile need to do is work out a break-up fee before starting on the long journey that would see the third largest carrier in the U.S. gobble up number four. Having Dish in the wings waiting to start up a new wireless business might make it easier for a Sprint-T-Mobile deal to pass muster with U.S. regulatory agencies.
source:
NYPost
,
WSJ