When worlds collide: Asphalt 8 pays homage to the upcoming Modern Combat 5
13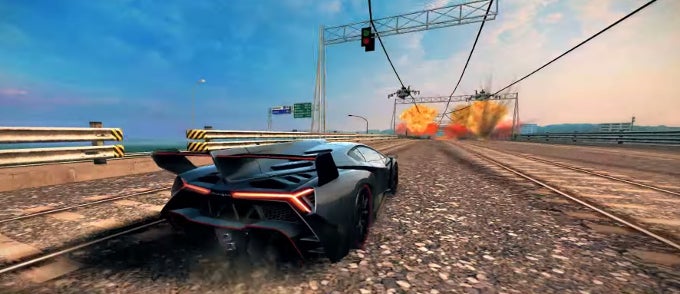 In two days' time
, Gameloft will release its new action-packed first-person shooter, Modern Combat 5: Blackout. The developer already
released the official trailer
of the spectacularly-looking game, but it seems that it will try to promote the upcoming shooter (almost) in any way possible. Gameloft's latest move in this direction aims at wooing
Asphalt 8: Airborne
fans into giving Modern Combat 5 a try once the latter gets released.
The game developer has endowed Asphalt 8: Airborne with a special race track, which takes place in a Modern Combat 5 version of Venice. If you are truly wondering how an FPS game and an arcade racer mix together, Gameloft's got the right answer in two. The race track in question comes with a hefty amount of fiery explosions, choppers flying around, and a surplus of buildings that are being disintegrated down to tiny debris. All in all, it sounds like a Michael Bay movie right at your finger tips.
The event in question is a limited-time one, which means that it will end once Modern Combat 5: Blackout hits the virtual shelves at Apple's App Store and Google Play. If you are rather excited for Gameloft's upcoming shooter and want to soothe your impatience, then why don't go ahead and check out the dedicated event before it expires?
Download: Asphalt 8: Airborne (
iOS
|
Android
|
Windows Phone
)
via:
Pocket Gamer