What is to be expected at the CTIA 2009
1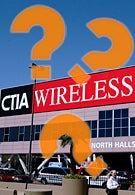 To some people April the 1st is the best occasion to play a prank on someone and get away with it, to others it´s the day when CTIA 2009 takes off and nowhere else, but in the Entertainment Capital of The World, Las Vegas. With our sixth consecutive live coverage of the event just ahead, we´ve got ants in our pants casting about what we are about to see there. There is a ton of leaked information and rumors that have been going around for months now. We´ve compiled these so you can get a sneak peak at what is to be expected, squaring away all phones into groups by leading carrier and then sorting the list out in keeping with the relative likelihood of these phones being announced at the event, top to bottom.
Well, bear in mind this article is based on information that´s still being kept under wraps and we cannot entirely stand behind it, we will as likely as not see these phones, so heads up, you´ve been warned.
Verizon Wireless:
There were a relatively small number of phones introduced by Big Red last year. We´ve managed to dig out some information on about a dozen likely add-ons to their product catalogue this year. There is a distinct possibility that the
HTC Touch Diamon
d will be announced soon. As we have already mentioned in previous articles, it´s expected at the end of March 2009. Falling under the same group we have
BlackBerry Niagara
which has already caused quite a stir, the on-the-budget
Samsung Smooth
and
Samsung Tranc
e, the latter designed with music buffs in mind. We certainly hope to see the
Motorola A455
, also known as Rush 2 and the Motorola Rival making their first appearance in front of the cameras. Moreover, coming across a bunch of
accessories for the LG Versa
(such as gaming keypad, Wi-Fi module etc.) won´t come as a surprise, given it has already managed to grip the attention of quite a few people.
It´s less likely we get to see or eventually play about with either the 5-megapixel
Casio Exilim C721
camera phone or the
BlackBerry Pearl Flip 8230
or witness an official announcement, from the carrier and Nokia, abouta 4G device coming out in 2010. Along with these, we have recentlyreleased some exclusive information on
Samsung Alias2
.There is a sporting chance of the phone putting in an appearance at theexhibition; especially given its predecessor was officially dubbed
Alias
at the last year´s show. There is distinct possibility that we come to see the
LG Voyager
's successor, the rumor has it'll hit the market by the name
VX11000
plus other two phones by the same manufacturer
LG VX9200
(in fact an upgrade of enV2) and
VX7100
. Now, throw the Verizon Hub 2 to the starters… How does this sound like?
HTC Touch Diamond Preliminary Specifications
|
News
Casio Exilim C721 Preliminary Specifications
|
News
BlackBerry Pearl Flip 8230 Preliminary Specifications
|
News
Samsung Smooth Preliminary Specifications
|
News
Samsung Trance Preliminary Specifications
|
News
Motorola A455 Preliminary Specifications
|
News
LG Versa Specifications
|
Review
LG VX11000 News
LG VX9200 and VX7100 News
Verizon Hub 2 News
|
Review of the first Hub
BlackBerry Niagara Preliminary Specifications
|
News
Samsung Alias2 Preliminary Specifications
|
News
HTC Cedar Preliminary Specifications
|
News
A fat chance we have of witnessing the official release of
HTC XV6175
with but just a few words going around that it actually is HTC Twin, HTC Cedar or HTC Whitestone. Well, what the heck, why not?
АT&T:
There is quite some information on the new phones that are to supply deficiencies in the Ma Bell´s product portfolio, QWERTY keypad phones for the most part. We do hope we get to sit in on the
Nokia E71x
´s announcement, since all we have been able to do for quite some time now is merely see spymaster shots of the gadget. Actually, we´ve recently caught that most disturbing whiff of the phone being put on ice for another two months. Aside from the Nokia E71x, we are keyed up to see the
Samsung A877, also known as Impression or Jackfrost
. It is a QWERTY keypad side-slider featuring a
3.2
-inch touchscreen. We believe we´ll see these hitting the party as well -
LG GT365 Etna
, that´s already being sold in Canada by Rogers, going by the name of Neon there, the
LG Xenon
and the 5-megapixel
LG CF750 (Secret)
that´s already on the market as well (by Rogers under Secret TU750), with information on it dating back to last October.
The rumor has it that the 8-megapixel
Sony Ericsson C905a
will be hitting the shelves sometime this June, whether or not it is to be officially announced at CTIA 2009 by the carrier or its retail sales in Latin America will be held up is still anybody's guess.
We´ve heard
Samsung BlackJack 3
will be released at the beginning of this summer, but we do have our doubts about it actually gracing the occasion in Las Vegas with its presence.
Nokia E71x Preliminary Specifications
|
News
Samsung SGH-A877 Preliminary Specifications
|
News
LG GT365 Etna Specifications
|
News
LG Xenon Preliminary Specifications
|
News
LG CF750 Preliminary Specifications
|
News
|
LG KF750 Review
Sony Ericsson C905a Specifications
|
News
Samsung BlackJack 3 News