Nokia E71x delayed by AT&T for 2 months or longer?
2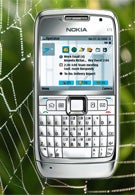 Based on the story we
reported
last week, the Nokia E71x should have been ringing up the ole' AT&T cash register today. Not so fast. BGR is reporting that Ma Bell has some issues that will require a firmware revision before the carrier will release it. The 2 month delay would push release back into late May. The specific problem seems to deal with the email/Mail for Exchange syncing. When it finally does go on sale, Nokia apparently wants the device to list for $149.99 after a $50 mail-in-rebate. But because it will be listed as a smartphone, it will require a $30 monthly data plan payable to your friendly Ma. While the Nokia E71x is certainly a cool looking device with a ton of features, will this eight week delay hurt potential sales or will it allow momentum to build up, pushing demand higher for the model?
Nokia E71x Specifications
source:
BGR