Sprint's roadmap for 2009 has leaked
27

We witness various leaked documents, photos and other unofficial stories very often, but sometimes there are really big pieces of information that hit the road to our ears, and you know which the best part is – we feel like sharing with you. Now, here is Sprint's roadmap for 2009, which shows the carrier's lineup for the months ahead. Among the other devices, of course, we see the Palm Pre, which is really hot right now. There are plenty of images that give enough information about each handset, so we will focus only on the most remarkable ones.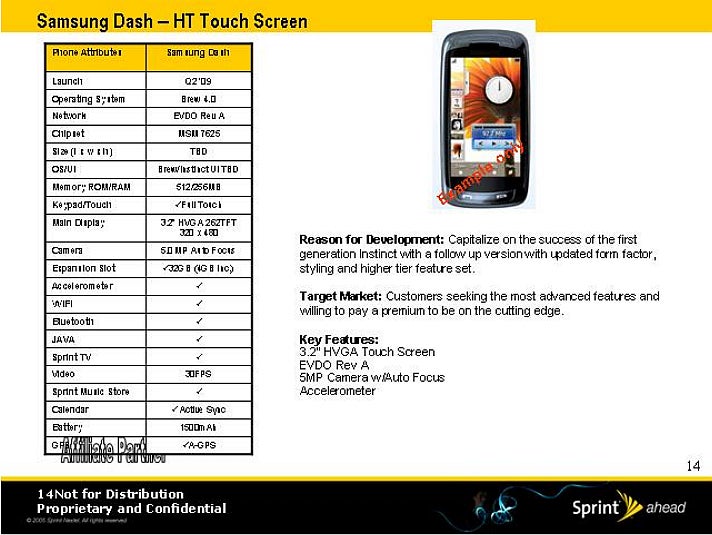 Samsung Dash
It wouldn't take a genius to guess that we will start with the
Pre
, which is scheduled for Q2 2009. The image that shows it describes its operating system as "Linux Palm Neutron OS", but do not let yourself be misled, this is the same webOS that Palm has been boosting for some time now. The details here say what we already know – it will have a 3.1-inch screen, will be a QWERTY slider, nothing that we are really not aware of.
The second quarter of the year will bring joy to those of you that have found the Instinct quite good, as Samsung has prepared the successor of the touchscreen device, mentioned here as the
Dash
. It will be proud to offer a refreshed design with smoother lines, 3.2-inch touchscreen and a 5-megapixel autofocus camera.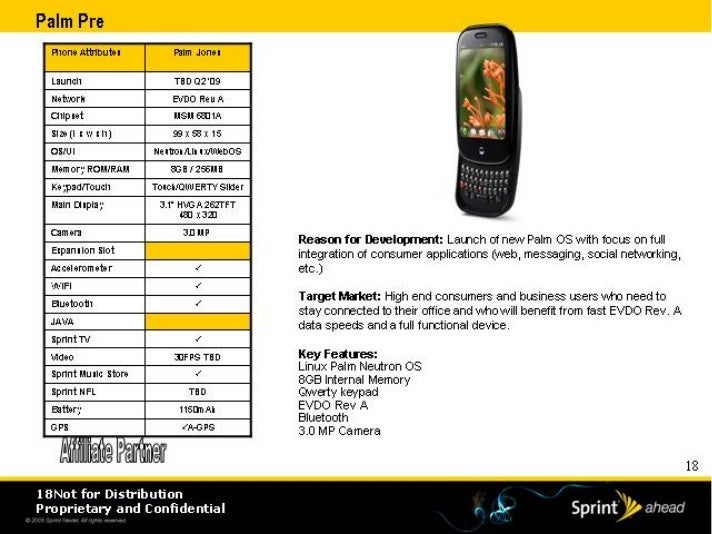 Palm Pre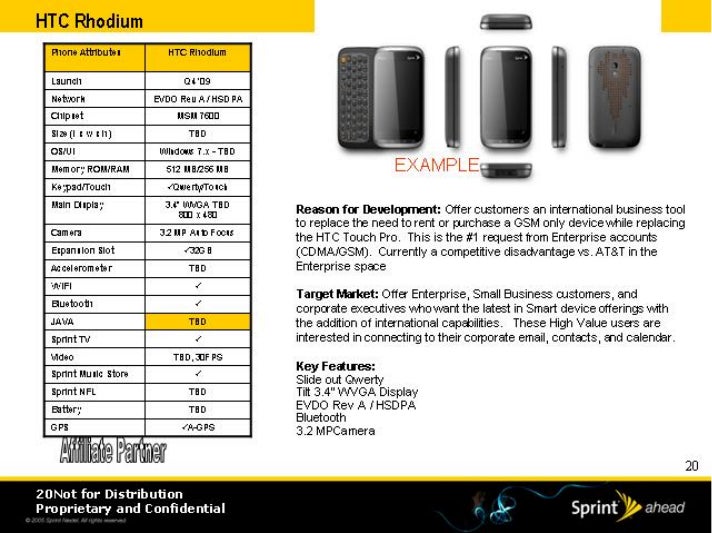 HTC Rhodium
The
HTC Rhodium
comes next. We know this one from the leaked information about HTC's lineup. It will be a high-end smartphone, able to work on CDMA, as well as on GSM networks for international roaming. It will also feature a large high-resolution 3.4-inch touch-sensitive screen.. This stylish side-slider should hit the market sometime in the fourth quarter of the year, but what is interesting here is that it seems to be designed to run the Windows Mobile 7 platform. So, in case we are not talking about WM6.5 here, we presume that this one may show its face a bit later than expected.
Following up the green initiative, Sprint will contribute with a device from Samsung, codenamed the
Chianti M560
. The phone looks really nice, sporting a QWERTY slider design, similar to the Pre. It also has a landscape-oriented 2.3-inch display in QVGA resolution and a 2MP camera. The Chianti should hit the market in Q3 2009.
You did not think that Sprint would let down the loyal fans of social networking, do you? The
Samsung Lucello
is a two-way slider, delivering maximum flexibility with its numeric keypad and full QWERTY keyboard. According to the information, this will be Sprint's new flagship for social networking, so if you cannot live a day without your web buddies, this is your phone. Expect it to show up sometime in the second or the third quarter.
What we have mentioned, however, is only a part of what the carrier has prepared. On the way are also the
Samsung Mini
, which will feature a large 3.2-inch touchscreen, the
BlackBerry Niagara
, images of which have
recently leaked
, the
HTC Cedar
, targeted to the low-end smartphone market and the youthful
Sanyo 2700
, along with a few others. In addition, some other details about Sprint's plans have been revealed. It became clear that we should not expect any more QChat devices to be developed or released. Also, along with expanding international roaming capabilities, the carrier will focus on Android devices and WiMax support.
Feel free to examine the pictures in order to familiarize yourself further with Sprint's lineup for the year, but still, keep in mind that this information is has not been officially confirmed, so changes may occur.
source:
PhoneNews