New HTC phone heading to Verizon?
15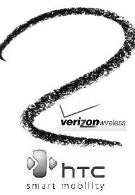 When we tell you that a handset has just made its way through the GSM Global Cetification Forum, one of the last carriers that probably comes to mind is Verizon Wireless with their CDMA/EV-DO brand of 3G lovin'. If we give you two more clues, one being that it is an HTC device, and two, that the device is labled XV6175, well that could really narrow things down quite a bit. Verizon uses the XV prefix on its handsets that are manufactured by HTC. So we can add things up and say that this model is probably an HTC phone heading for Big Red with dual GSM/EV-DO radios. So which model is it? Web site wmpoweruser went through the manufacturer's expected 2009 releases and came up with 3 possible devices, the HTC Twin, HTC Cedar and the HTC Whitestone.
The HTC Twin is aptly named with support for both GSM and CDMA. But other rumors had wmpoweruser eliminating this unit. The HTC Cedar is a Windows Mobile handset similar to the
Maple
. While the word is that this model is expected to head to Verizon, there has been no talk about it running both GSM and CDMA. On the other hand, the low number of XV6175 suggests that this mystery device is a low end handset and that fits the category that the Cedar fits into. Lastly, this could be the HTC Whitestone W, expected to hit Verizon in September. After using much brain power, the guys at wmpoweruser decided that the mystery phone could be the HTC Cedar with the Whitestone W being a much weaker possibility.
Hopefully, Shaggy, Scooby and the rest of the gang will be able to figure out the identity of this phone and we will let you know. Someone will win the office pool. If you think you have got this narrowed down to the right device, let us know.
source:
wmpoweruser