A few release dates for AT&T to keep us tuned
4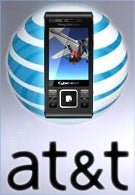 If this unofficial information appears to be true, then
AT&T
is about to deliver a number of new devices in the coming months. First, we should get a piece of the Windows Mobile experience with the
Samsung Propel Pro
. The QWERTY device is expected within a couple days, on March 19. However, if you feel more like using Symbian, you'd better wait a few days more for the long-anticipated
E71x
, which should probably come on March 24. Coming next, a rumor has it that a new touchscreen slider from Samsung, named the
Impression
, will hit the stores on March 26.
So much for this month; let's jump to April and see what awaits us there. The carrier is said to release the 3MP texting side-slider, the
LG Zenon
(or maybe Xenon, no positive information about this one so far) on April 9 at the earliest. It seems like the Zenon will be nicely packed with features, as it is expected to have a 2.8-inch touch display, Wi-Fi and A-GPS. More goodies will come for the fans of the social networks on May 9, when the
LG Etna
(aka Neon, aka GT365) is expected to hit the stores. Do not forget that this is not a fully touch-sensitive device, as this functionality is limited to dialing only. At the same time, Samsung will come up with a device, referred to as the BJ2, which, according to Engadget, is probably the
BlackJack 3
, as the
BlackJack II
has been on the market for quite a while now. In the end, we'll cast a quick glance at AT&T's grand offering on June 9, the
Sony Ericsson C905
and its built-in
8.1
-megapixel camera. Indeed, waiting can be difficult sometimes, especially when it comes to waiting for the latest hot phones to get released.
source:
EngadgetMobile