LG Lotus Review

Li-Ion battery
AC adapter with USB
512MB microSD card
Design:
In addition to being a rare QWERTY flip, the Lotus takes a unique square-ish shape as well. When closed it reminds one of a makeup compact, and is certainly not the manliest device on the market. There are two color options, flat black and purple with a floral print. The black is rather boring, but the purple is one of the better looking phones out there. The
floral print
is shiny, in contrast to the flat finish of the rest of the phone, which leads to a subtle and sophisticated look. When manufactures put out colors targeted to the female audience it is often overdone and ends up being more fit for a teenager, but the purple Lotus fits nicely into any purse no matter the age.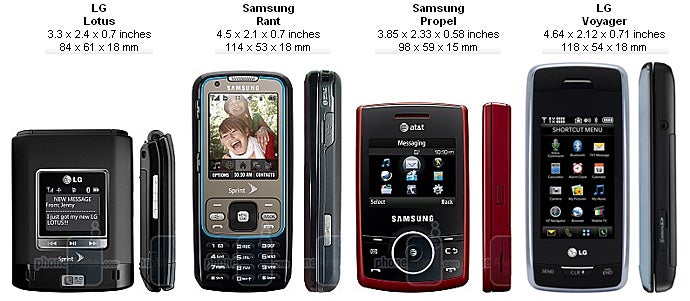 You can compare the LG Lotus with many other phones using our
Size Visualization Tool
.
full keyboard
is a pleasure. The keys are butt up against each other, but similar to the
Motorola Q9c
are rounded making it easy to type on. After just a few minutes we were typing quickly and accurately. The only gripe is the back button is above the keyboard, but with limited space it is understandable.
262K color, 2.4" QVGA display
is another nice feature. Its landscape orientation is ideal for text and videos, and in general is easy enough to read though does wash out in direct sunlight.
The front display is 1.3"
with a 160x128 resolution and 65K colors. Below it are media playback keys that sit flush, but are not touch sensitive.
On the bottom of the flip
(when closed) is the 2 megapixel camera flanked by stereo speakers on each side. The speakers are plenty loud, though a bit muddled.
The
left side
has a volume rocker and microUSB charging/data port, and
the right
has a Music and Camera key, as well as the microSD slot. It also has a 2.5mm headset jack; a 3.5 jack would have made more sense for a media-centric device such as this. The back is plain, and features only the battery door. It is coated with soft touch paint, which gives a bit more grip.