Watch Android eat BlackBerry's global smartphone marketshare in color
46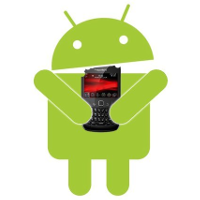 With
BlackBerry's board already agreeing to go private for $9 a share
, and with
T-Mobile kicking the manufacturer out of its retail stores
, it is hard to believe that just a few years ago that BlackBerry was a thriving company. Any businessman worth his pinstripes sported one of the Canadian OEM's handsets and the company name became a verb. So how did BlackBerry get to its current state?
Most people will tell you that BlackBerry's fate was sealed on that date in late June 2007
when the OG iPhone was released
. But was that really the problem? After all, the shares of BlackBerry parent RIM continued higher for nearly a year, peaking above $140 in June 2008. Even as recently as 2009, BlackBerry still had a decent share of the smartphone market. It wasn't until the success of the
Motorola DROID
combined with the excitement over the
Nexus One
to kickstart an amazing growth in the Android platform, that BlackBerry started its precipitous decline.
Check out the chart below, published on Thursday using data from Gartner. As the green (for Android) continues to take up more and more of the graph, you can see how BlackBerry's slice of the pie continues to shrink. So if BlackBerry fans need someone or something to blame for the problems afflicting BlackBerry, Android might be more to blame than Apple. And of course,
a management in denial
was also part of the problem.
source:
BusinessInsider
via
BGR