Vote for your favorite phone of the first half of 2019 here!
36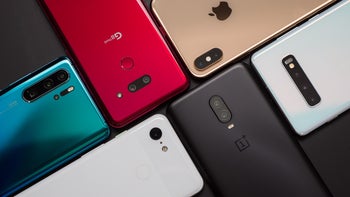 The first half of the year is almost over, at least all the major new announcements have already happened, and this means that it's a good time to take a look back at all the new phones released throughout this period: we've had new Galaxies, new LG phones, new Google Pixels, something new by OnePlus and quite a few other launches.
And with so many great phones fighting for your attention and hard-earned dollars, we were wondering: which one is your favorite?
In the poll right below you will find all the major new flagship phones and a few other phones that we find to be notable. We could not include every single new device out there and a few otherwise impressive mid-range offerings like the new Samsung Galaxy A series are not included in the list, but do feel free to let us know your thoughts about these phones in the comments section.
With all of this in mind, here are all the major new launches of the first half of 2019. Which one is your favorite?
Asus Zenfone 6
Here is an excerpt from our full review:
Google Pixel 3a
The Pixel 3a is a revelation for those looking for a great camera in an affordable smartphone. Such a thing simply did not exist before the 3a: all other phones in this budget segment make a big compromise with camera quality, while the Pixel 3a pretty much has a camera that can match and even beat the one on $1,000 flagship phones.
For all else, this is a phone that is made by Google and that runs on a clean Android, plus you get a guarantee that it will receive major software updates the moment Google releases them to the public, so you will not need to wait for months and years like with other Android phones.
How did Google achieved all of this in a budget model? It used a mid-range chip that is not quite as fast as a flagship, so opening apps feels a few moments slower, but this phone definitely does not feel slow per se.
Google Pixel 3a XL
The larger version of the Pixel 3a, the XL model comes with a 6.0-inch display (compare that to a 5.6" screen on the smaller one) and it also has a bigger battery, but for all else this is the same formula, just in a larger physical form factor.
Honor 20 Pro
Here is an excerpt from our full review:
Honor View 20
Here is an excerpt from our full review:
Huawei P30 Pro
Here is an excerpt from our full review:
LG G8 ThinQ
Here is an excerpt from our full review:
"The new LG G8 is a well-rounded Android phone with a good-looking screen, the fast Snapdragon 855 chip, and a capable set of cameras. We're also glad to see that LG stuck with a classic fingerprint reader and paired it with reliable facial recognition. In-screen fingerprint readers may look cool and futuristic, but they're simply not good enough yet to prefer over a classic solution.
Moto G7 series
Here is an excerpt from our full review:
Nokia 9 PureView
The Nokia 9 PureView comes with an innovative penta-camera rear system that is supposed to give you unprecedented freedom and capture images previously unseen on a phone.
The problem with that as we found in our review was that the camera was just too slow and it would often even crash on us. We do managed to get some decent shots, but the time we had to wait and the amount of effort... it was not quite worth it.
OnePlus 7 Pro
The OnePlus 7 Pro is crazy fast and smooth, it's the first mainstream phone with a 90-hertz display which means that everything appears to run buttery smoothly with no stutter or lag. In fact, it runs so well that it could well be the fastest phone we have ever used. The screen goes edge to edge too, with no notch and no other interruptions. So where is the front camera? Thanks for asking: it's hidden inside the phone and it pops out when you need it.
The 7 Pro is also the most expensive OnePlus phone ever made, but really, that is not expensive at all by modern flagship standards: at just around $700, the OnePlus 7 Pro is a much better deal than $1,000+ offerings from Apple and Samsung.
Samsung Galaxy S10e
The Galaxy S10e is pretty much a dream phone for those who wished for a powerful small phone. This one is about the same size as an iPhone XS and a Google Pixel 3, easily pocketable and easy to operate with just one hand.
At this smaller size, Samsung has made some compromises: you don't have the telephoto camera that you get on the two other members of the S10 series, and the screen is smaller too. But really, this is somewhat expected and the S10e remains one of the best buys for compact phone shoppers.
Samsung Galaxy S10
The Galaxy S10 might just be the perfectly sized phone for those looking for a compact device of just the right size: neither too big, nor too small.
It brings all the power and versatility of Samsung's new triple camera system (a main one, an ultra-wide and a telephoto one), it comes with the new Samsung Experience interface that is now easier to use with a single hand and features less clutter, and it sports one of the best looking screens of any phone out there. Oh yes, and it's also one of a few flagships to offer both a 3.5mm headphone jack and a microSD card expansion.
Samsung Galaxy S10+
The largest member of the Galaxy S10 family has all the benefits that come with a bigger screen: it's a better productivity machine and it's more enjoyable for watching videos. Samsung has also done a great job fitting this large screen in an incredibly compact body that is comfortable to hold and use.
Sony Xperia 1
The extremely tall and narrow Xperia 1 looks different, but it is easy to get accustomed to, it captured beautiful photos, it's a joy for watching 21:9 movies and it features a powerful processor. We do find a 4K display on a phone to be an overkill, though, and considering that the software is not quite as refined and advanced as on other rivals, that nearly $1,000 price seems just a bit too high..
Xiaomi Mi 9
The Xiaomi Mi 9 specifications include a 6.39" display with 1080 x 2340 pixels resolution, Snapdragon 855 processor, 8 GB RAM, and 48-megapixel main rear camera. The phone is powrered by a 3300 mAh battery.
And even though the Mi 9 has some drawbacks, it costs less than $600 and the value you're getting is immense. Still, if you're on the lookout for a flagship phone and you value a simpler, cleaner software experience, you might want to get the OnePlus 7 Pro.
ZTE Axon 10 Pro
You could say that the ZTE Axon 10 Pro is a tease. That's because it's unknown at this moment whether or not it's going to be coming to the US. Given what has transpired over the course of the year, it'll be interesting to see how ZTE plays its cards. In the slight possibility of it happening, it'll give OnePlus a good run for its money – even if the pricing remains unchanged from what it is right now overseas at €600.