Honor View20 Review
14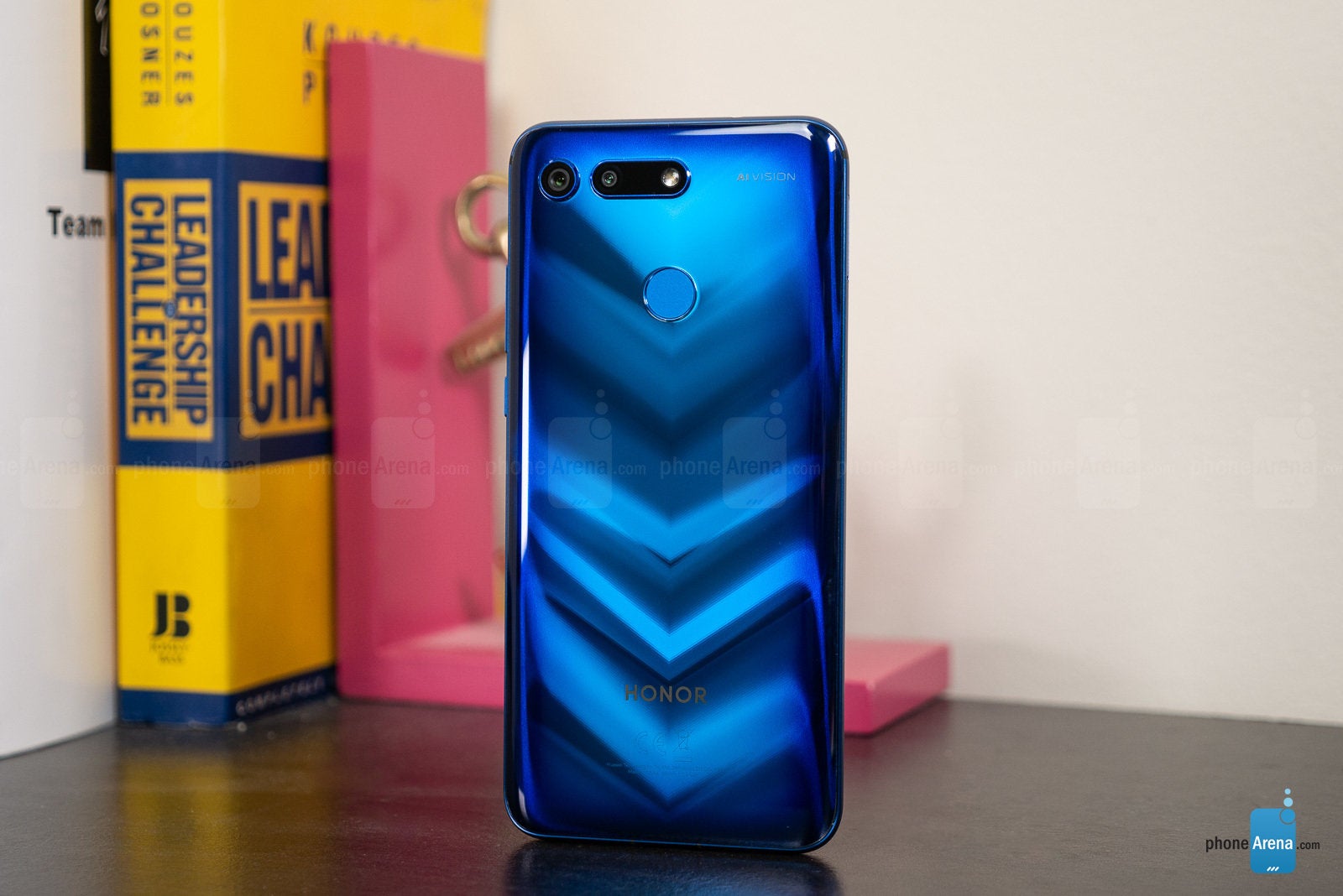 Huawei sub-brand Honor is kicking off the new year with the release of its flagship smartphone in the
Honor View20
. Sure, it may be a close relative to the
Huawei Mate 20
and
Mate 20 Pro
, but where it truly makes its mark is in the far more forgiving price point. If you thought that the
OnePlus 6T
was a whole lot of bang for the buck, then those sentiments will more than likely apply to the Honor View20 as well!
In the box:
Honor View20
SIM removal tool
Wall Charger
USB Type-C Cable
Design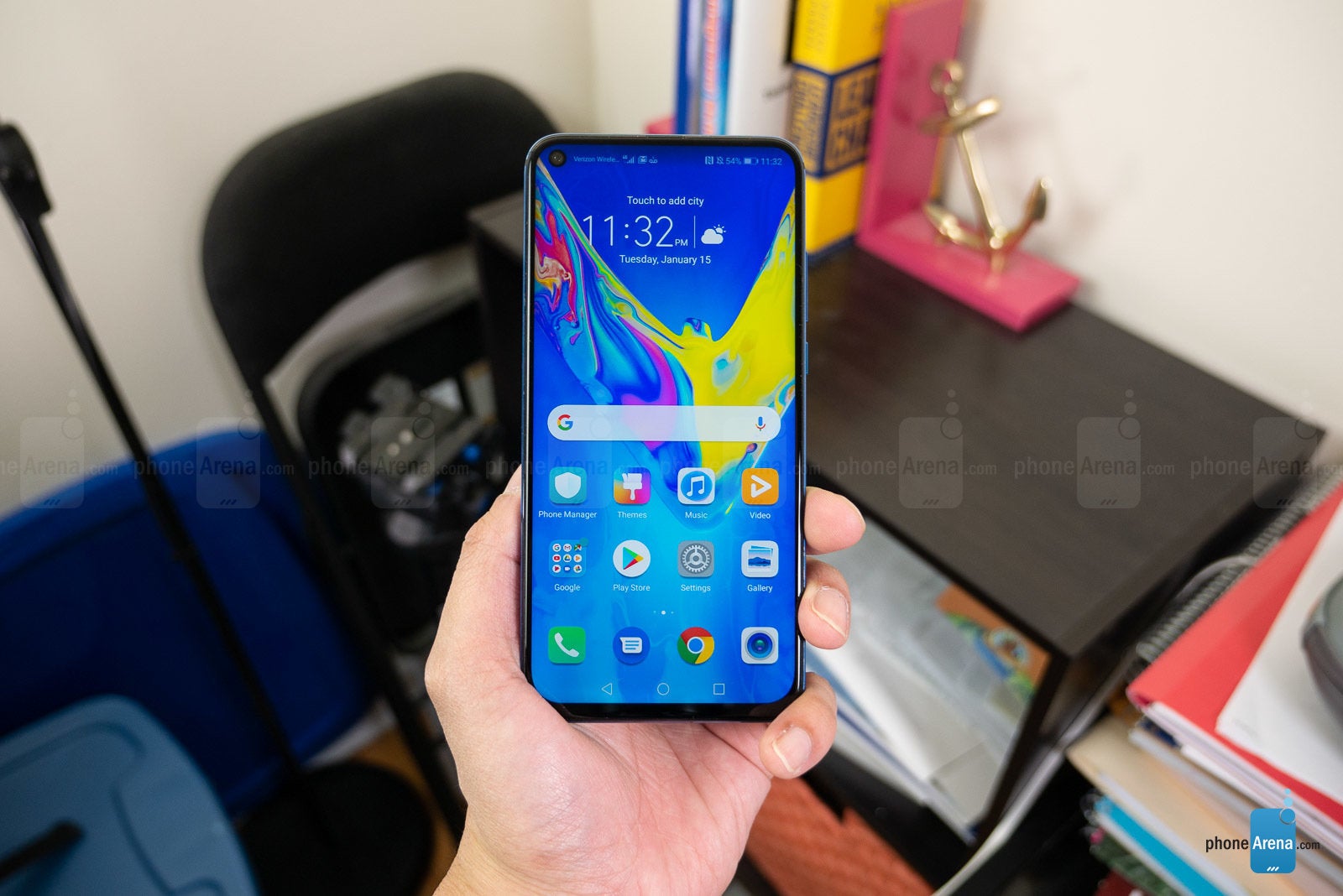 Marketed as the world's first smartphone to employ nanolithography, a technique used to produce its unique look, the Honor View20 and its radiant back side stand out with a gleaming V-shaped effect. It's hypnotic no matter how you look at it, giving the phone a distinctive look over what we've seen on any other handset.
Looks aside, the Honor View20 is made of glass and has a metal frame, just like the case is with most other high-end phones today. Honor, however, makes no mention of any special strengthened glass, such as Gorilla Glass, being used. While we do appreciate it featuring a fingerprint sensor on its back, a headphone jack, and even a handy IR blaster, you should know that it doesn't feature wireless charging or any sort of water-resistant construction.
Display
If you're passionately against notches of any variety, then you'll be pleased by Honor's hole-punch display implementation. Tucked in the upper left corner of the 6.4-inch FHD+ (1080 x 2310) Display is a tiny hole used to discretely stow away the 25MP front-facing camera. Visually, it's a step in the right direction when it comes to achieving that all-screen look! Better yet, the hole-punch approach doesn't impede the way notifications are displayed. And even when we're watching videos in full-screen mode, it's not as obtrusive as your ordinary notch.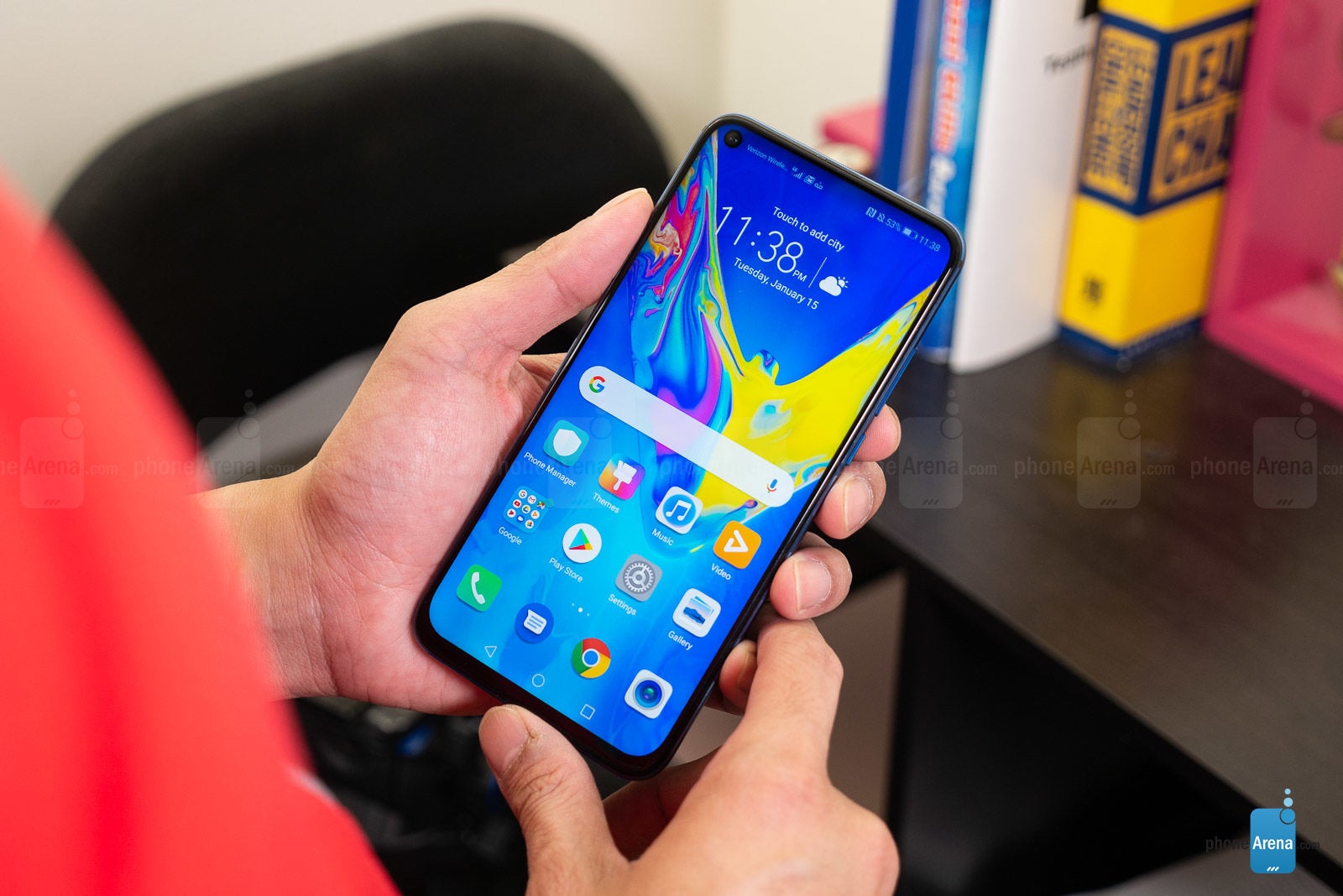 Beyond that, there isn't much to complain about the display's quality. It's detailed, visible enough outdoors, and coughs up some decent viewing angles. However, it exhibits a noticeably colder color temperature by default, but this can be adjusted in the settings. It's a decent-looking display by today's standards, but it trails some of the eye-catching displays seen in other flagship smartphones.
Display measurements and quality
Interface

and functionality

Magic UI 2.0.1 running on top of Android 9 Pie is merely a rebranded version of Huawei's latest Emotion UI (EMUI) software that's running on its flagship products. In fact, it's almost tough to tell the difference between the two! Even though the Honor View20's experience definitely has a lot to offer for the average user, it still lacks the visual polish that makes the interfaces on other phones attractive.

Still, we'll gladly accept the rich productivity value that Magic UI 2.0.1 provides out of the box – like the extended desktop experience when you connect the Honor View20 to an external display. In essence, you can transform the phone into a portable on-the-go desktop machine that's capable of running just about every app on the phone in its desktop mirror mode.
Processor

and Performance

Not compromising on the power, the Honor View20 leverages the same 7nm Kirin 980 chipset found in the Huawei Mate 20 and Mate 20 Pro. That's notable because of the lower price point that the View20 is targeting. And guess what – It's formidable in handling just about anything we dish at it. From surfing the web to editing some clips in 4K resolution, and even some intensive gaming action, the Honor View20 delivers the same level of responsiveness as its close relatives. It may not exhibit the same level of fluidness with navigation that's evident with the latest Pixels or iPhones, but it's still more than acceptable.






Camera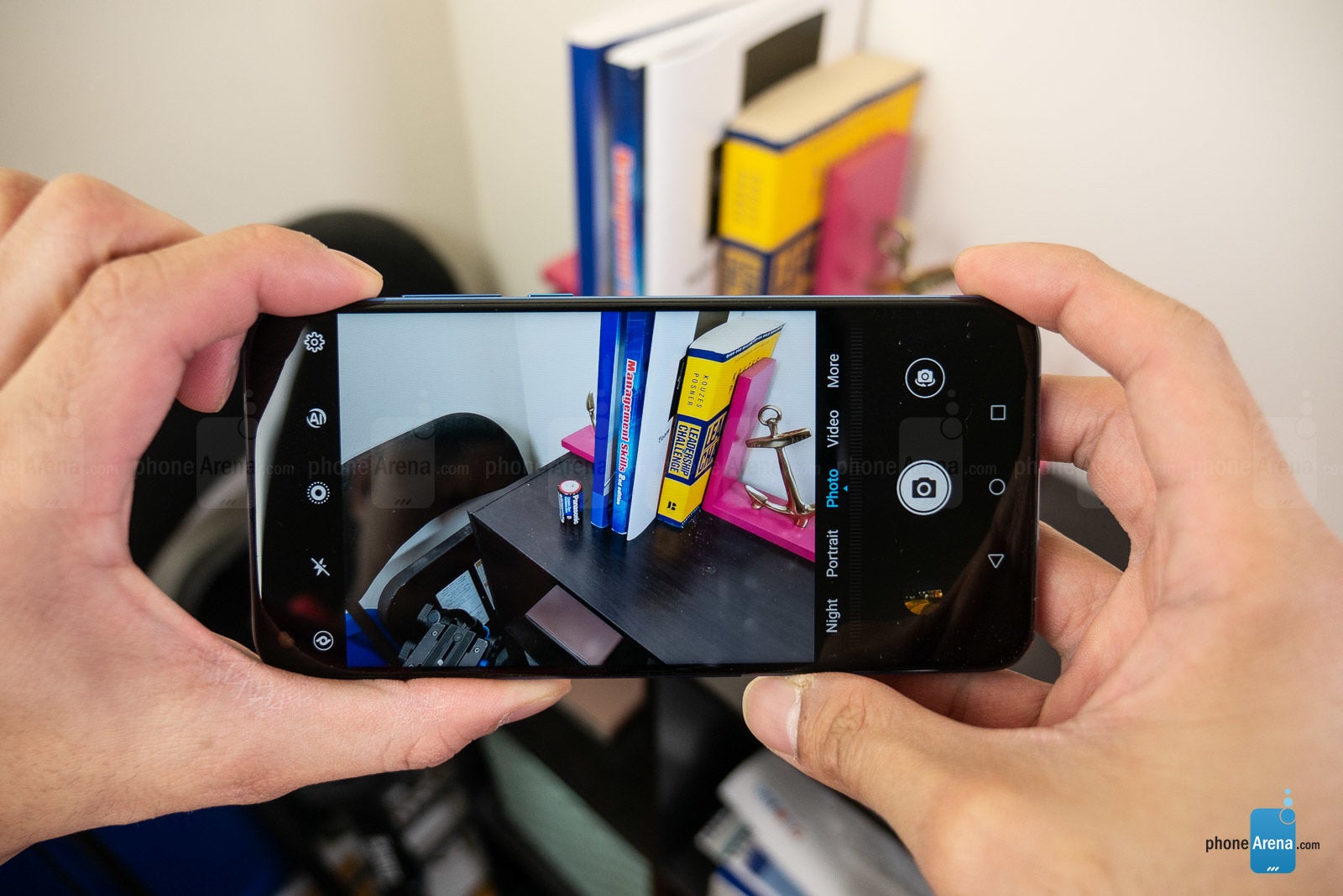 There was a time when megapixels were the indicators of a phone's camera performance. As the smartphone continued to evolve, it became more obvious that there was a combination of things that proved a cameraphone's worth – like the sensor's size, the optics, and so on. It seems as though the Honor View20 is once again bringing up the megapixel conversation with its 48MP rear camera and 25-megapixel selfie camera, but there's a lot more technology involved here to paint a convincing picture for its implementation.
At the core of the rear camera there's a Sony IMX586 stacked CMOS image sensor which features 48 effective megapixels on a 1/2-inch sensor. The secondary 3D camera, which works by emitting and picking up beams of infrared light, is used for advanced depth and distance sensing. This not only helps with focusing in low-light situations, but also enables those portrait and aperture effects found on other phones.
The camera app here is identical to that found on Huawei's flagships, offering the same breadth of shooting modes. There's even a special night mode that enhances photos with the aid of long exposures. Unlike its relatives, though, it doesn't offer telephoto or super wide-angle modes. To that degree, it doesn't offer the same level of versatility. Well, it does offer a 2X zoom when it's capturing images at the lower 12MP resolution, but it's essentially a crop from the 48MP samples.
Image Quality
There's no arguing about the usefulness of capturing 48MP snapshots, but at the end of the day, those are only slightly better in terms of quality than the 12MP alternative samples – and pretty much on par with the 12MP cameras on other high-ends. Don't get us wrong, the camera's performance is still pretty good, especially when AI photography is enabled. We prefer how it boosts shadows, the contrast, saturation, and highlights to really draw out more of the details that are sometimes lost. However, when we compare the 48MP AI Ultra Clarity and 12MP samples side-by-side, there's not a substantial improvement with clarity or details.
Video Quality
Capable of capturing video in 4K UHD resolution, the camera's performance is pretty good... with one distraction: the delayed effect that the EIS produces. It's kind of pronounced and causes this somewhat jittery effect as we're filming, but the actual footage is stabilized really well. Under low light, the presence of noise becomes more overpowering.
Multimedia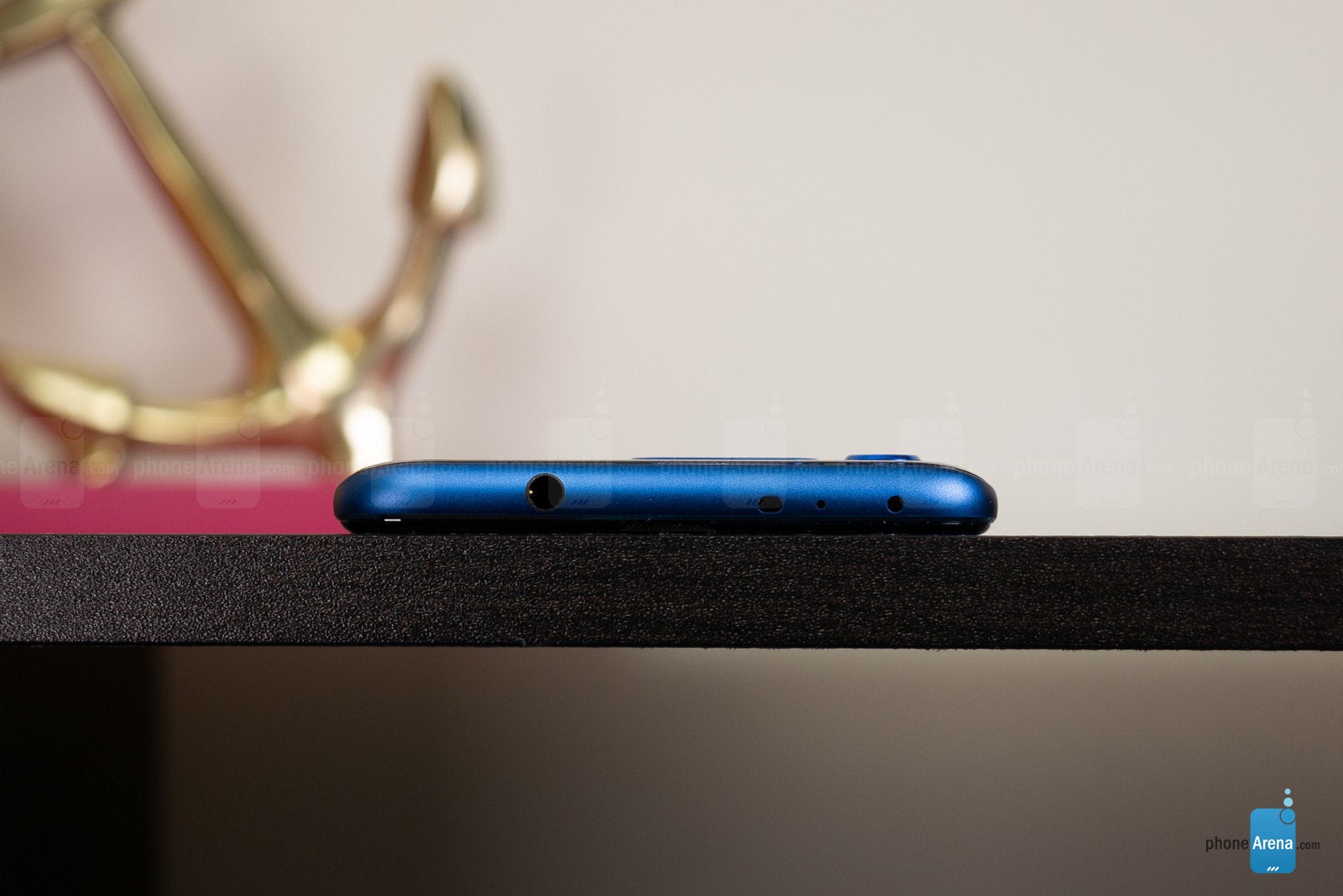 IR blaster and headphone jack on top
First and foremost, we appreciate that the Honor View20 continues to offer a headphone jack for the convenience of popping in our own pair of headphones. Secondly, the IR blaster built into the phone makes it a handy backup remote control for our television and entertainment system when the others go missing. Thirdly, there's the potential of being able to play certain games using motion control capture, which is done with the aid of the 3D camera and a dedicated dock. Unfortunately, we're not able to test this particular feature out, but something tells us it's more novel than anything else. And lastly, the Honor View20 delivers a solid video-watching experience with its less obtrusive hole-punch display.
Call

Quality

It's neither perfect nor downright awful. The call quality of the Honor View20 is acceptable enough to carry conversations, but voices through the earpiece have a little bit of distortion with them. Callers are still discernible, just as long there isn't a ton of ambient noise around.
Battery

life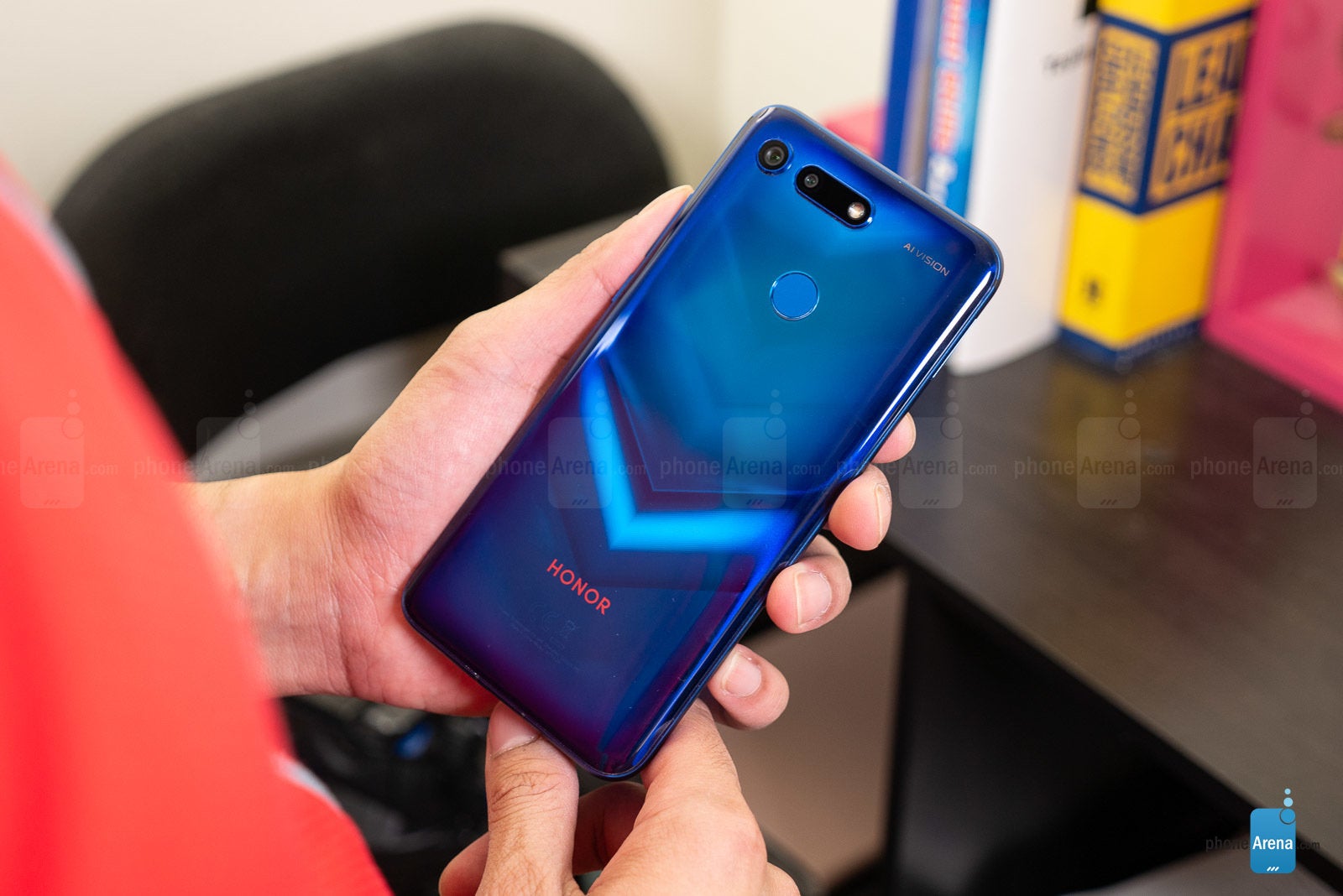 Much like its relative in the Huawei Mate 20, the Honor View20 is also packing a sizable 4000 mAh within its chassis. In our daily experience, we're beyond satisfied by its longevity – getting down to about the 40% level on most nights.
Over on the recharge side, it may not be as quick as on the Huawei Mate 20 or some other flagships, but requiring 120 minutes to charge isn't bad either given the cell's capacity. What's interesting is Honor's claim for the View reaching a 55% charge level with 30 minutes of charging. In our testing, it required 58 minutes to reach that 55% mark.
Conclusion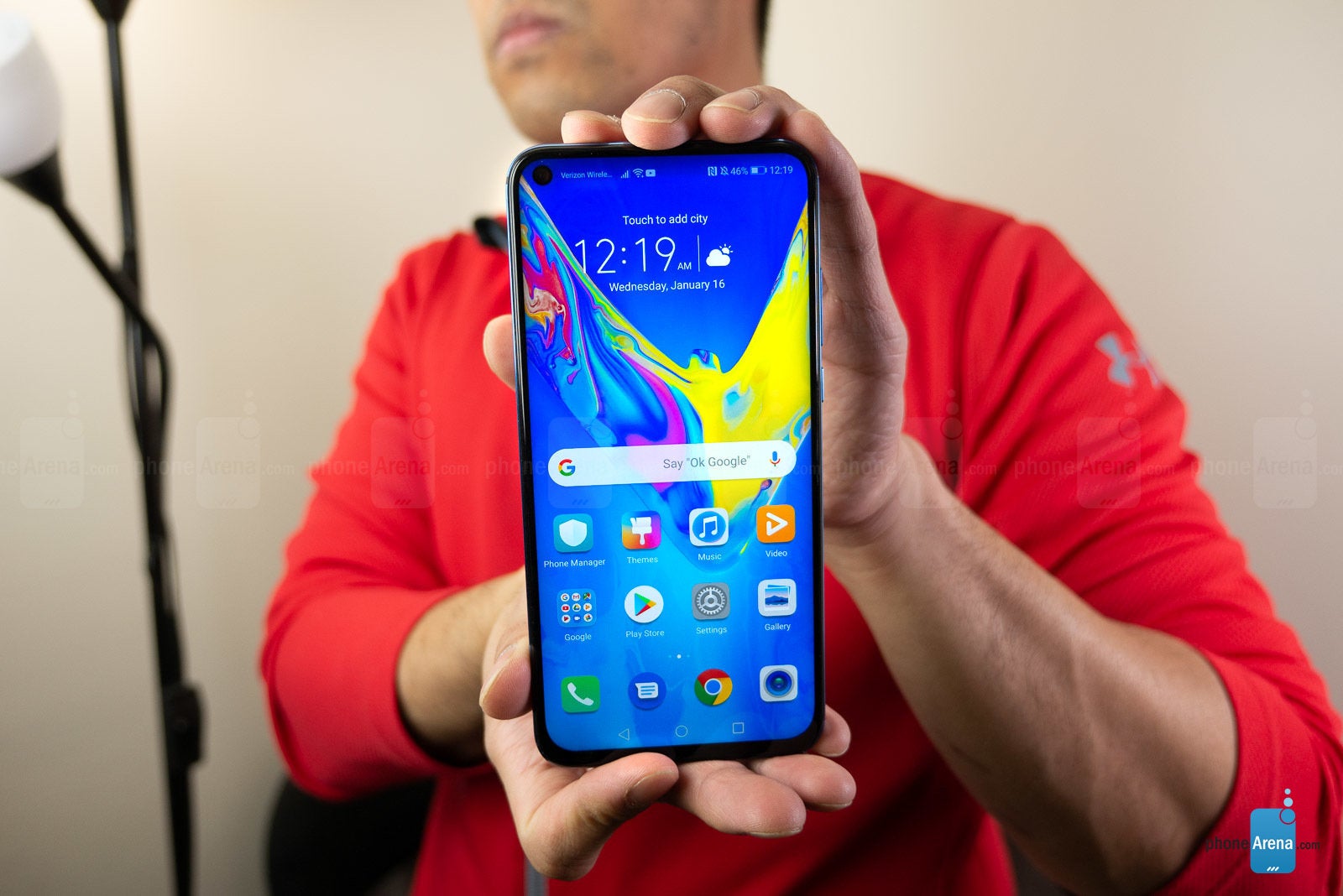 The
Honor View20
is exactly where it needs to be. Priced at 570 euro across Europe and 500 GBP in the UK, it is competing in the same affordable flagship range where OnePlus has found success in the last few years. The Honor View20 is a fantastic rival that boasts an attractive premium design combined with solid all-around performance. Its biggest drawback – from a US buyer's perspective, at least – would be that for now, the phone isn't officially available in the US.
Indeed, the in-screen fingerprint sensor of the
OnePlus 6T
is cool and forward-thinking, but we find the Honor View20 offers an equally complete package with its inclusion of a standard headphone jack, hole-punch display, IR blaster, and extended desktop experience. For about the same price you'd pay for the OnePlus 6T, you're getting more features included with the Honor View20. It's a good phone to snag if you don't have the disposable income to spend on those ultra-premium smartphones around the $1,000 mark.