Three Australian airlines ban Galaxy Note 7 use on flights
30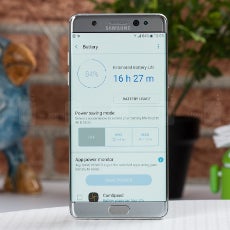 Samsung's
recall
of some 2.5 million
Galaxy Note 7
handsets is underway across the globe. As you'll surely be aware, some units include faulty batteries that are
prone to explode when charging
. Samsung, along with numerous
retailers and carriers
, has been desperately trying to round up those sold prior to the recall, though for now, plenty of potentially dangerous handsets exist in the wild. As such, three Australian airlines have completely banned use of the device on commercial flights for the time being.
The mobile industry is no stranger to a botched launch or several, but Samsung's predicament is considerably worse than most. Though it thankfully appears that no
serious
injury has occurred so far, new cases still seem to be popping up on a daily basis. Only yesterday, we reported on a story in South Carolina, where a man's house
went up in flames
after he left home with the Note 7 on charge.
Though not forced to do so by authorities, Qantas, Jetstar and Virgin Australia have taken it upon themselves to prevent Note 7's use while flying. The device itself can be taken aboard but must remain switched off at all times. Moreover, the airlines have prohibited the charging of the Note 7 on planes, which makes sense given that all of the reported incidents have involved handsets connected to power outlets.
The move is logical, though it's unclear precisely how it will be enforced. After all, the Note 7 is not wildly dissimilar to the
Galaxy S7 edge
,
S6 edge
, or
S6 edge+
, whose owners will likely risk having their experiences hindered while on board. Moreover, it's possible that owners of exchanged and supposedly 'safe' Galaxy Note 7 models will struggle to prove as much, save carrying the receipt. Indeed, barring a mass confiscation, it's hard to imagine how an in-flight crew could practicably stop only Note 7 owners from using their handsets.
Australia seems to be taking no chances with Samsung's newest phablet. The nation's carriers
have already halted Galaxy Note 7 sales
due to concerns, and with airlines now clamping down on its use, Samsung's smartphone credibility has taken a particularly severe hit Down Under.
Meanwhile in the United States,
the FAA is considering its options
. By the sound of things, the U.S. airliners could be subject to an outright ban, which would prohibit the device from flying irrespective of whether turned off, or even placed in with checked baggage.